Vehicle Sales
Tesla US market share squeezed again in record quarter
Competition increasing as dominant player sells just half of all new BEVs

Total sales of BEVs in the US exceeded 300,000 in the third quarter, according to a new joint report from consultancies Cox Automotive and Kelley Blue Book. The quarterly numbers put year-to-date sales at just over 873,000.
The report says the market is "firmly on track" to surpass 1mn sales in November, a projection that EV inFocus has also been making for some months.
Cox Automotive estimates that the exact number of sales was 313,086, an increase of 49.8pc from the third quarter of 2022. It would, though, only be just shy of a 5pc increase over the second quarter of this year.
"Electric vehicle sales accounted for 7.9pc of total industry sales in Q3, a record and up from 6.1pc a year ago and 7.2pc in Q2. As Cox Automotive has been reporting, higher inventory levels, more product availability, and downward pricing pressure have helped spur continued linear growth of EV sales in the US market. EV sales have now increased for 13 straight quarters," the research says.
The report further suggests that "product availability has grown exponentially, while consumer acceptance has grown in a more linear fashion". That could point to ongoing inventory concerns for several players.
Hotter competition
Elon Musk-led firm Tesla, although still the market leader by some distance, experienced a significant shrinking share of sales in the quarter. Its US sales fell quarter-on-quarter, even as overall BEVs sold continued to rise (see main image).
Tesla's share of new BEV sales in Q3 was a fraction above 50pc, which while still dominant, is a steep drop from last quarter. In a wider context continues a gradual decline from its peak in Q4 2021.
Q3 is the largest single quarter drop in market share the company has ever experienced, as it was only in Q4'22 Q2 this year that its market share has previously dipped below 60pc (see Fig.1).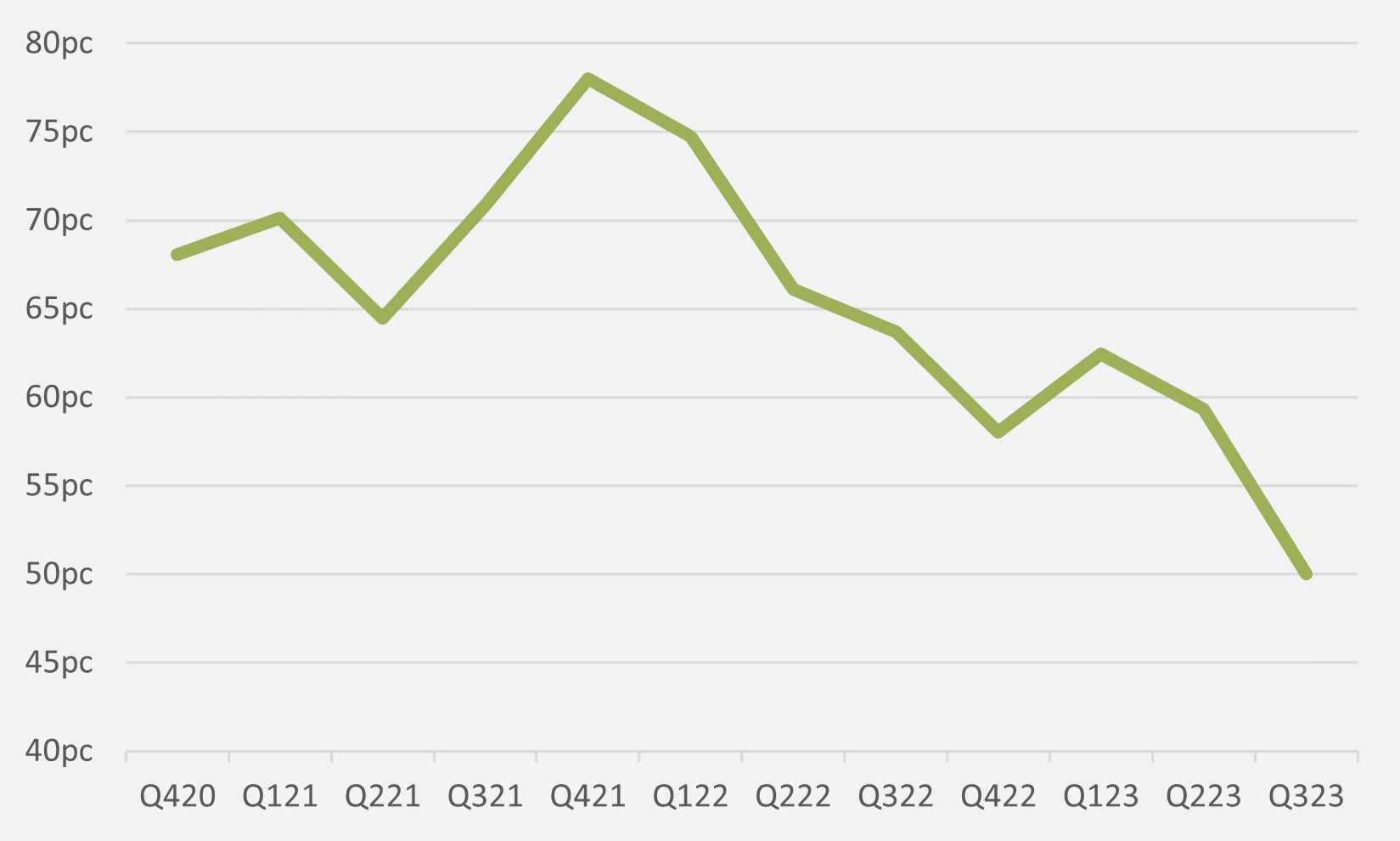 This is driven in part by legacy ICE market players converting more of their sales into BEVs. Amongst legacy OEMs, German firm BMW sold the highest proportion of EVs, with 15.6pc of its sales being electric. Fellow German OEMs Mercedes, VW, and Audi, as well as Sino-Swedish firm Volvo, all saw c.12pc of their respective sales being EVs. American legacy player Ford, however, reached only 4.2pc of its sales being electric.
Tesla has, admittedly, experienced production disruptions in the quarter due to downtime at its factory in Austin, Texas. However, the company reiterated its year-end production guidance of 1.8mn units.
Tesla has been resolute in attributing its lower-than-expected delivery numbers to these factory disruptions, but some analysts are wary of complacency setting in for the firm. "Elon Musk's company is not immune to competition and needs more models, not to mention a rebound in production," says Wall Street commentator Al Root of Barron's.
Price
Record sales in the quarter are also spurred by transaction prices of BEVs coming down. Tesla and US EV pure play Lucid were among companies to lower prices or roll out more affordable models in recent weeks.
The average price of a new EV in the US fell by 3.4pc between January and September, which the research calls a "significant" drop. Tesla Model 3 prices are down by more than 26pc year-on-year to $41,484, "well below the average luxury car price", the report notes.
But ICE prices are also coming down. "After new vehicle prices peaked at nearly $50,000 at the start of 2023, we are seeing average transaction prices dip below $48,000 for the first time in more than a year," says Rebecca Rydzewski, research manager at Cox Automotive. "Dealers and automakers are feeling price pressure, and with auto loan rates at record highs and growing inventory levels, new vehicle prices continue to ease."
Well you've read the whole article so our content can't be that bad ;) ... Seriously though, the only way EV inFocus can succeed in 2023 is if industry insiders join our community. If you believe in independent media, consider signing up to our weekly newsletter. It's an easy 3 minute read and you can unsubscribe anytime.