Vehicle Sales
US BEV sales hit parity with FY'22
Eight months of the year have taken volumes up to last year's 12-month level

Almost 100,000 BEVs were sold in the US in August, according to data from the Department of Energy's Argonne National Laboratory (ANL), the second highest month on record behind only June's foray into six figures. August volumes took cumulative sales in the second-largest national EV market, after China, to just shy of 730,000.
And that is almost exactly how many BEVs were sold in the US across 2022 as whole (see main image). So this year has seen as many all-electric light-duty vehicles (LDVs) sold in its first two-thirds than in a full year last year.
Exponential growth
This is especially encouraging in terms of increasing growth from a higher base. In 2022, year-on-year BEV volumes jumped by 59pc, from c.460,000 to c.730,000.
For 2023 to even match that rate of growth, full-year sales would have to over 1.15mn, just because of the higher base. But, in fact, current growth rates after eight months of the year are even higher than in 2022, at 65pc.
And that means, if the remainder of the year can match its first two-thirds, end-of-year US BEV sales will top 1.2mn BEVs. By way of comparison, four years ago — before growth trajectories were bent out of shape by the Covid pandemic, 2019 US all-electric sales were less than 235,000.
Discounts
One obvious driver for continuing growth in US BEV sales is falling prices. Consultancy Cox Automotive finds that, in August, the average price paid for a BEV was $53,376, down from $53,633 in July and down from more than $65,000 one year ago, mainly owing to price cuts from market leader Tesla.
Tesla sold more than 58,000 cars in the US in August, according to consultancy Motor Intelligence. That would give up a market share of 59pc, dwarfing other BEV pure plays like Rivian with 4,600 (4.6pc), Polestar with 1,259 (1.3pc) and Lucid with 598 (0.6pc).
Other EVs also continue to make inroads in the US market. HEVs and PHEVs both reached their highest monthly levels of penetration — BEVs were slightly below June's slice of the pie, albeit as marginal as 7.46pc compared to 7.49pc two months previously.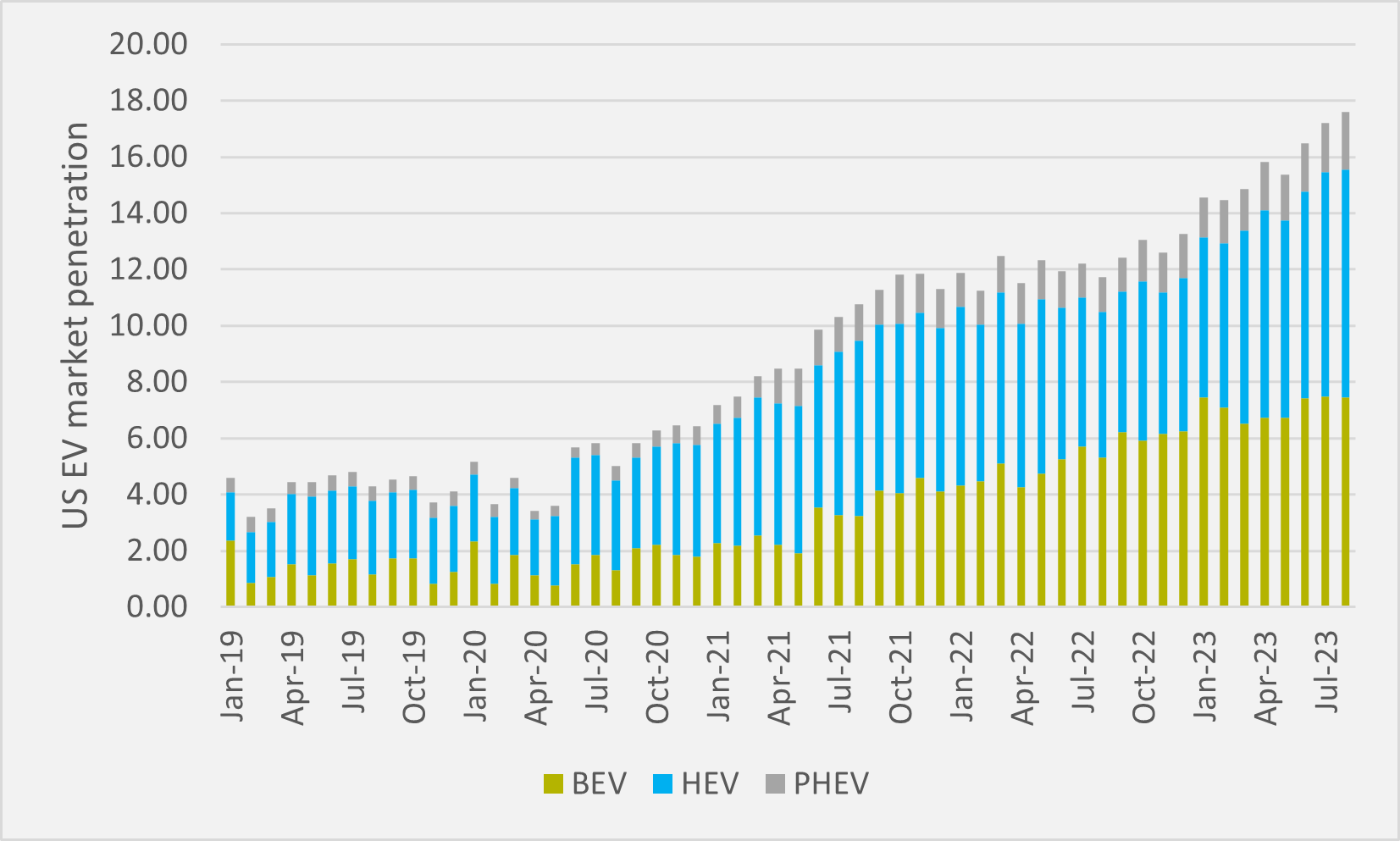 HEVs made up 8.1pc of US sales in August, while PHEVs reached 2.1pc. And that meant market share for EVs of all hues topped 17.5pc for the first time (see Fig.1).