Vehicle Sales
German brands plant BEV flag in California
Pure plays and legacy OEMs gain some ground on Tesla, but German firms the big winners

California has seen 291,649 BEVs sold in the first nine months of 2023, according to the California Energy Commission (CEC), citing data from the state Department for Motor Vehicles.
According to separate data from the California New Car Dealers Association (CNCDA), 100,597 BEVs were registered in the third quarter, which amounts to a 22.3pc market share of all vehicles sold in the state —although, notably, it is almost 3,000 fewer BEVs than the same period last year.
California has long been a key market for EVs due to its inordinate share of EVs of all hues, including PHEVs and HEVs The state was responsible was 37pc of all BEV registrations in the US in 2022 and has some of the comprehensive EV incentive laws in the country.
The Department of Energy's Argonne National Laboratory R&D facility recorded 833,975 new BEVs registered nationally in the first nine months of the year, with 300,244 of those coming in Q3. Matching that up to the CEC data, it would mean that 35pc of all BEVs sold in the US in 2023 to-date were in California. For Q3, matching Argonne and CNCDA data, that share is a similar 33.5pc.
California's BEV sales up to 30 September have almost matched the total sold in 2022 as a whole, being only 0.29pc shy of last year's year-end total, with a disparity of only 847 vehicles, according to the CEC.
Market leader Tesla has sold 183,193 vehicles in California in 2023, 81pc of its year-end total for 2022. This sees Elon Musk's firm capture a market share of 62.8pc of all BEVs sold in the state year-to-date.
This is down from Tesla's 72.6pc share of all BEVs sold in California in 2022. Tesla's share, therefore, is on pace to accelerate its decline from the 74.6pc slice of the California BEV pie it enjoyed in 2021, in line with market share pressure it has faced across the US a whole.
The company has sold 66,101 Model 3s, 3,050 Model S vehicles, 6,832 Model Xs, and 107,210 Model Y BEVs.
Legacy ICE manufacturers are gaining ground on Tesla, however (see Fig. 1) — although, when added together, the ten best-selling legacy OEMs have sold less than half of the BEVs shifted so far this year than Tesla has sold (49.2pc). But this percentage is still considerably up compared to last year.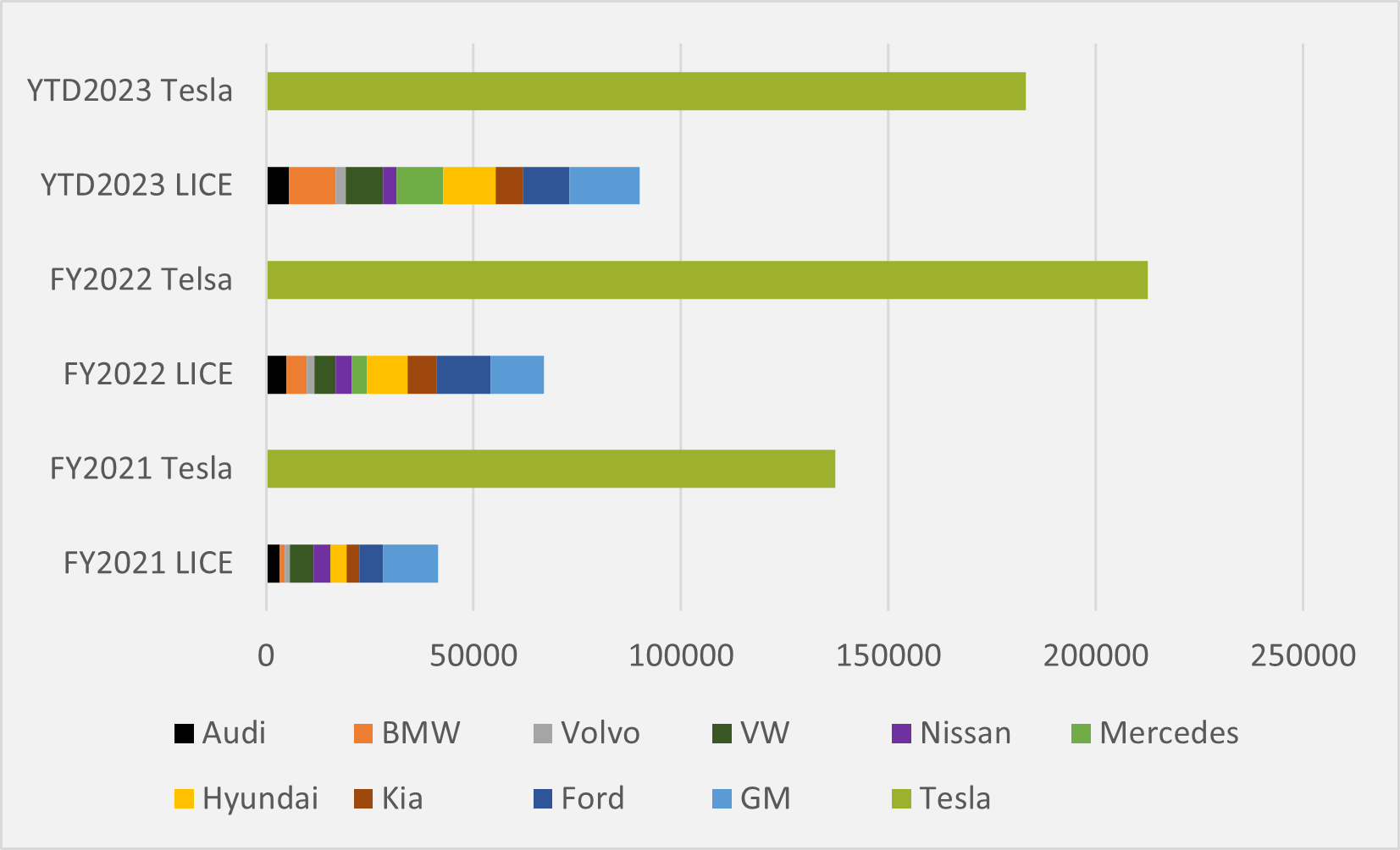 Among US legacy players, GM's Chevrolet brand has sold 15,706 of the company's 16,876 BEVs, with the GMC Hummer adding a mere 17 models to GM's sales book. California, perhaps unsurprisingly, is not proving a particularly fertile ground for the BEV versions of its oversized SUVs and trucks.
The company has sold 9,590 Bolt EUVs, outstripping its smaller version, which sold 6,115. GM's year-to-date California sales are up by 31.2pc over its year-end deliveries in 2022.
Ford sold 11,395 BEVs in the state, 8,229 of which were Mustang Mach-Es. In contrast to GM, Ford's Q1-3 BEV sales are currently 122.2pc behind FY'22 numbers.
German OEMs have made big strides in conquering California BEV market share. BMW has already racked up sales 130.9pc above what it achieved across last year. And peer Mercedes has eclipsed its FY'22 figure by 212.7pc.
EV pure plays and start-ups are also gaining market share as their sales increase, albeit from a low base (see Fig.1). California start-up Fisker sold 229 Ocean SUVs, while Vietnamese automaker Vinfast entered the state's market this year — with its BEVs only available for California residents, according to the company.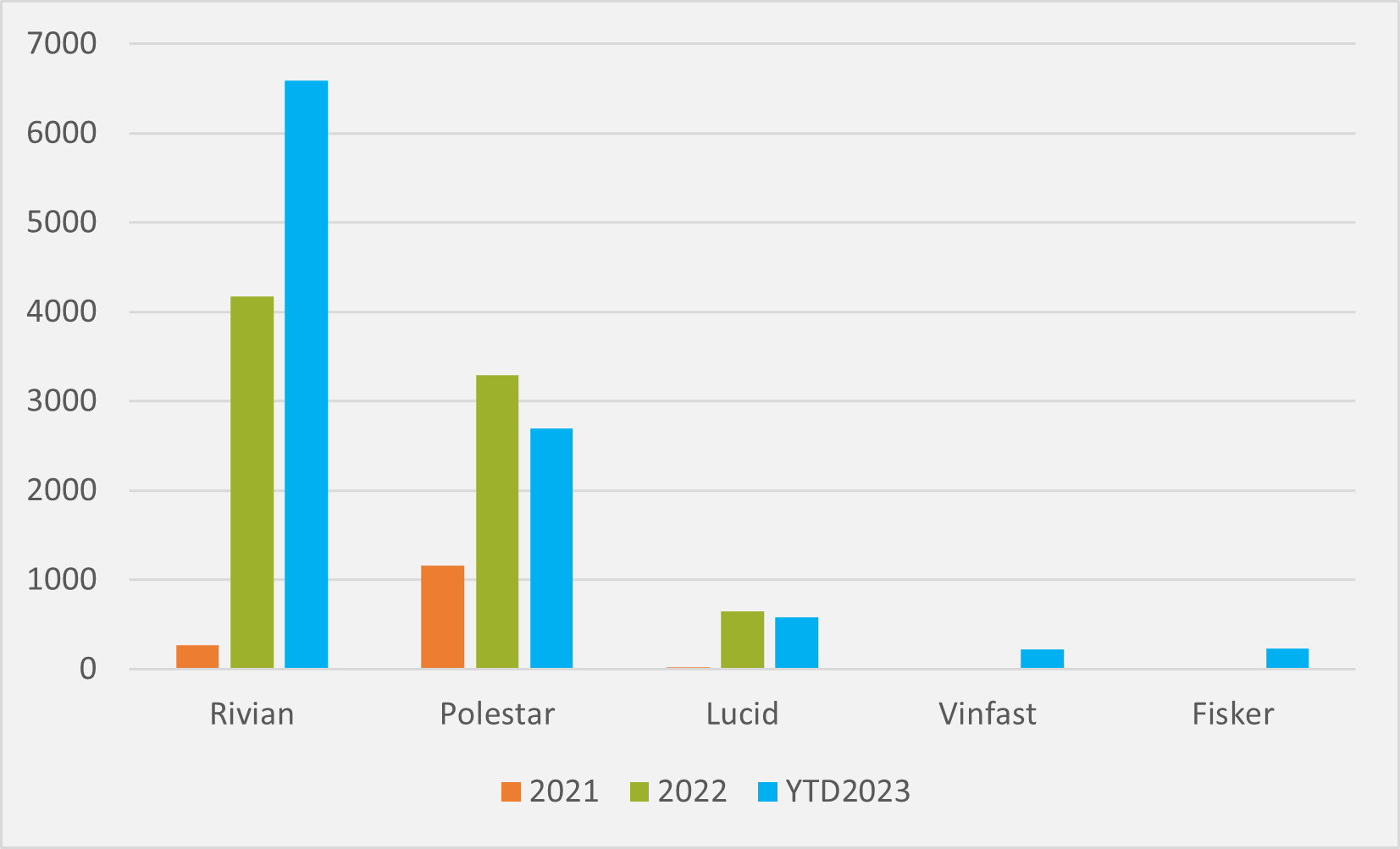 Sales by pure plays have captured 3.5pc of BEV market share in the state this year, compared to 2.8pc for all of 2022 — mostly down to a significant jump in Rivian sales. While Fisker and Vinfast's sales numbers are modest, they do add greater breadth to the pure play market. Currently, though, Sweden's Polestar and US firm Lucid have yet to match FY'22 sales in 2023 thus far.
BEVs have made up 85pc of sales of what California calls zero-emissions vehicles in 2023, although it includes PHEVS in that analysis as well as a vanishingly small number of hydrogen FCEVs. BEVs also almost doubled the number of HEV registrations in California in the third quarter, in contrast to a national trend where HEV sales are comfortably higher than those of BEVs.