Policy and Regulation
France pulls up drawbridge on Chinese EV imports
French ministry of finance will cut off consumer assistance for vehicles with a high carbon footprint

France's finance minister Bruno Le Maire has announced a change to the country's national EV subsidy scheme that will significantly inhibit EVs manufactured in China from qualifying.
The move from the French minister is another significant step from an EU member state to try to prevent cheaper Chinese EVs flooding the European market, just a week after European Commission president Ursula von der Leyen launched an anti-subsidy investigation into Chinese imports.
Shots fired
According to the French finance ministry, the subsidy programme will now include an "environmental score" from 10 October, where EVs will have to meet a particular threshold in order to qualify for savings of up to €7,000 per EV, depending on income level.
"This score takes into account the entire environmental impact of a vehicle from its manufacture to its use on the road," the ministry says.
"The environmental score is set per version of a variant of a vehicle type. It is composed, for at least 70pc of its value, of the carbon footprint of the version considered, over the stages of the life cycle of a vehicle preceding its use on the road," it continues.
The particular significance is that China's power grid uses a considerable amount of coal to power facilities from battery refining, through gigafactories, and into EV assembly plants. Its exports will therefore score poorly in these calculations.
The percentage of coal in China's power generation fuel mix varies from source to source, with the US' EIA suggesting it was 55pc in 2021, and BP's Statistical Review of World Energy putting it higher at 62pc for the same period. In comparison, coal made up just 0.94pc of France's power fuel mic in 2022, according to the IEA.
On top of these disparities in grid cleanliness, the carbon footprint required to transport EVs from China will also be taken into account, creating yet another disadvantage for Asian importers.
And the more complex an OEM's EV supply chain, the more hoops it will have to jump through. "In the event that the version of the vehicle is assembled on several sites, or is equipped with batteries produced on several sites, the manufacturer submits this information and supporting documents to the environment and energy management agency for each of these sites," the ministry says.
French hand
France has a growing domestic market that it is making more difficult for Chinese importers to access. There was a 47.7pc rise in new EV registrations in the country in the first eight months of 2023 compared to the same period of 2022 (see Fig.1), according to data of the European Automobile Manufacturers' Association, or Acea.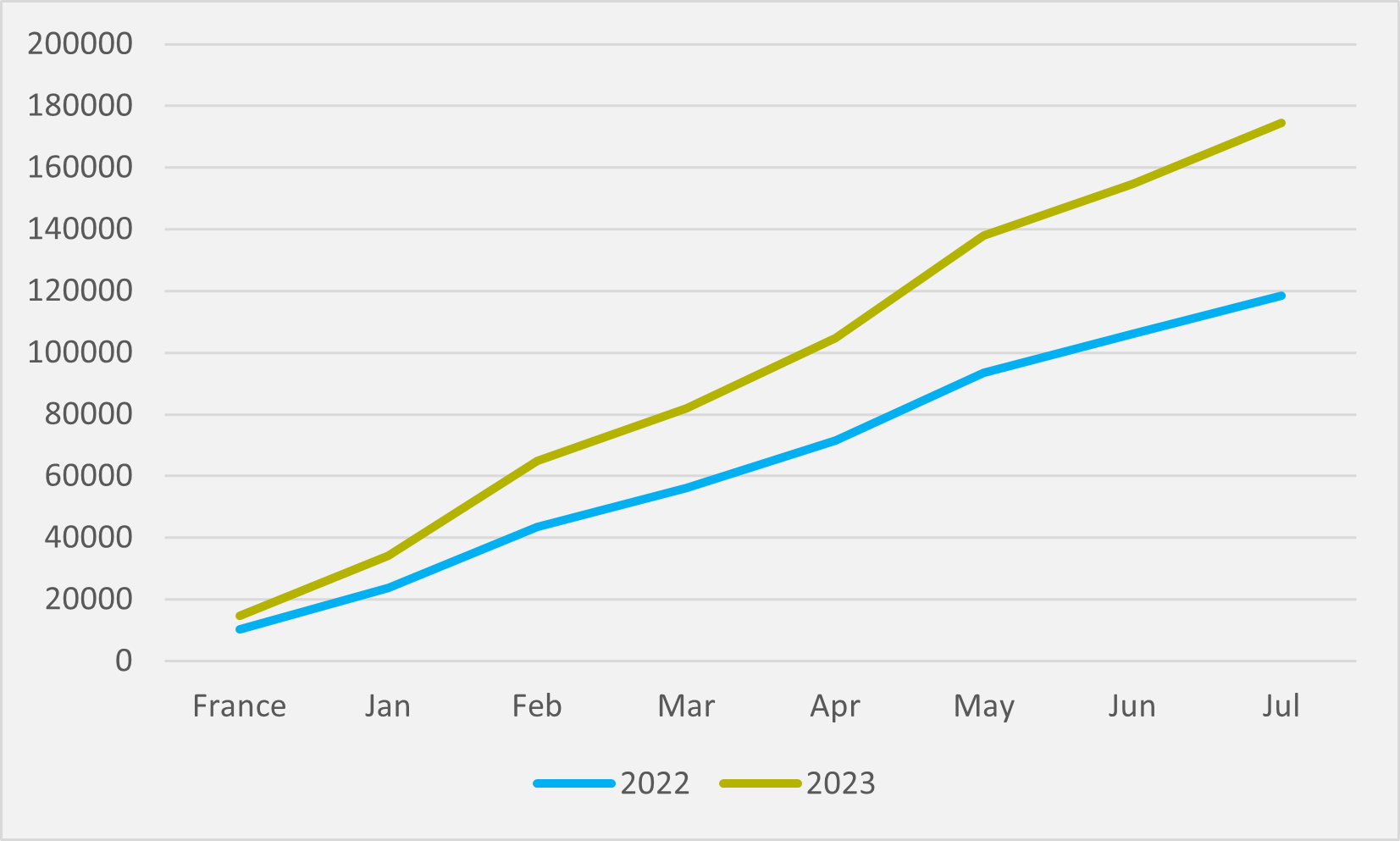 And its move also reinforces the impression that France is a key driver in pan-European efforts to put up barriers to Chinese imports. It may have more latitude to do so than fellow EU heavyweight Germany, owing to the different global positioning of its OEMs.
France's Renault has no significant presence in China. And Franco-Italian automaker Stellantis, parent company to Peugeot and Citroen, terminated the joint venture its Jeep brand had with China's Gac in July 2022 in favour of an 'asset-light' approach to China, meaning imports rather than local production.
The future of Stellantis' JV with China's Dongfeng to make Peugeots and Citroens locally has also been the subject of speculation. And, in late July, the firm's CEO Carlos Tavares openly discussed "the Chinese invasion [of the] European market".
In sharp contrast, all three of Germany's OEM heavyweights — BMW, Mercedes and VW — have far greater Chinese footprints. Thus, if French and EU obstacles to Chinese imports kicks off a retaliatory trade war that damages European OEMs selling in China, France has potentially a lot less to lose than its neighbour to the northeast.