Corporate Strategy
Sales price and capital needs dominate thinking on Polestar
The Swedish premium EV player is about to announce Q2 results

Swedish OEM Polestar could well be having a good Q3 in sales terms, building on a beat in Q2. But while a leading analyst is upbeat ahead of its announcement of Q2 results at the end of August, concerns remain over what price exactly it might be achieving for these sales, and about its need to recapitalise.
"The company has already pre-announced how many vehicles they had delivered in the second quarter — that number was significantly higher than both our estimates and consensus estimates," notes Andres Sheppard, lead equity analyst at US financial services firm Cantor Fitzgerald.
Q2 sales were 15,800, up by 36pc year-on-year and 32pc quarter-on-quarter and its best-ever quarter excepting a year-end spike in Q4'22 (see Fig.1) — albeit it did at the same time revise down full-year sales forecasts from a previous c.80,000 units to 60,000-70,000.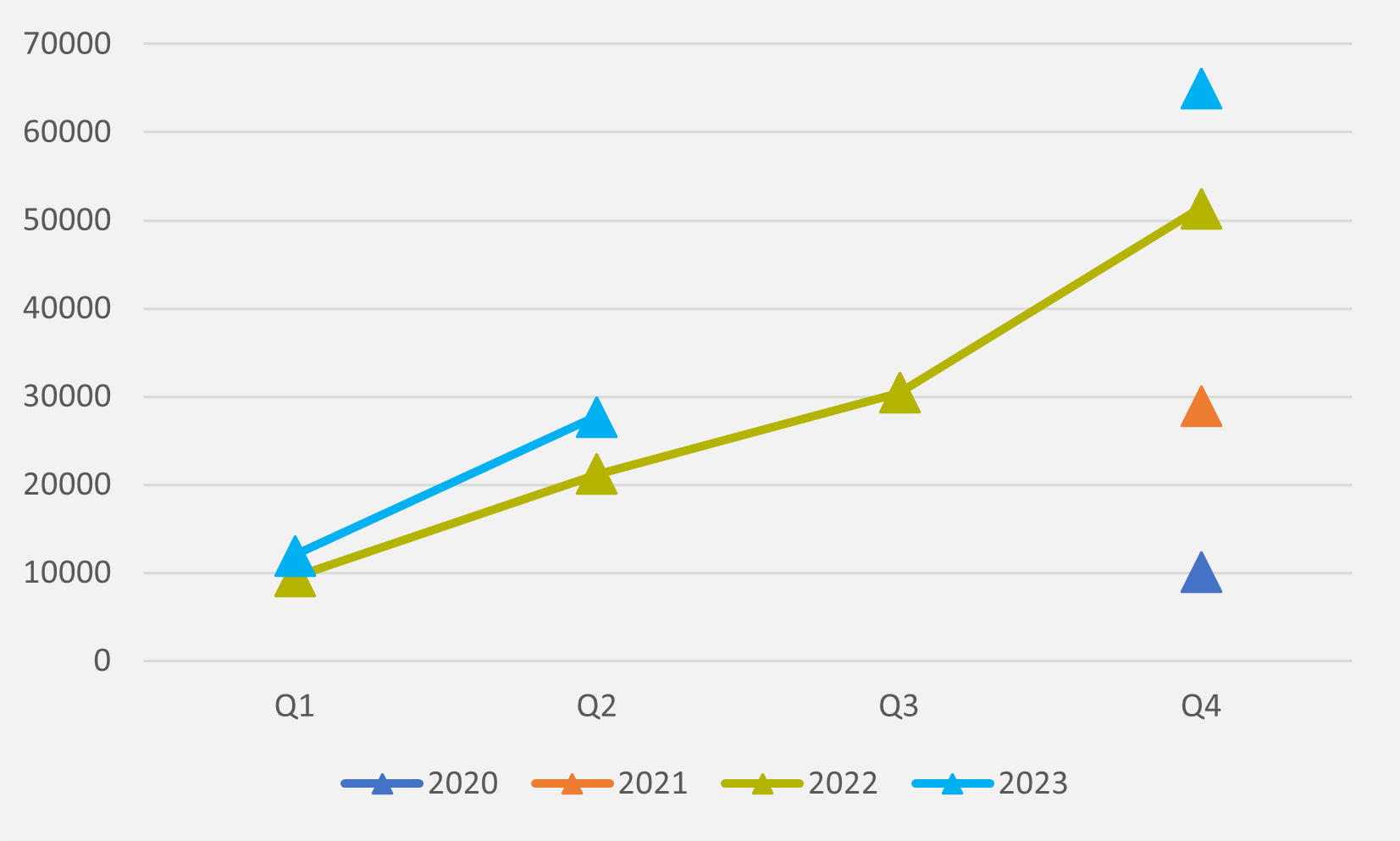 And it may well be sustaining that progress into Q3. In late August, the firm announced it had produced over 150,000 cars. If we allow for 10pc of these to still be within Polestar's inventory, it would put sales at 135,000.
By EV inFocus calculations, cumulative sales since Polestar began deliveries in 2020 up to the end of June 2023 were shy of 120,000. So this could mean up to 15,000+ sales in Q3 even before the end of its second month.
Different scale
Polestar's higher sales are something that, in Sheppard's eyes, sets it apart from some of its Western OEM EV pure play start-up peers such as US-headquartered Lucid and Rivian. "You look at a company like Rivian. They have an annual production capacity of about 150,000 vehicles, yet they are only guiding to produce 52,000 vehicles this year. So, they are essentially operating at a third of their capacity," says Sheppard.
"And Lucid's case is even worse. They are only guiding to produce about 10,000 vehicles this year. Polestar is delivering more vehicles than both Rivian and Lucid combined," the analyst continues.
Polestar's ownership structure — where Sweden's Volvo Motors owns a half-share and, indirectly, China's Geely is a 40pc stakeholder— also gives it advantages, in Sheppard's view. One of them is reach in comparison to a company building a sales network from scratch.
The firm has "access to 26 or 27 markets across the world, so that gives them, in our view at least, a leg up from the competition", Sheppard says.
Access to Chinese technology, like Geely's SEA EV platform, and manufacturing is another. "They are planning on adding manufacturing facilities in the Carolinas here in the US, but as things stand, all of their vehicles are being manufactured in China. Thus, they have been less affected by the supply chain disruptions that have affected the entire industry," the analyst continues.
Headwinds
But not everything is plain sailing heading into its Q2 reporting. The price Polestar is achieving for its strong sales will be watched with interest.
Sheppard, for one, will be "paying attention to what the average selling price of the vehicles is", given aggressive price cutting by market leader Tesla — "four or five times in the last 12 months," says Sheppard — and others such as US heavyweight Ford and Lucid.
Price is another of Polestar's advantages over its challenger competitors. "Their vehicles are very competitively priced, almost in line with Tesla," says Sheppard. The dominant EV maker operates in the $50,000 ballpark, compared to more like c.$80,000 for Rivian or Lucid.
Obviously, if rivals have been cutting prices, Polestar may have felt the pressure to also offer discount, even if it has not publicly flagged major list price changes. And that could put pressure on Polestar's boast of producing positive gross margins.
The other analyst concern is Polestar's balance sheet. "The company has been very transparent about the fact that they will need to raise additional capital in the short term," Sheppard notes.
In contrast, Rivian and Lucid — which has the backing of Saudi sovereign wealth fund the PIF — will not, according to Sheppard's calculations, need to tap the markets until at least 2025. "Within the next nine or twelve months at most, they are going to have to raise capital and, by our expectations, that capital is going to have to be north of a billion dollars," he says.
But Sheppard is not overly worried by the size of the cash call. "Rivian and Lucid both were able to successfully raise more capital that that," he notes.