Vehicle Sales
Ford EV sales regain lost ground
US volumes for the OEM are almost back at levels before Q1's double hit

Ford's EV sales have nearly doubled in the last two quarters as the legacy OEM continues to rebuild after two of its three BEV offerings paused production in Q1. It sold 20,962 EVs in Q3, with the quarter seeing a 71pc improvement over Q2 of this year, and a 93pc increase over the benighted Q1.
September saw a total of 7,742 vehicles sold, comprised of 5,872 Mustang Mach-e SUVs, 933 F-150 Lightning trucks, and 937 E-Transit vans. It is the strongest month of the year for Ford in terms of EV sales, and only marginally below its peak month of 7,823 sales in December (see Fig.1).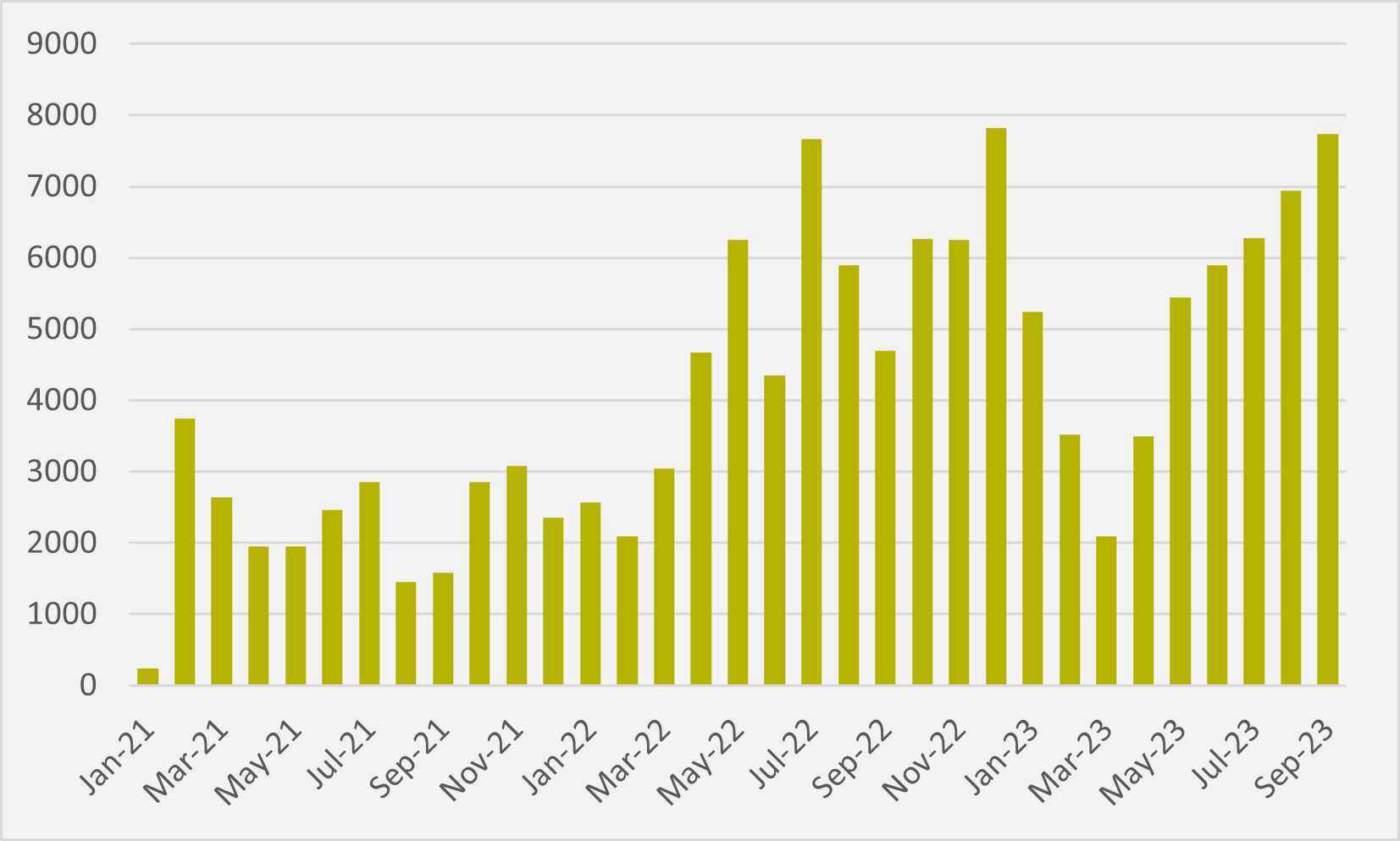 It is only the third time that the OEM has delivered more than 7,000 vehicles in a calendar month, the first of which came in July last year when 7,669 were sold.
Mach-E leading
Two of Ford's three models saw an increase quarter-over-quarter, but Mustang Mach-E sales in particular are making up a growing proportion of the company's EV sales, having risen by 42.5pc over last quarter. The Mach-E growth is "based on additional capacity we added earlier this year", according to Ford. The firm paused production in Q1 to upgrade its facility which, combined with a shut-in of F-150 Lightning production in February on fire fears, contributed to the slump in Q1 BEV sales.
All Mach-E vehicles, except for those made for the Chinese market, continue to be built solely in Ford's Cuautitlan plant in Mexico. The increase in production capacity saw it producing 7,381 units in March, peaking at 13,639 in May.
Ford has produced 76,768 Mach-E cars in Mexico in 2023-to-date but has only sold 28,882 in the US, leaving a surplus of nearly 48,000 cars generated in 2023 alone. This surplus grew rapidly in the second quarter before the company reduced production to levels closer to sales figures in third quarter.
However, in September, the surplus jumped again, with Ford selling only 50.1 pc of Mach-E cars produced in the US in the month, compared to 69.9pc in August (see Fig.2). While a good deal of the surplus is presumably exported to Europe, Ford has repeatedly declined to respond to EV inFocus queries about how large inventories may be.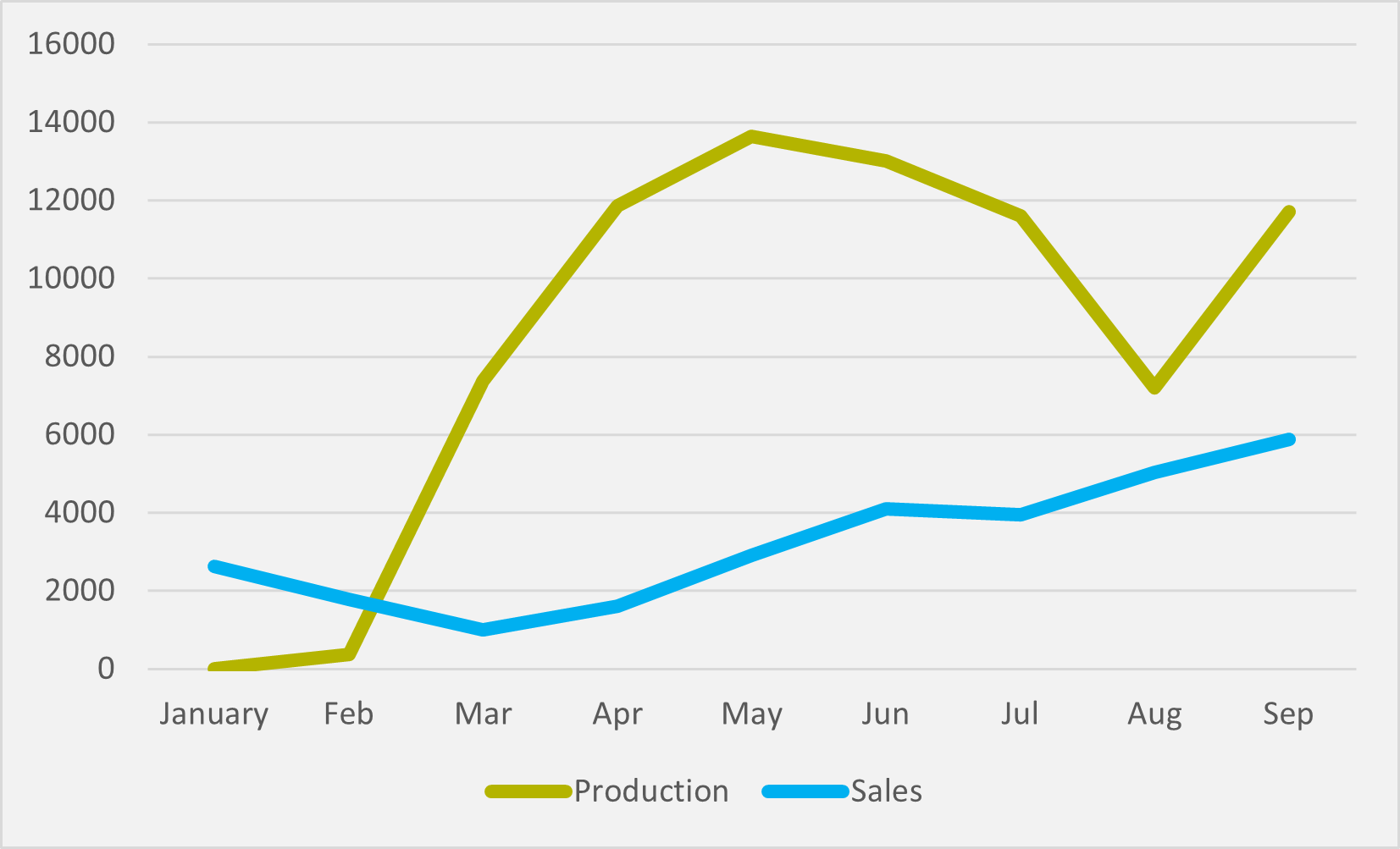 The F-150 Lightning was Ford's only electric model not to increase its sales in September. In fact, its deliveries decreased in every month of the third quarter. Lightning sales have been steadily shrinking as a proportion of the firm's total EV sales since January, when the truck made up 43pc of electric vehicles delivered. In September, that number is just 12pc. This ground has been made up by the Mach-E, which has gone from 50pc of January sales to 76pc in September.
The company says that the "F-150 Lightning is expected to produce sales increases in Q4, as capacity actions at the Rouge Electric Vehicle Centre are realised", referring to its plant in Dearborn, Michigan.
In contrast, Ford hails "improved performance from E-Transit with its best quarterly performance since it went on sale". The van saw an 89.9pc increase in US sales compared to Q3 of last year (see Fig.3).