Vehicle Sales
BMW seizes bigger chunk of German BEV market
The Bavarian heavyweight's relative bullishness on electrification vindicated in October data

Two of every 15 new BEVs sold in Germany in October was a BMW or Mini, as the German OEM's end-of-Q3 optimism over the appeal of its range and its ability to grow the BEV share of its overall proved justified.
Two of its models, the i4 and i5, enjoyed their best-ever months of German sales, while the X3 and X1 bounced back after September's end-of-subsidy plunge to boost second and third best sales months, respectively.
The X1 and Mini also saw rebounds from September, leaving only the iX — perhaps the most exposed model to the end of fleet incentives — still suffering from a hangover from Germany's August splurge of buzzer-beating buying.
Overall, BMW shifted 5,050 BEVs in its home market in October (see Fig.1), its highest monthly volume of German BEVs sold outside of December last year and August this year — the two months that saw pre-subsidy-adjustment surges in German BEV buying. And that left BMW's German BEV market share at 13.35pc, its highest since the start of 2022 at the latest.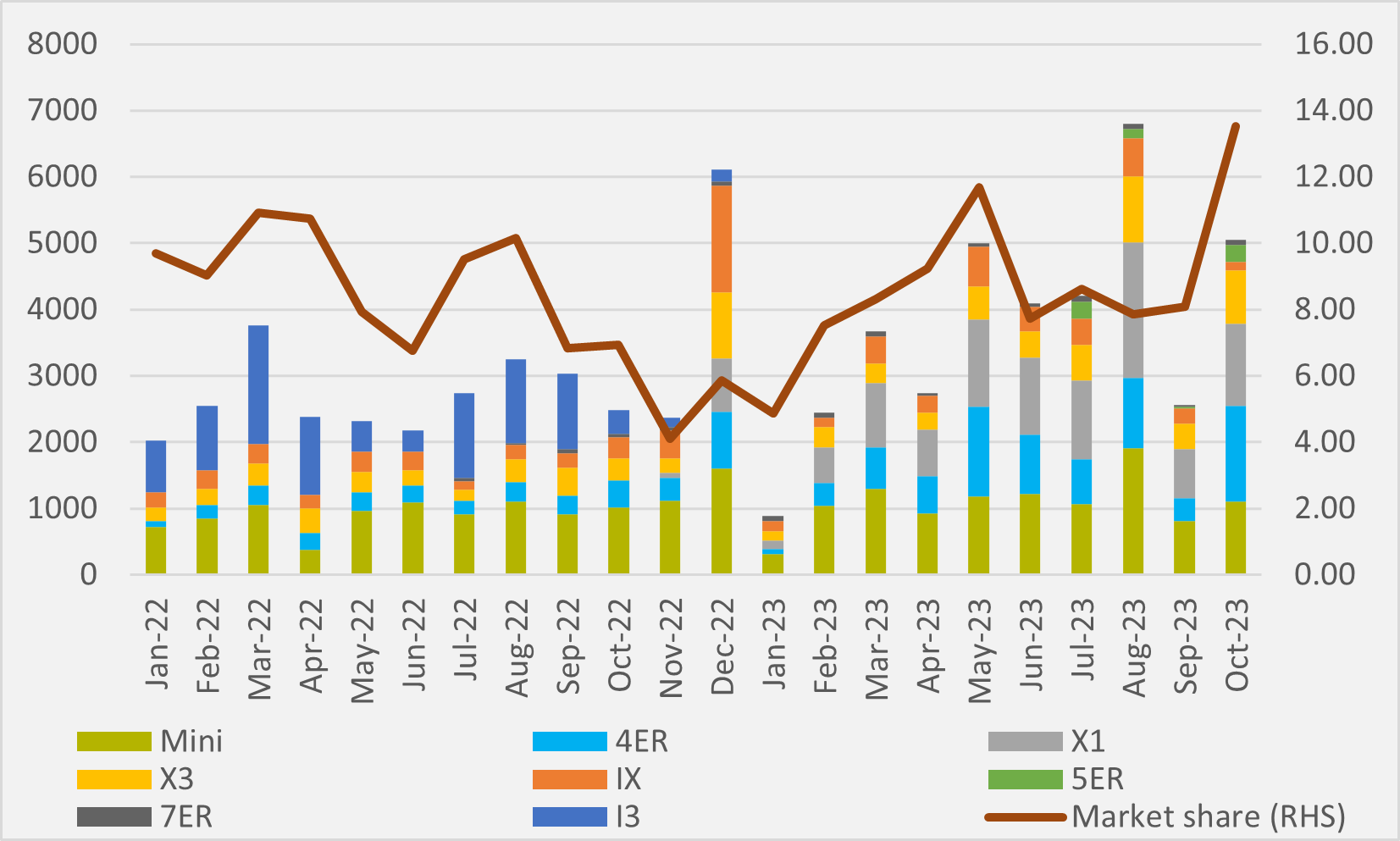 Cumulative BMW BEV sales in Germany for the year so far reached c.37,500 by the end of the tenth month, taking sales above those achieved in 2022 as a whole, when just over 35,000 vehicles were sold (see Fig.2). And this has been achieved even with the national slumps on BEV sales seen in January and September after the subsidy adjustments, as well as BMW stopping sales of the i3 — with 9850 sales the firm's best-selling BEV model after the Mini in 2022 — at the end of last year.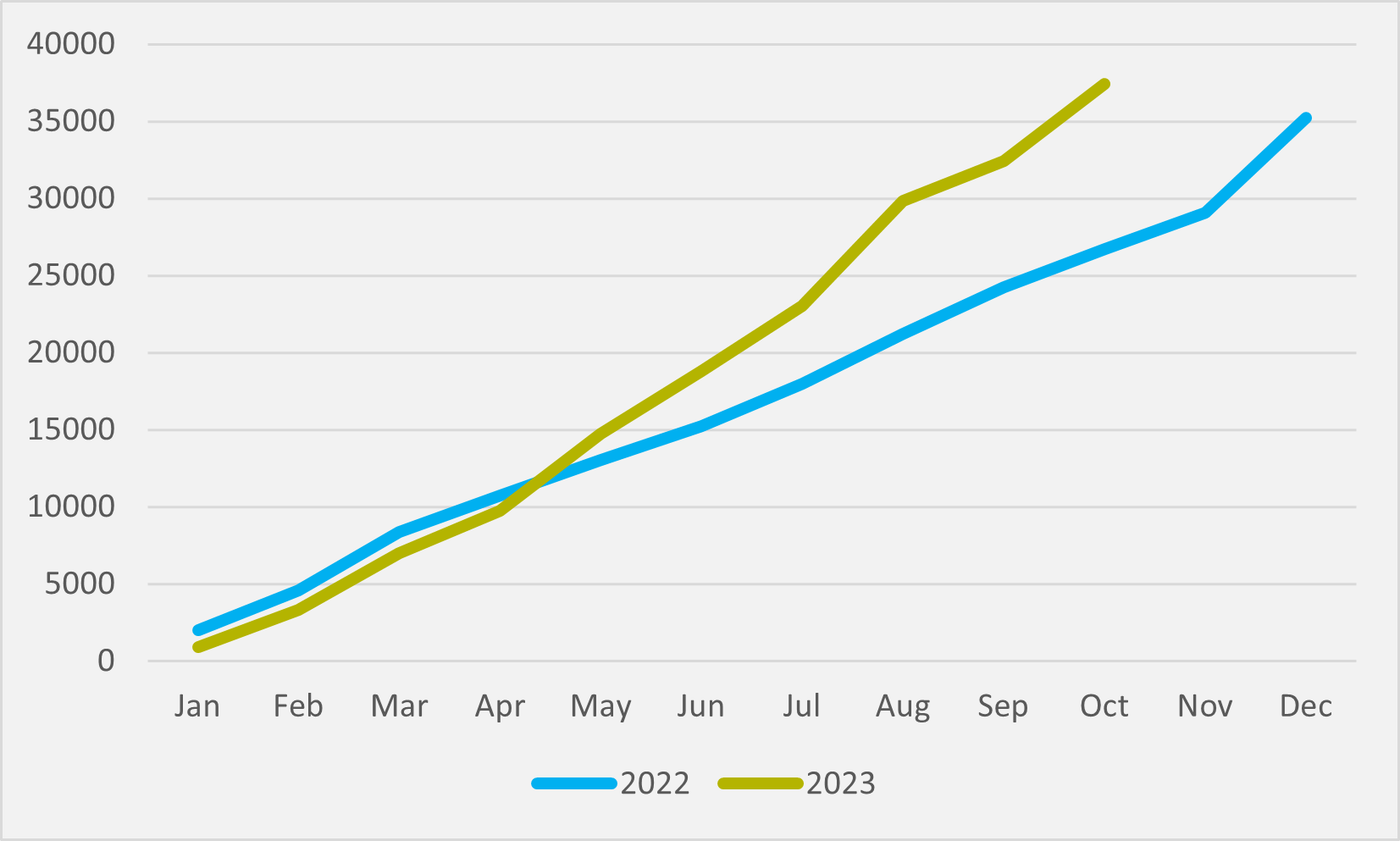 But the firm will hope to build on October's relative success for the remainder of the year, as its German BEV market share across the first ten months of 2023 as whole is8.67pc, almost at parity with 8.6 for the same period of 2022. It should, though comfortably end the year with higher market share than last, as a sales slump on the i3 ahead of its retirement saw BMW's market share crater to as low as just 4pc of the market in November '22.
Reasons to be cheerful
And BMW's strong October performance in Germany backs up BMW's optimism at the firm's Q3 results that our all-electric vehicles would be "another important growth factor". The firm sold c.94,000 BEVs in Q3 for just shy of 247,000 for the year-to-date. That means just under 13pc of BMW's total BEV sales globally were seen in Germany itself.
Like in Germany, share of BEVs in total sales is growing as the year progresses. It stood at 13.4pc for the first nine months of 2023, but BMW reports that it was 15.1pc in Q3 alone, and it expects to hit 15pc for the year as whole. "In the third quarter, it was 15.1pc.
"In the fourth quarter our sales of all electric vehicles will get a further boost from the launch of the new BMW i5," says BMW CFO Walter Mertl. This is backed by the i5 gaining momentum in Germany in October, albeit still lonely selling 261 units.
"Our rollout of new all-electric products will continue in the spring," adds Oliver Zipse, chairman of BMW's board of management. For example, the new BMW 5 Series Touring will include the all-electric i5 Touring — "a real unique selling point in a segment that is very popular, especially here in Europe," Zipse says.
"And our goal remains the same, more than half our global sales from all electric cars well before 2030," Zipse continues. "[For] the order book for the next year, we will introduce the i5, the iX2, the iX1… we will have three completely electric Mini models.
"It is my belief that we will have a strong push towards BEV demand to reach our target of 20pc in 2024 — we always said 15pc this year, 20pc next year and then it goes in 2025 to 25pc and so on. Actually it is happening exactly in the way we prognosed it to be," Zipse concludes.
Nor is BMW planning to achieve this growing share of BEV sales through price cutting. "We would never sell an electric car without it contributing to profitability," Zipse says.
And he brushes off analyst concerns that if BMW is planning on selling the i5 only at a price comparable, rather than at a premium, to its ICE versions of the car, it will face margin pressure as the battery version will cost more to make as being solely a Chinese issue.
"Every market will have a different approach," Zipse suggests. "In China [selling i5 at ICE parity] is, at this point in time, the right approach. This is still by the way a very profitable thing for us." And he points out that BMW's Chinese BEV sales over the first nine months of the year have tripled year-on-year.
"When we do the pricing, we will not do anything which will harm our profitability, and especially we will be super-careful about our keeping of the pricing points. But I think our strategy in EV in China is working out for us."
Not just another car
Longer-term, Zipse stresses the importance of the forthcoming Neue Klasse range. "The Neue Klasse is more than just another BMW brand new car. It is a whole new generation of products.
"We will be releasing six models on the roads within 24 months from SUVs to sedans. What all the models have in common is the all-electric heart that powers them," says the BMW chief.
And the stress on long-term commitment to electrification stretches to BMW's other brands too. "Between now and 2030 we will be completely realigning Mini and making the brand all-electric," Zipse says.
After presenting "two key members" of the new Mini family — the Mini Cooper 3-door and the Mini Countryman —at IAA Mobility in Munich in September, Zipse promises the next fully-electric Mini will be ready to go in April. The Mini Aceman will make its world premiere in the premium compact car segment," he says.
New Mini BEVs are produced in China by Spotlight, BMW's joint venture partnership with Great Wall Motors, and in plants at Leipzig and Oxford in Europe.
"Our second British brand is also on the threshold of pure electromobility, Zipse says. "By the early 2030s, Rolls-Royce will also be exclusively all-electric. Preparations for the sales launch of the first electric Rolls-Royce are currently in full swing — the Spectre, which is scheduled for release by the end of the year, is set to redefine modern luxury."