Policy and Regulation
UK ZEV mandate survives with only minor tweaks
Vans and ICE vehicles reducing their carbon footprint get a bit more flexibility

The UK's zero emissions vehicle (ZEV) mandate scheme will proceed as planned from the start of 2024, despite the UK government's recent extension of the ability to sell ICE cars from a 2030 deadline to 2035.
There are in fact no alteration to annual targets for BEV passenger vehicles, with changes confined to targets for vans in the 2024-26 period and more generous ability to transfer non-ZEV CO2 allowances into the ZEV mandate scheme.
The trajectory for increasing percentage of ZEV vans sold has been flattened somewhat in 2025 and 2026. The previous 10pc to 19pc jump from 2024 to 2025, a much shallower 19pc to 22pc increase in 2026, followed by another steep ramp to 34pc in 2007 has been eliminating in favour of a 10-16-24-34pc path (see Fig.1).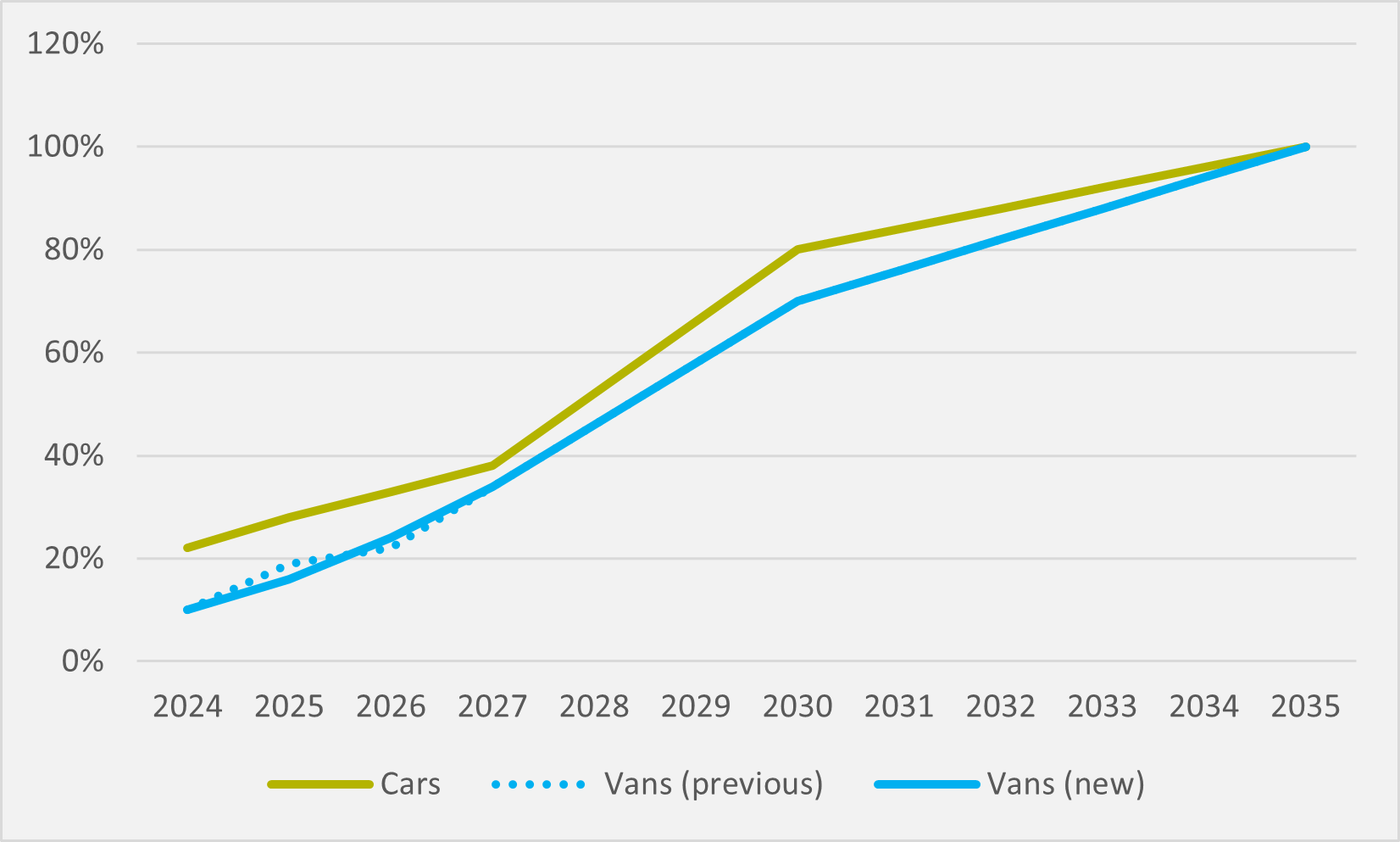 The percentage of credits from future years that can be 'borrowed' from future years has been increased from 75pc to 90pc of the van threshold for 2024, taking into account "current challenges faced in this segment of the market by offering additional flexibility in the first year of the ZEV mandate for vans".
The final material change to the mandate is the ability to import credits earned by reducing CO2 emissions from non-ZEVs. From a flat 25pc additional credits that could be imported in 2024-26 under previous proposals, a 65pc cap will be in place for 2024 and 45pc in 2025.
Ambitious
"The flexibilities now included… support pragmatic, equitable delivery," says Mike Hawes, CEO of UK motor industry lobby group the Society of Motor Manufacturers and Traders (SMMT). "It is worth noting the mandate means the UK still retains the most ambitious transition timeline of any major market but without any private consumer incentives."
Post-2030 targets are included in the update, but will not immediately be subject to legislation. "The lack of a post-2030 regulatory framework, including a definition as to the vehicles eligible for sale from 2030 to 2035, creates investment uncertainty," Hawes warns.
"Manufacturers offer a vast range of zero emission vehicles, but demand must also match supply. We need a buoyant market that delivers fleet renewal at scale, ensures a vibrant used EV market and gives consumers confidence. This means an attractive package of fiscal and other incentives, mandated infrastructure targets and a consistent message that encourages drivers to switch now," he continues.