Vehicle Sales
The rise of the other in European vehicle sales
Brands like Polestar and MG may be on the march

European market share trends for the first seven months of 2023 do not look pretty for several of the continent's most established brands, including Germany's BMW and Mercedes, Japan's Hyundai and Toyota and, most notably, Franco-Italian OEM Stellantis. Germany's VW Group is the standout exception to legacy automakers shedding market share, according to the latest data from the European Automobile Manufacturers' Association, or Acea.
US EV pure play Tesla has been playing a key role in taking a bigger slice of the pie and leaving less for others. But another key trend is one that Acea data reveals largely by omission — a growing share for brands that the association does not break out owing to their relatively small individual market shares. And several of these are selling BEVs only, or have a number of BEVs in their product range.
Acea tracks the market share of 34 marques made by 16 OEMs, as well as providing cumulative market share for VW Group's Bentley, Bugatti, Lamborghini and Man and Stellantis' Dodge, Maserati and Ram brands. But OEMs smaller than Mitsubishi's 0.3pc sliver of the market do not get broken out.
Grabbing a slice
And these challengers have been on the march in January-July 2023. In the same period last year, they represented a combined market share of just 2pc of the 31-country EU+Efta+UK market, less than Japan's Nissan or Sweden's Volvo Cars held individually.
But the first seven months of this year have seen them increase their penetration by 1.4 percentage points to 3.4pc (see Fig.1), sitting in the middle between Tesla's 2.7pc share and the 4.1pc enjoyed by US legacy OEM Ford. Not all of these growing sales will be BEVs, but the group will include brands such as Sweden's Polestar and China's GMW Ora and BYD that sell only all-electric, or others like China's MG that have several BEVs in the sales line-up.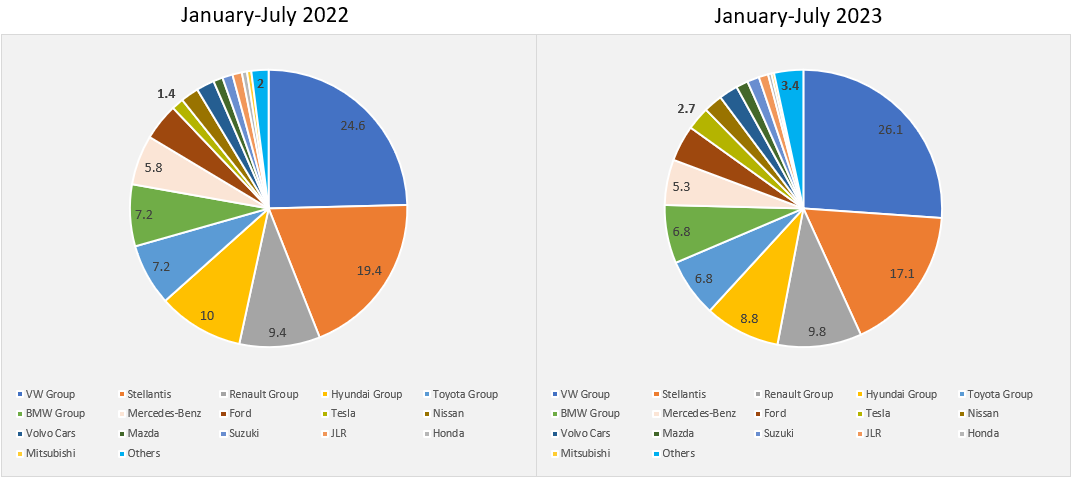 The UK is by no means a perfect proxy for Europe as a whole. But the brand-by-brand breakout of its January-July sales sees a clear uptick in demand for passenger vehicles from MG, a brand of China's Saic, and Polestar, in particular.
MG's UK sales rose by 62pc from c.28,000 in the first seven months of last year to over 45,000, according to data from the Society of Motor Manufacturers and Traders (SMMT). MG offers four BEVs for sale in the UK, alongside one PHEV and three ICE offering.
MG may do better in the UK than elsewhere in Europe as the marque is British in origin before a 2010 Chinese takeover and remains headquartered in London. But other EV-only and EV-heavy brands are also doing well. Polestar's UK sales jumped by 170pc to over 8,000, according to the SMMT.
GWM Ora, an all-electric subsidiary of China's Great Wall Motors, and BYD, which only sells BEVs in Europe, are much smaller by comparison, with January-July UK sales of less than 400 and under 200, respectively. But it is worth nothing that these are from zero sales in the same period last year.
Squeeze
Tesla has also played a major role in reducing the sizes of other OEM's slices of the European pie. Its cumulative sales over the first seven month of the year have, according to Acea, reached almost 200,000, compared to less than 90,000 by the end of July 2022 (see Fig.2).
This has driven a 1.4 percentage point increase in its European market share, from 1pc to 2.4pc, propelling it past Nissan, Volvo, Japan's Suzuki and Mazda and the UK's JLR. And this growth by Tesla and by 'others' has made from grim reading for many other OEMs, with the aforementioned exception of VW and, to a lesser extent, France's Renault Group.
VW Group has increased its position as Europe's largest OEM by sales by 1.5pc percentage points to a 26.1pc market share, driven by its brands Skoda, Audi, VW and Cupra all capturing a larger slice of the pie (see Fig.3). Renault's market share also rose, from 9.4pc to 9.8pc, as both its eponymous French marque and Romania' Dacia made progress.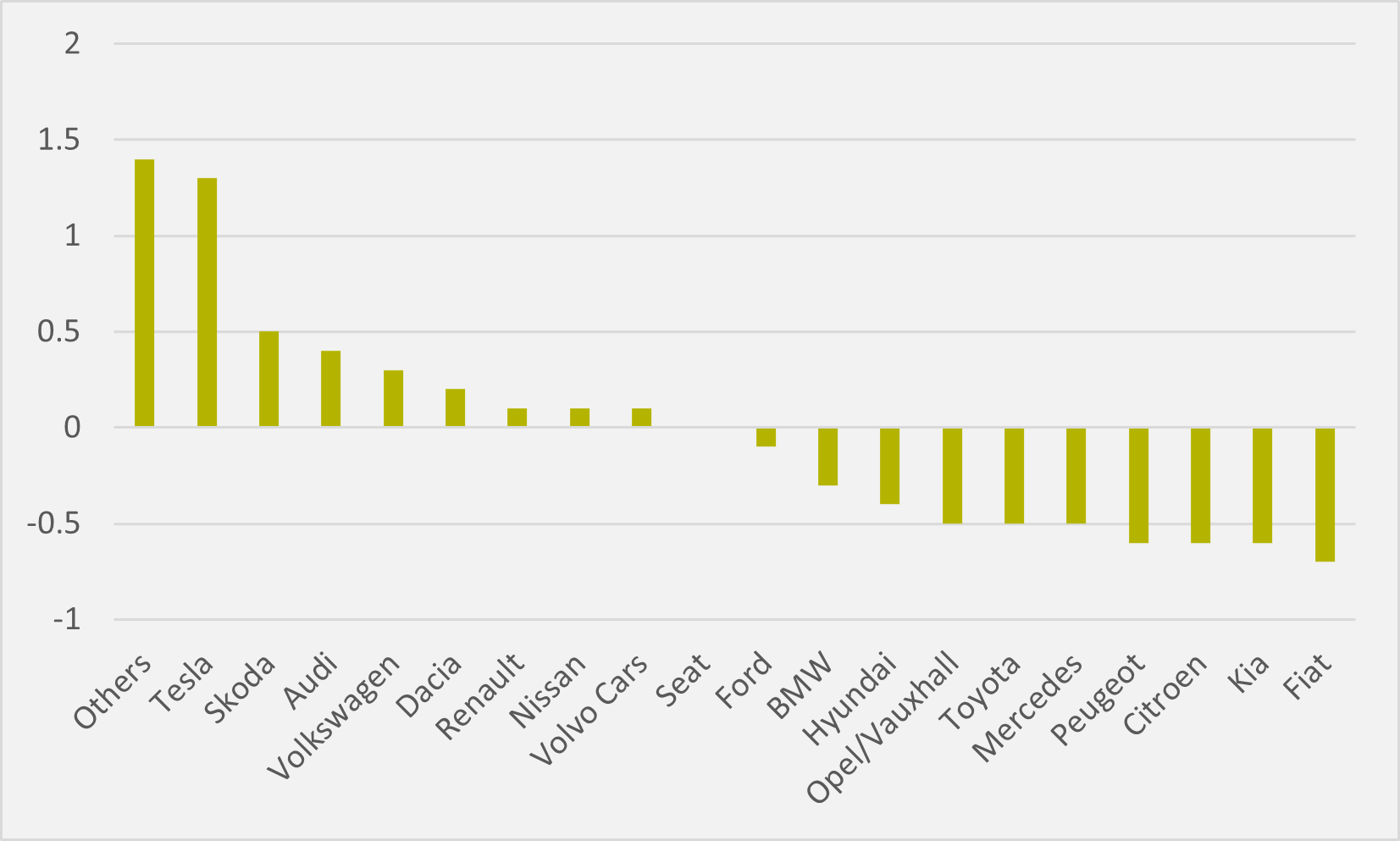 But, at a group level, Mercedes and BMW have lost 0.5 and 0.4 percentage points of market share, respectively, mainly due to their flagship brands losing ground. Japan's Toyota also shed 0.4 of a percentage point in dropping from 7.2pc to 6.8pc of the market.
More blood was in the water for the Hyundai Group, which saw market share slip by 1.2 percentage points, as both its eponymous Japanese marque and South Korean brand Kia proved less popular. But that was overshadowed by the horror show at Stellantis.
Of the seven brands that dropped by 0.5 percentage points of more, four of them were the largest owned by the Amsterdam-headquartered OEM, as Opel/Vauxhall dropped by 0.5 percentage points, Peugeot and Citroen by 0.6 and Fiat by 0.7. All that added up to Stellantis overall European market share slumping by 2.3 percentage points from 19.4pc to 17.1pc.