Vehicle Sales
Strong Q3 not enough for Rivian sales guidance upgrade
Better-than-expected deliveries and conversion rate, but stock down after analysts expected raised full-year sales target.

EV start-up Rivian delivered 15,564 vehicles in the third quarter, which the company believes puts it "on track" to deliver on the 52,000 annual production guidance previously provided at Q2 earnings. However, the company's share price dipped as analysts expected more than a reiteration of previous projections.
Much of the analyst reaction to the numbers was positive — with Rod Lache of sell-side research firm Wolfe Research calling Rivian's deliveries "strong". Bank Evercore upgraded its rating for Rivian to outperform due to seeing a path for the company to exceed its annual production guidance this year and approach 80,000 vehicles produced in 2024.
Reaching 52,000 vehicles produced by year-end does seem a somewhat conservative estimation from the company. Year to-date, Rivian has produced 39,421 vehicles and delivered 36,150.
Achieving the forecasted number of 52,000 by year-end would constitute a slight slowdown in production. It would only require the company to produce 12,579 vehicles in the final quarter, nearly 4,000 fewer than it produced in Q3.
Financial analyst and journalist Clark Schultz therefore believes that the company keeping their guidance as was "implies fewer deliveries in Q3 and Q4 than anticipated". But while conservative guidance may have cost a small dip in the share price, Andres Sheppard, analyst at financial services firm Cantor Fitzgerald, thinks that the company has a good reason.
"The company is still fresh from last year when they had to revise their guidance down by 50pc. So I think now they are in a situation where they want to under-promise and over-deliver," Sheppard says.
Referring to a report from newswire Bloomberg of internal whispers at Rivian indicating a true annual capacity of over 60,000 vehicles, Sheppard says his "take is that they will probably beat [official] guidance" (see Fig.1).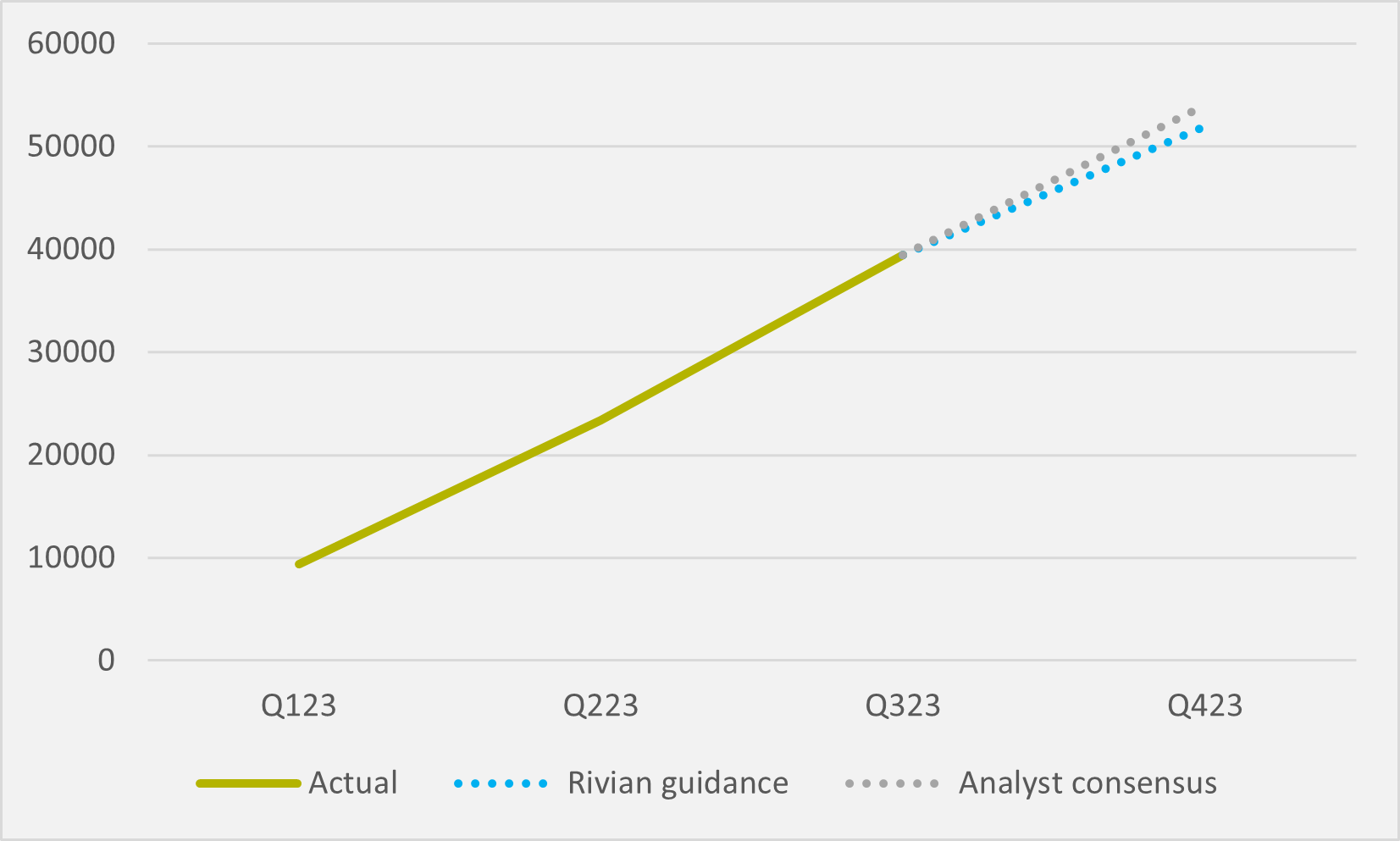 "What I think they are trying to do is that want to keep that number where it is so that they can surpass that number and that will help the stock price," he adds.
Conversion rate
Vehicle deliveries in Q3 equal over 97pc of the 16,304 cars which the company produced in the same period, continuing a trend for the company of matching production totals closely to deliveries.
Rivian has mostly had a high conversion rate by quarter since deliveries began in September 2021. The quarter with the lowest proportion of produced vehicles delivered was Q1'22, in which 48pc of vehicles produced in the quarter were delivered. This quarter's results, on the other hand, has the highest conversion rate.
The firm's conversion rate has been increasing by around five percentage points/quarter since Q4 of last year, in which time the rate has jumped from 80.4pc to 90.4pc last quarter, before reaching the 97pc figure in this quarter. The cumulative gap between production and deliveries to-date sits at 7,371 vehicles, or less than half of a single quarter's production (see Fig.1).
Waiting game
Despite growing delivery numbers for its existing R1S e-SUV and R1T e-truck models, analyst Schultz insists that "the long-term bull case is centred around brand escape velocity, profitability, and target addressable market expansion with the R2."
The Rivian R2, expected to be a compact SUV retailing in a $40,000-$60,000 range, "is seen [as] being Rivian's first over-300,000 unit volume platform," Schulz says. It is expected to be unveiled in early 2024 and launched in 2026, according to Rivian CFO Claire McDonough.