Corporate Strategy
Nine weeks that shook Ford's EV strategy
Eye-bleeding losses mean a rethink for the US OEM's Model e arm

Only 66 days separated Ford's capital markets day (CMD) in late May and its Q2 earnings call at the end of July. But, at the latter, the firm's CEO Jim Farley basically told Ford's analyst community to forget a big chunk of what they had heard at the former regarding the legacy automaker's plans for the EV part of its business, junking several targets and milestones. It is a bold move.
"The number of global entrants is increasing even at the high end and the pricing pressure has dramatically increased in the past 60 days," says Farley by way of explaining the rapid volte-face. The firm itself announced close to five-figure price cuts for its F-150 Lightning e-pick-up in mid-July.
"EV price premiums over internal combustion vehicles fell more than $3,000 in the second quarter and nearly $5,000 in first half," he continues. "The price premium of EVs has come off or normalised more quickly than we expected, and so that is impacting the profitability right now," adds Ford CFO John Lawler.
"We had thought that prices would come down," says Lawler. "It is sooner than we had thought. And it might be a little bit deeper than we had thought."
Junked
And these changed market conditions have seen a raft of changes in Ford's projections. One casualty is its forecast of its Model e segment of the business reaching breakeven by year-end.
"Given the rapid and dynamic gain on the pricing environment, we no longer expect to see contribution margin breakeven for our gen-1 products this year," Lawler admits. Revenue at the ringfenced EV arm is up by 39pc to $1.8bn — unsurprisingly, given Ford sold over 13,000 Mustang Mach-Es and F-150 Lightnings last quarter, compared to just under 7,000 in Q2 last year.
But Model e lost $1.1bn in Q2 on an Ebit basis, with an Ebit margin of -58.9pc. "Contribution margin and Ebit margin were both negative with pricing and volume pressures intensified," Lawler confesses, although stressing "that is impacting all OEMs".
Other milestones are also getting pushed back. An original target of hitting an annual production of 600,000 EVs by the end of this year has been postponed to 2024. The 2026 2mn/yr EV production target has also been junked. "We maintain flexibility on… when we reach 2mn total EV global capacity," says Farley.
"The EV volumes cut does not come as much of a surprise simply given the ambitious production ramp that would have been required," says James Picariello, senior automotive analyst at bank BNP. "However, the magnitude of this year's Model e losses likely surprises most folks," he adds.
Adamant on margins
One 2026 target does remain in place. Ford is sticking to its guns about achieving an 8pc gross margin on EVs by 2026. How it will get there, though, will change.
"It may look a little bit different than we shared at capital markets day, but there are levers that we will see. We do not necessarily have to spend at the same rate. Some of the battery factories need to be flexible," says Lawler.
In short, what Ford is saying is it needs to slow down the pace of its planned EV development as it is now haemorrhaging more cash than expected owing to cut-throat competition. And it will come back with a more streamlined vision focused on products and manufacturing processes that can deliver its promised 8pc.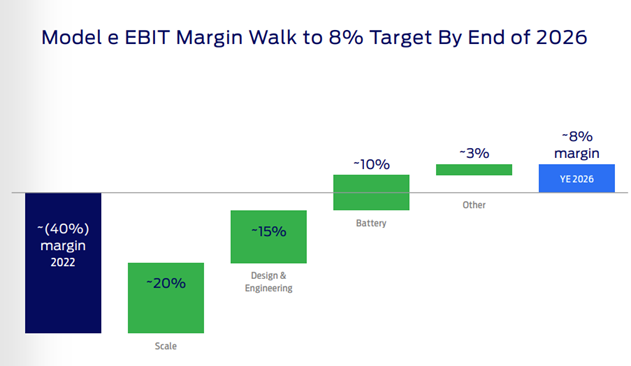 It had a previous plan of how to get to 8pc based on scaling production doing more than two-fifths of the heavy lifting (see Fig.1). It seems clear that Ford is now more fully committing to value over volume, so the importance of other levers will need to increase.
Getting to 8pc
The company looks poised to adopt a three-pronged strategy: firstly, employing greater spending discipline; secondly, cherry picking the best segments for Ford to go after; and thirdly, winning through software.
"While the path to sustainable profitability may not look quite the same as we previously thought, we are confident in our ability to deliver through a more efficient product design, cost efficiencies, and growth in software and services, which will continue to accelerate," says Lawler.
"We will continue to be laser-focused on disciplined capital allocation and ultimately delivering a leading and profitable EV footprint that provides us with the flexibility to scale by based on customer demand."
The exact plan of what segments Ford will target for second generation EVs with 8pc margin is being kept under wraps. But the mood music is definitely less-is-more. Despite being an CEO facing his analyst community and tearing away planks of a strategy outlined less than 70 days ago after being wrong-footed by market conditions, Farley is still keen to stress where Ford is getting it right and his competitors have it wrong.
Ford aims to use the new platform it is developing to "compete in segments where we have a great reputation but where we can still conquest, with very simple engineering and add to it an advanced electrical architecture where we can win the war of shipping software to the vehicle", according to Farley. "We have bet on segments that we know deeply.
"For gen-2, we focus on fewer, higher volume models in the right segments to take advantage of our strengths and knowledge of customers, even conquest customers. For example, work vehicles, pickups for retail customers and spacious seven-passenger SUVs," Farley continues. " I am so glad we did not bet the farm on two-row crossovers or ICE-like EV platforms, like so many have."
And this peer-baiting continues in Farley's view that being slightly later to the next-generation platform party is an advantage, after "our traditional competitors have already designed and made their bets". This because "the battery pack design that we see from our competitors is completely uncompetitive", Farley asserts.
No models for models' sake
"It is very important to know that Ford strategy is not to build [IRA subsidy] compliant vehicles that are very affordable for acquisition cost but lose lots of money. If we have a low-cost vehicle like some of our competitors have, it is not going to be a compliance set. It is a vehicle on which we convince ourselves we can make 8pc," says the Ford boss.
"Our strategy is to make 8pc margin regardless of the price point, and we are going to allocate capital along those lines," he continues. "We execute the product with ruthless efficiency and simplicity, and we upgrade the electric architecture for lots of software revenue and profits with great margins for all of our electric and our hybrid vehicles."
And this software element is afforded particular importance, with Farley describing an "epiphany" about the "importance of upgrading the electric architecture so we could be a winner in sending software to the vehicle".
Sanguine reaction
Analyst response on Ford's Q2 earnings call to the firm's rowing back from volume and profitability milestones was remarkably muted. In fact, Farley was thanked by Adam Jonas, head of global auto and shared mobility research at bank Morgan Stanley, for his honesty about losses in Model e, "when nobody else in this industry has the courage to do so among the legacy peers".
"Losing $40,000 a unit on a model obviously cannot continue," says Jonas. "Pushing out the EV target volume targets makes sense," agrees Rod Lache, managing director at research and data firm Wolfe Research.
BNP's Picariello tells EV inFocus that analysts' patience is based on two factors: firstly, that "Ford's gen-2 production was always earmarked as the critical leap in EV margin improvement anyway".
Secondly, Picariello points to the fact that van hardware and software business Ford Pro "possesses notably stronger momentum than what most folks appreciate, tied to sustainability in volume demand and pricing resilience — the additional profits of which should more than offset Model e's incremental losses over the next three years."
Ripping out targets so quickly after reaffirming them at the CMD is clearly something of a gamble for Farley and Ford, but they seem to have got away with it thus far. "We do not believe Ford is backtracking on its EV strategy in any way," says Picariello.
"What they are doing is assessing how to stem the losses of the company's gen-1 EVs in the face of known pricing pressure — e.g., Tesla — before its full, vertically integrated gen-2 platform production can begin."