Vehicle Sales
Lion Electric hits first positive margin
Recent funding and new manufacturing capacity boost momentum, but subsidy sign-off delays snag delivery growth

Quebec-based electric truck and bus firm Lion Electric has recorded its first positive quarterly gross margin of $0.4mn in Q2. The company hails incremental growth in revenue and deliveries, as well as progress towards full certification of Lion's first proprietary battery pack, albeit deliveries slowed quarter-on-quarter in Q2.
The results come fresh off the heels of the company's announcement of $142mn in additional funding in July. This financing "gives us the flexibility to execute on our growth plans", says CEO Marc Bedard. "We will continue to focus our efforts on profitability, which is moving in the right direction, as demonstrated by the positive gross margin that we recorded this quarter,"
Lion delivered 199 vehicles in Q2, an improvement of 94 vehicles over the same quarter of last year. This is despite the "unfavourable impact of delays in obtaining final approval under a subsidy program, which caused the delivery of 50 school buses to a customer to be postponed to the next few quarters, despite that such vehicles were ready for delivery and the customer ready to receive them."
But Q2 was the first quarter in eight to see deliveries dip quarter-on-quarter (see Fig.1), after Q1 saw a record 220 vehicles shipped. While school buses continued to dominate Lion's sales mix — 166 to 33 trucks — truck share at 16.6pc represents its largest slice of the pie for the four quarters (Q1'22, Q2'22, Q1'23 and Q2'23) for which the firm has revealed that granularity in its sales data.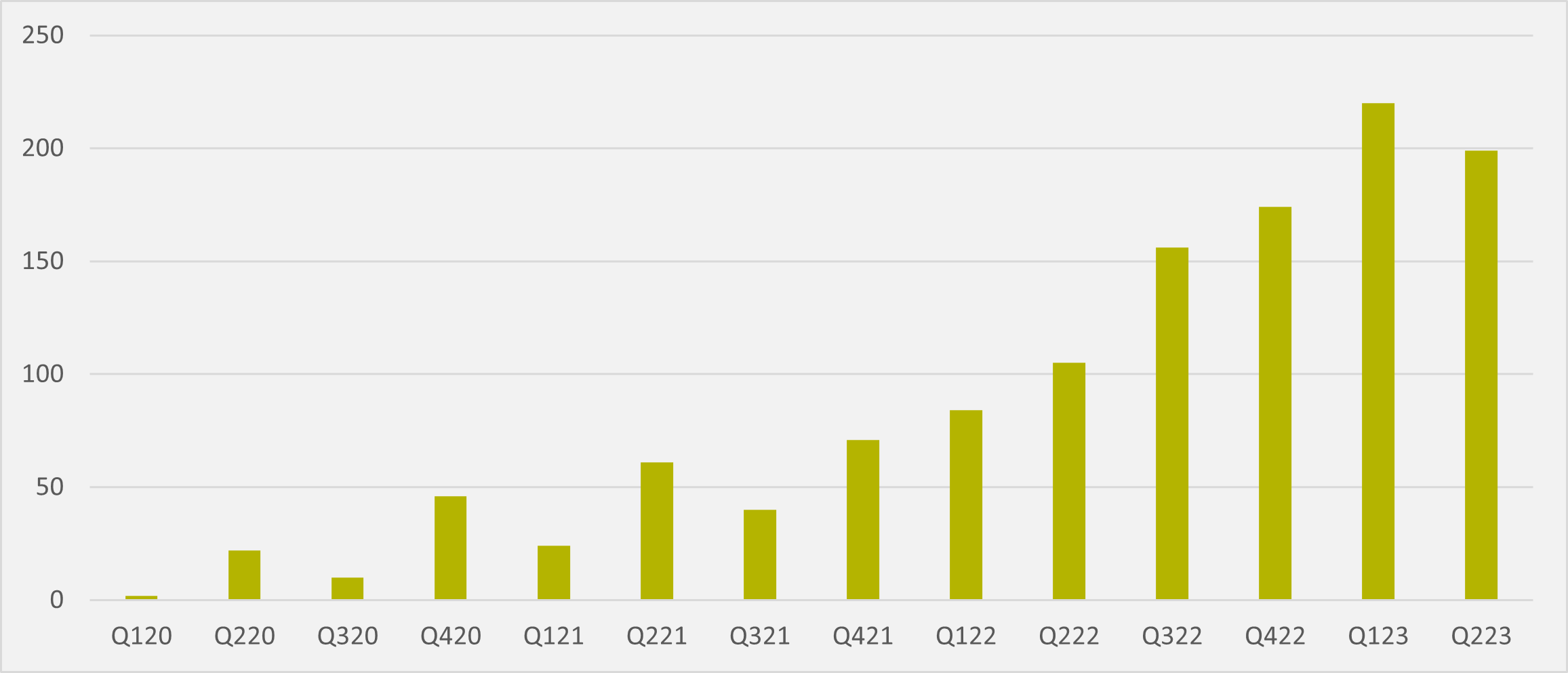 In a potentially linked development, Canada remained Lion's dominant market, with 171 deliveries comparted to just 28 to the US. But again the US' 14.1pc share of the mix was the highest across the four quarters.
The Q2 deliveries amount to record revenue of $58mn, but "the increase in the fixed costs of manufacturing and the inventory management system related to the acceleration of the future production rate" led to the cost of sales increasing to $57.6mn.
The company's administrative expenses increased by $0.8mn, from $11.7mn, leading to a net loss of $11.8mn. Chief among these is $4mn related to non-cash stock-based compensation.
Lion calls itself a "first mover in all-electric medium and heavy-duty urban vehicles" and boasts of being "uniquely positioned to lead the medium- and heavy-duty truck segment, with purpose-built vehicles available for purchase today and a growing list of Tier 1 clients".
The company aims to improve on its first dip into positive margins, given it now has production capacity which far outstrips its current annualised delivery rate, as well as having developed vertically integrated battery supply. Its factories in St-Jerome, near Montreal, in Canada and Joliet, Illinois — which was inaugurated in July — have an annual capacity of c.22,500 heavy duty vehicles, with the company's battery plant in Mirabel, Quebec, having a 5GWh capacity at full scale, the company says.
Lion also has an agreement in place with retail heavyweight Amazon for the delivery of 2,500 urban delivery trucks until June 2025, as well as supply deals with major fleet operators including DHL, Ikea, National Express, and Bolt. As of the beginning of August, the firm has a vehicle order book of 2,559 all-electric medium- and heavy-duty urban vehicles, consisting of 304 trucks and 2,255 buses, with an estimated combined total order value of c.$625mn .