Vehicle Sales
GM China sales remain depressed
Could the OEM need to more seriously explore the potential for BEV exports?

All of the brands sold by US automaker GM in China experienced a decline in year-on-year sales in the third quarter. The biggest loser was high-end Cadillac, sales of which dropped by 20.3pc.
And this could ring alarm bells for the firm's Chinese future. Western OEMs have largely been relying on maintaining market share in China's premium OICE market to provide some insulation from cut-throat competition in ICE and particularly BEV mass market segments. If their niches are also dwindling, it could raise questions about the size of footprint it is worth retaining in the world's largest national market.
The quarter does, admittedly, mark the first time that the company has recorded three successive quarters of sales growth. But it began this run in Q1 '23 at its lowest sales level since the pandemic.
On a quarter-on-quarter basis, all of GM's brands bar Cadillac saw modest growth. Buick saw 11pc growth, whereas Chevrolet and the combined sales of the OEM's Chinese joint ventures (JVs) saw 4pc and 3pc growth respectively (see Fig.1).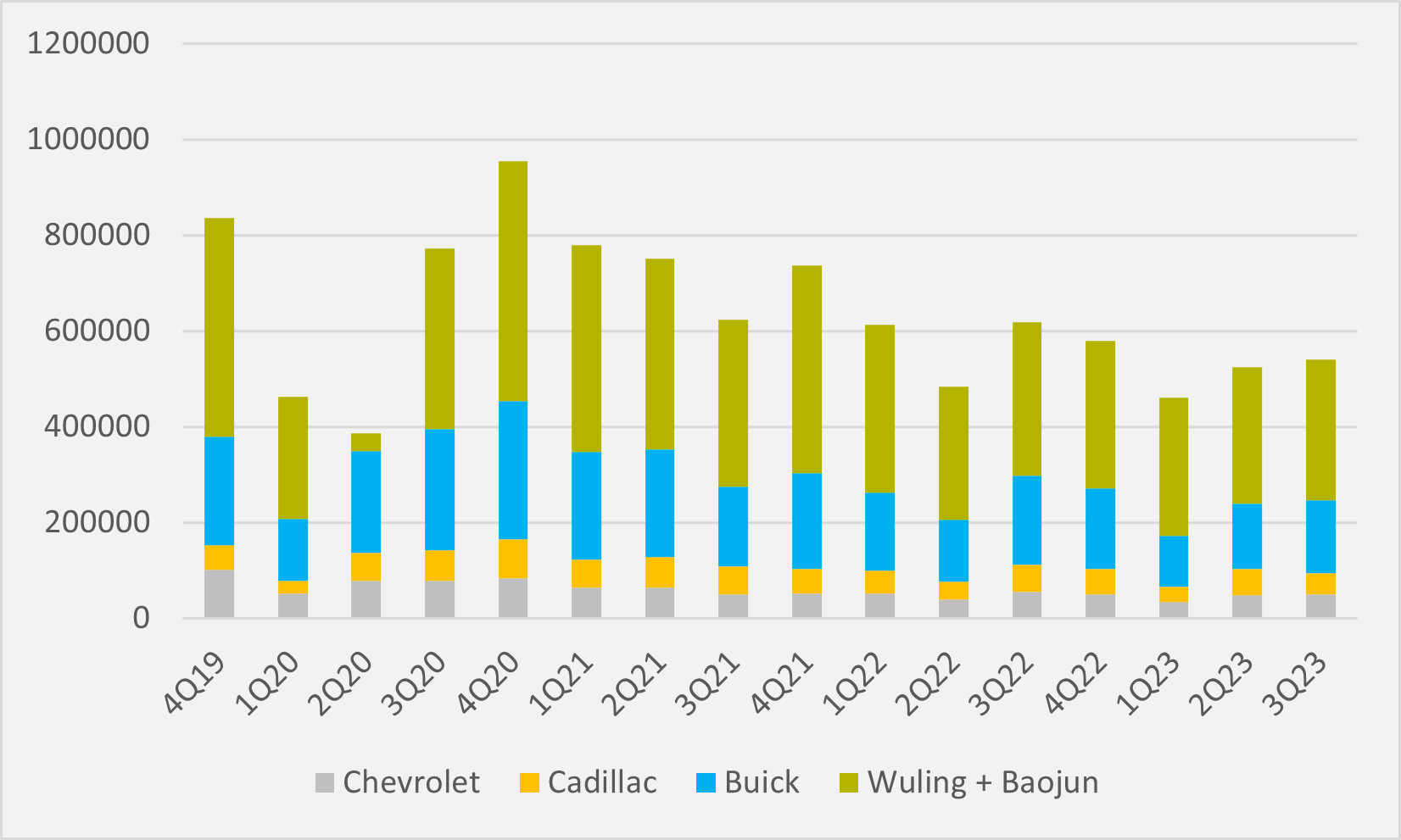 GM's biggest seller was, as usual, its joint venture Saic-GM-Wuling, which sold 283,900 vehicles in the quarter. The Wuling Bin Guo BEV hatchback made up over 47,000 of these sales.
Profitability pressure
In August, Ryan Brinkman, automotive equity research analyst at bank JP Morgan, suggested that GM had "really great traction" from the JV's low-priced EVs, which include the Wuling Hongguang mini-EV and compact Baojun Yep pickup, as well as the Bin Guo. But Brinkman has concerns that "the Buick and Chevrolet brands have lost quite a bit of share to brands like BYD for example".
And he is observing GM's quarterly profits from its Chinese business move from a regular $500mn to $200mn, and then dwindle further to $100mn.
"China continues to be a strong and important asset for us," GM CFO Paul Jacobson replied to Brinkman. "The growth of the EVs coming to market — we have some good products.
"We are also having to adjust a little bit to the changing dynamics of the industry. So, allowing consumers on the [Cadillac] Lyriq for example, to choose more content gives us an opportunity to lower the price for those people who want a cheaper option, but for people who want to spend a little bit more, we can add features," Jacobson continues.
Could Europe call?
GM has confirmed that the Lyriq is the first offering in GM's direct-to-consumer business in Europe as an importer. And EV inFocus has previously speculated on whether GM could leverage its Chinese JV manufacturing to try to capture market share in the European affordable EV segment.
Of course, markets in China and Europe are significantly different. And the Hongguang may be hard to market in the latter due to its slight body and unusual appearance.
But the Wuling Bin Guo looks the part for the European hatchback market, assuming Europe is not planning to pull up the drawbridge entirely on Chinese manufactured EVs — which would for now include market leader Tesla. Regarding the Yep, Horace Dediu of advocacy group Micromobility Industries thinks GM could be missing a trick.
"In partnership with SAIC-Wuling, GM is developing a tiny electric pickup truck for the Chinese market that is expected to retail in the ballpark of $14,000. Sizing up comparably to a Fiat 500, the concept incorporates the utility of a pickup truck in the small package of a NEV, making it a great solution for urban tradespeople," Dediu says.
He concedes that "unfortunately, the vehicle is not expected to enter U.S. or European markets anytime soon". But, should the Chinese domestic market get even hotter for GM and its fellow Western OEMS, exports to justify a continuing China presence might become more pressing. And if other emerging markets risk exhaustion, Europe could potentially be worth a closer look.