Corporate Strategy
Why is GM bothering with Europe?
China competition and changing buyer appetite may be driving European ambitions

The 2017 global passenger vehicle market looked very different when US heavyweight GM took the decision to exit Europe by selling its Opel and Vauxhall brands to France's PSA, now part of the sprawling Stellantis conglomerate. China promised soaraway growth outside its North American heartland and the received wisdom was that European bought European, rather than American cars.
Now China is proving ultra-competitive. GM's sales there have been trending lower in the last two-and-half years, with the 80,000-100,000 new sales it used to enjoy in the fourth quarter in 2018-20 compressed down to under 60,000 in Q4'22 (see Fig.1).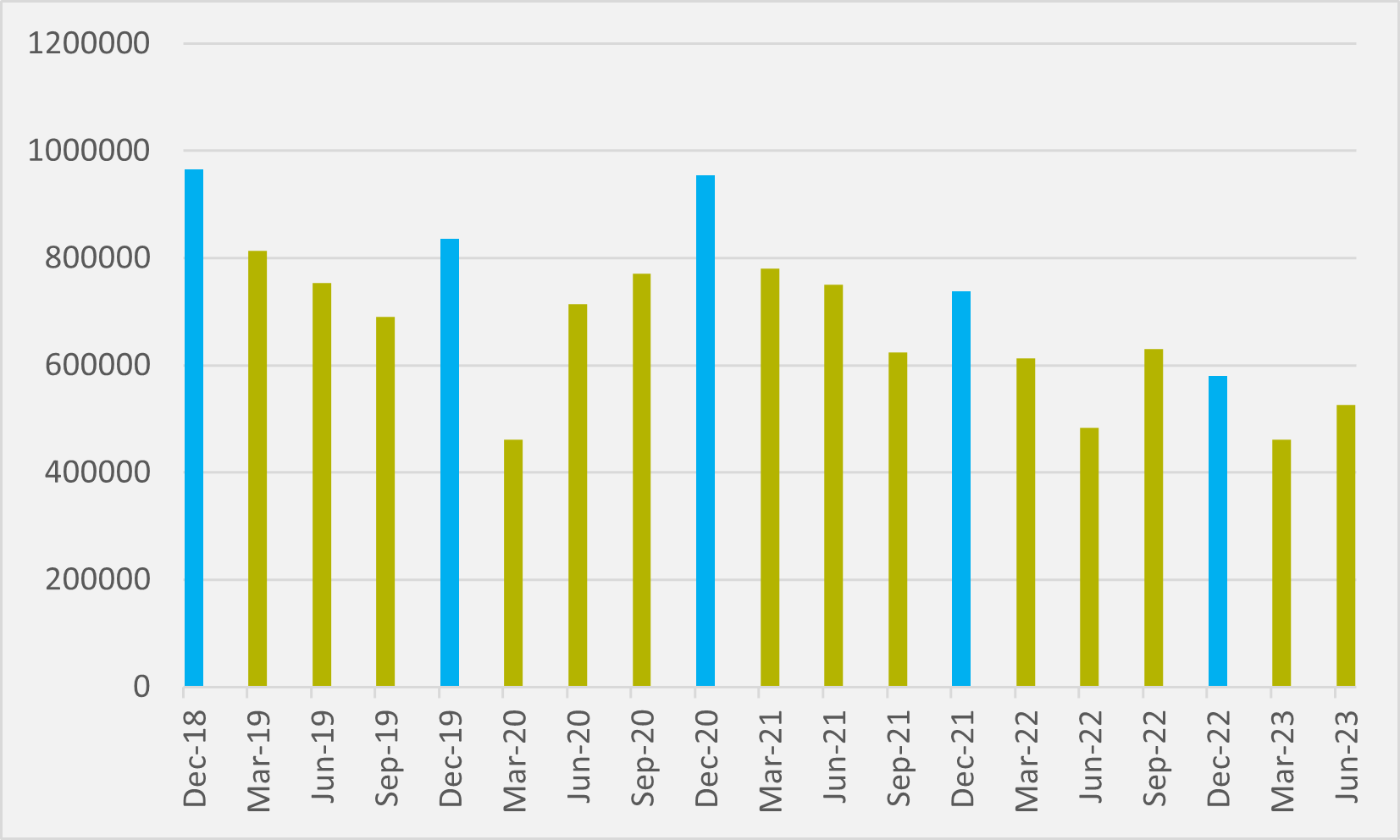 And Tesla has proven that, while Europeans may still largely prefer European or East Asian ICE and hybrid vehicles, they will buy US EVs. The firm had an 18.3pc market share in the continent's new BEV market across the first seven months of this year, according to the European Automobile Manufacturers Association, or Acea.
These two trends might be driving GM's decision to re-enter Europe with an all-EV offering. The new GM Europe division appointed Jaclyn McQuaid, a 23-year veteran of its North American business, as president and managing director in November.
It has now added European EV experience, appointing a new chief commercial officer in Pere Brugal, formerly of Tesla and China's BYD, both of which only sell BEVs in Europe. Brugal's CV speaks of having "opened Spain and Portugal markets from scratch at Tesla and expanding France and Italy".
Asset light
One of the issues with Opel's chronic unprofitability — GM failed to turn a profit in Europe in the 21st century — was expensive legacy manufacturing and unionised labour, as well as a model line-up that struggled to differentiate itself. It will not be repeating the former with what CEO Mary Barra told analysts on the Q2 results call will be a "profitability-driven strategy towards selectively re-entering Europe".
CFO Paul Jacobson expanded on this during a JP Morgan automotive conference in August, making it clear that its European business "is an export strategy", rather than GM planning to make EVs in Europe. "It is one that we have looked at and said — with the products that we are bringing in an advanced EV market — there is an opportunity to be competitive there and bring some of our products there," Jacobson says.
"But we have been very, very careful about making sure that we do that in a balanced way. You are not going to see a lot of infrastructure investment," he continues, promising to "make sure that we are driving the business for margins and profitability".
"There is a little bit of cost that has to front run to get distribution and consumer-facing opportunities set up. But it is being done in a very, very disciplined way," the finance chief promises.
If GM is not going to be weighed down by high manufacturing costs, the second part of the equation — having a model line-up attractive to European buyers — becomes the key question for a successful re-entry into the region.
Jacobson is upbeat. "I think it has got big potential. With the products we have, we think that there is an opportunity for good reception in that market," he says.
GM's biggest brands in the US are Chevrolet, GMC, Cadillac, and Buick. The near-term EV ranges from these brands consists mostly of SUVs and pickups, in addition to the Chevrolet Bolt hatchback. The best-selling e-SUV under the GM banner in the second quarter was the Cadillac Lyriq, with over 13,000 deliveries, and Chevrolet will also add electric versions of its Blazer and Equinox SUVs in 2024.
This could prove a sizeable addressable market for GM in Europe, since, by Acea data, SUVs of all powertrains accounted for 49pc of new car sales in the EU in 2022. And four of the continent's five top-selling BEVs in April, according to the European Commission's Alternative Fuels Observatory, citing Clean Technica, were e-SUVs — admittedly three of them, the VW ID.4, Skoda Enyaq and Audi Q4 e-tron, made by established European brands.
But Tesla's Model Y was the market leader. And just outside the top five sits the MG4, a Chinese car with a Western heritage badge on it.
China
And that opens up another potentially intriguing possibility. A further segment GM could address is the compact electric hatchback. According to Acea, in 2022 2.1mn new segment A and B — a categorisation used by the European Commission to classify small hatchbacks — cars were registered in the EU.
In this segment, GM's hopes are pinned to the Chevrolet Bolt, currently GM's only electric compact city car. At Q2 results, the company pledged a new version of the Bolt built to some extent on the firm's Ultium platform, reversing an original decision to cease making the non-Ultium-based model in favour of having all its EVs built from scratch on the new battery technology.
But when Germany's Volkswagen announced that it was partnering with China's Xpeng for the latter to make a BEV for the country's mass market because VW cannot do so profitably, analysts asked why the firm was limiting the project to China and not aiming to bring the vehicle into Europe.
While VW demurred at the time, it may be a future option — leveraging lower-cost manufacturing in China and bringing it to Europe under a familiar brand name. To a large extent that is what China's Saic is doing with MG and, albeit with a greater degree of independence, compatriot Geely is doing with Sweden's Volvo.
GM has the Wuling Bin Guo electric hatchback and the Wuling Hongguang and Baojun Yep mini EVs in its Chinese joint ventures. While they may not necessarily all be suitable for the European market, there could be potential for GM to import vehicles from its Chinese portfolio, as well as its US', into Europe.
Worth a punt
Ultimately, GM's re-entry into Europe is a gamble. Chevrolet as a brand struggled to make headway until its exit at the end of 2013, albeit it suffered from overlap with Opel/Vauxhall that will not be an issue for GM going forward. None of its other marques have a history of selling in any numbers in Europe.
But, with its US position largely saturated, under pressure in China and with other emerging markets offering less payability, one can see why a return to an evolving European market — particularly in the growing EV space — is tempting GM. At least one analyst thinks it is a card worth playing.
"I believe GM is doubling down on Europe with its EV-focused strategy over the coming years. It is a smart poker move," says Dan Ives, automotive analyst at US investment bank Wedbush.