Vehicle Sales
Gap in UK market for reasonably priced BEV
Country's top-selling marques suggest a material opportunity for a mass-market price ticket BEV

Tesla's Model Y is the only pure BEV in the ten best-selling cars in the UK in May and for the first five months of the year as a whole, according to the latest data from lobby group the Society of Motor Manufacturers and Traders (SMMT). And the divergence in its price compared to its peers serves to highlight the opportunity to bring a value BEV option into the market.
The remaining nice top consumer vehicles have a base model average cost of around £23k, with the Model Y costing a hefty 90pc more (see Fig.1). But, as of now, it is unclear where and when a lower-priced competitor will emerge.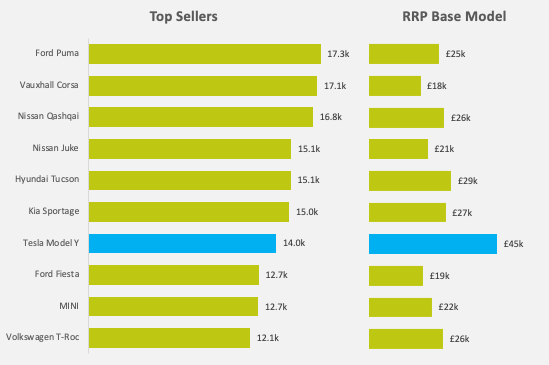 China seems to be the most likely genesis of a more competitively priced BEV. Shenzhen-headquartered BYD offer its Seal model at a sterling equivalent just over £21k in Chinese markets.
Deliveries of BYD's Seal into the UK have not yet begun. But online marketplace Carwow estimates that the model will retail in the UK market starting at a less competitive price point of £40k.
BYD is clearly taking its entry into the UK and EU markets seriously, having already forged alliances with domestic players Octopus EV and the charging arm of Shell. In late March, the Chinese firm named Octopus EV as its preferred UK salary sacrifice provider and agreed to sell it 5,000 of the first model it is bringing to the UK, the Atto 3 SUV.
Also in late March, Shell and BYD agreed to form a pan-European mobility service provider partnership, offering private and commercial BYD drivers membership access to 275,000 charging points through Shell's roaming network. Shell and BYD also committed to jointly developing fleet solutions and depot charging services for European BYD customers in Europe, and will collaborate on providing integrated home energy solutions such as dynamic tariff scheduling, solar integration, home batteries and vehicle-to-grid charging in different regions across the world.
Other EVs from OEMs with an established presence in the UK market have also so far been unable to provide substantially lower costs for consumers. The Ioniq 5 from South Korea's Hyundai only has a base price of £42k, only marginally cheaper than Tesla, according to Carwow. German OEM Volkswagen offers its ID4 model for £38k, according to review site Car and Driver — cheaper than Tesla, but still over £15k more expensive than the average price of the best-selling non-Tesla models.
Tesla's closest rival in terms of UK sales by a pure EV manufacturer — a long way back but actually growing more quickly than its US competitor (see Fig.2) — Volvo-owned Polestar also cannot provide a materially more inexpensive alternative. The Polestar 2 is at price parity to the Model Y, while the company's Polestar 3 SUV, due for delivery in Q4, will set consumers back nearly £79k.