Vehicle Sales
End of German incentives powers leap in European BEV sales
Fleet buyers rushing to get in before subsidy withdrawal sees record month in August

The share of BEVs in Europe's new passenger vehicles sales mix smashed through the 20pc barrier in August. And it was largely powered by Germany shattering the monthly record for BEV sales in a national market, most likely driven by a looming 1 September withdrawal of an incentive for fleet and company buyers.
Europe's largest autosales market had only seen sales of BEVs top 50,000 once before, in June. But in August, the units shifted rose to 86,694 — 33,700 more than had ever been sold in a month before (see Fig.1), and up by 77pc month-on-month and 171pc year-on-year.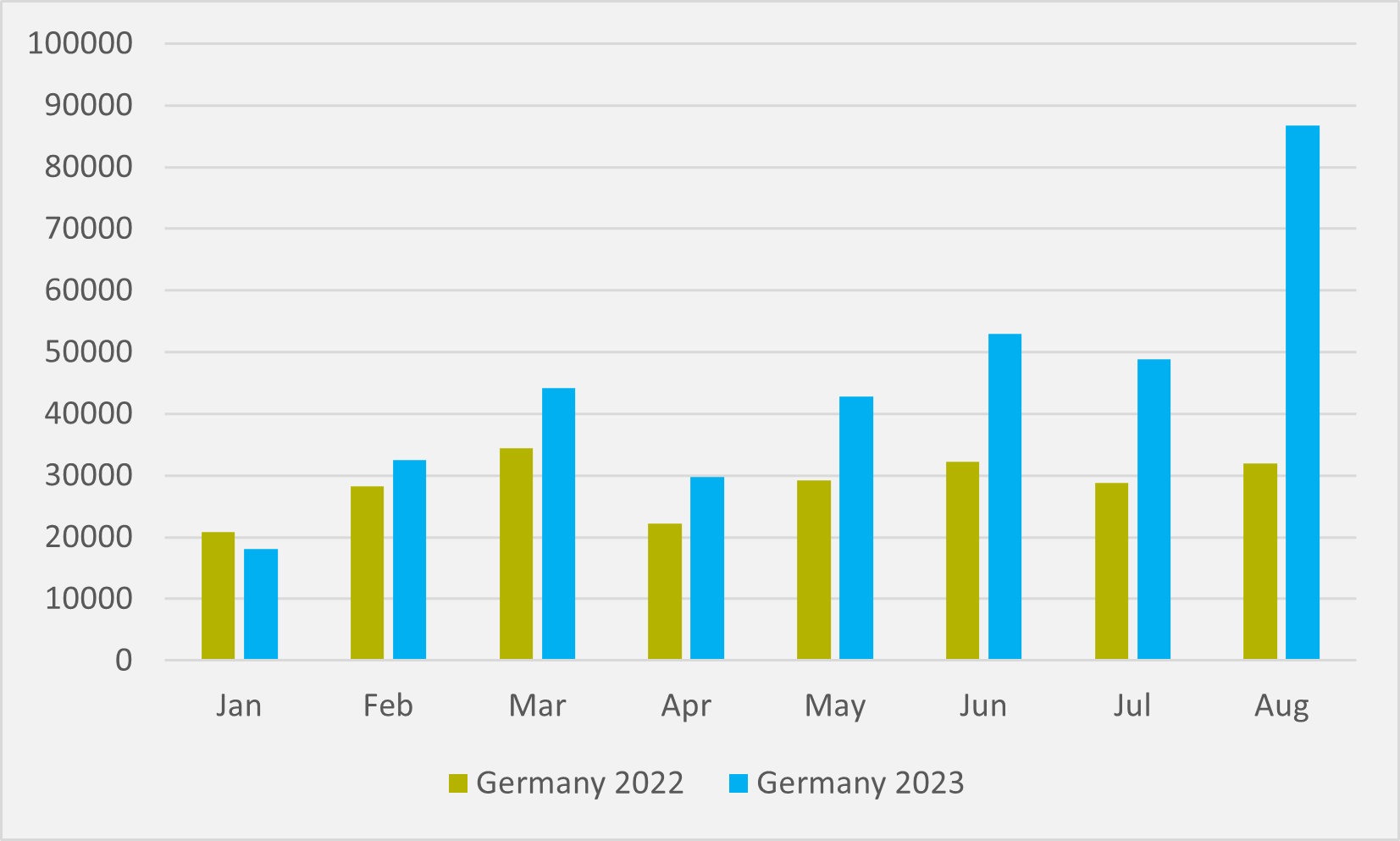 From 1 September, BEV subsidies in Germany — where the government would rebate €4,500 (c.$4,850) off EVs with a list price up to €40,000, and a further 50pc manufacturers discount on top; and €3,000, plus 50pc manufacturers' discount, of EVs with a list price between €40,000 and €65,000 euros — are limited only to private buyers, rather than those buying through employer schemes. So August likely saw a flurry of last-minute fleet buying.
But, even without the German cliff-edge juicing sales, BEV penetration across the 31 countries of the EU+Efta+UK would still have been well set for a new high. An extra c.37,000 German sales above the more typical recent monthly sales around the 50,000 mark only translates to four percentage points of overall EU+Efta+UK sales of just over 900,000 cars.
So that would take the BEV penetration rate down from its new 21.7pc high to 17.7pc. And that is still more than a full percentage point higher than the previous monthly record of a 16.5pc slice of the European new sales pie achieved in June.
August was first month of 2023 in which year-on-year European BEV growth doubled (see Fig.2). And it was also the month in which the sustained rebound in ICE sales after 2022's chip shortages ground to a halt. August 2023 saw a grand total of five more ICE vehicles sold compared to the same month last year.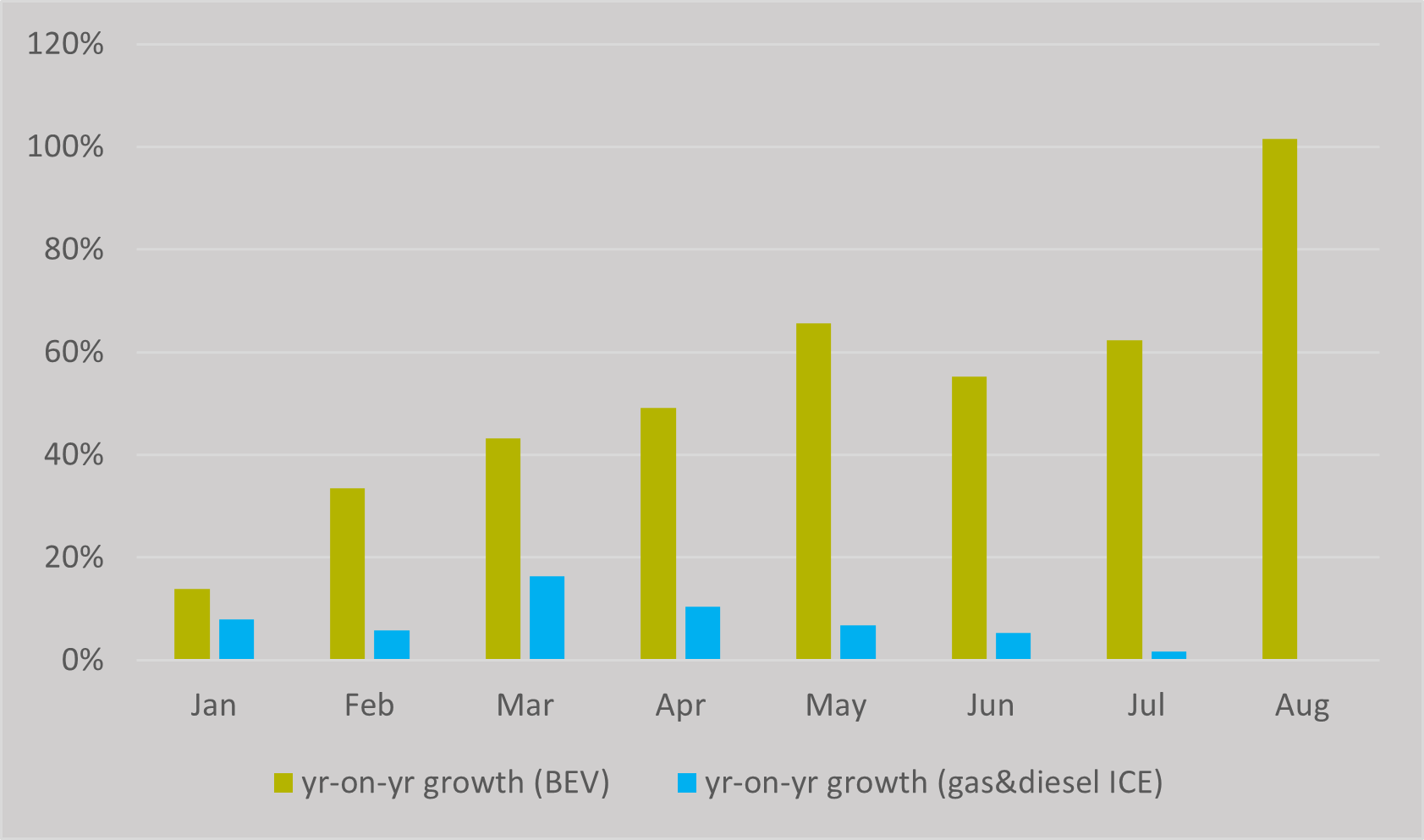 EVs of all hues, so including HEVs and PHEVs, outsold ICE by 80,000 units in August (see Fig.3). By way of comparison, as recently as January, there was an 80,000 advantage to ICE cars.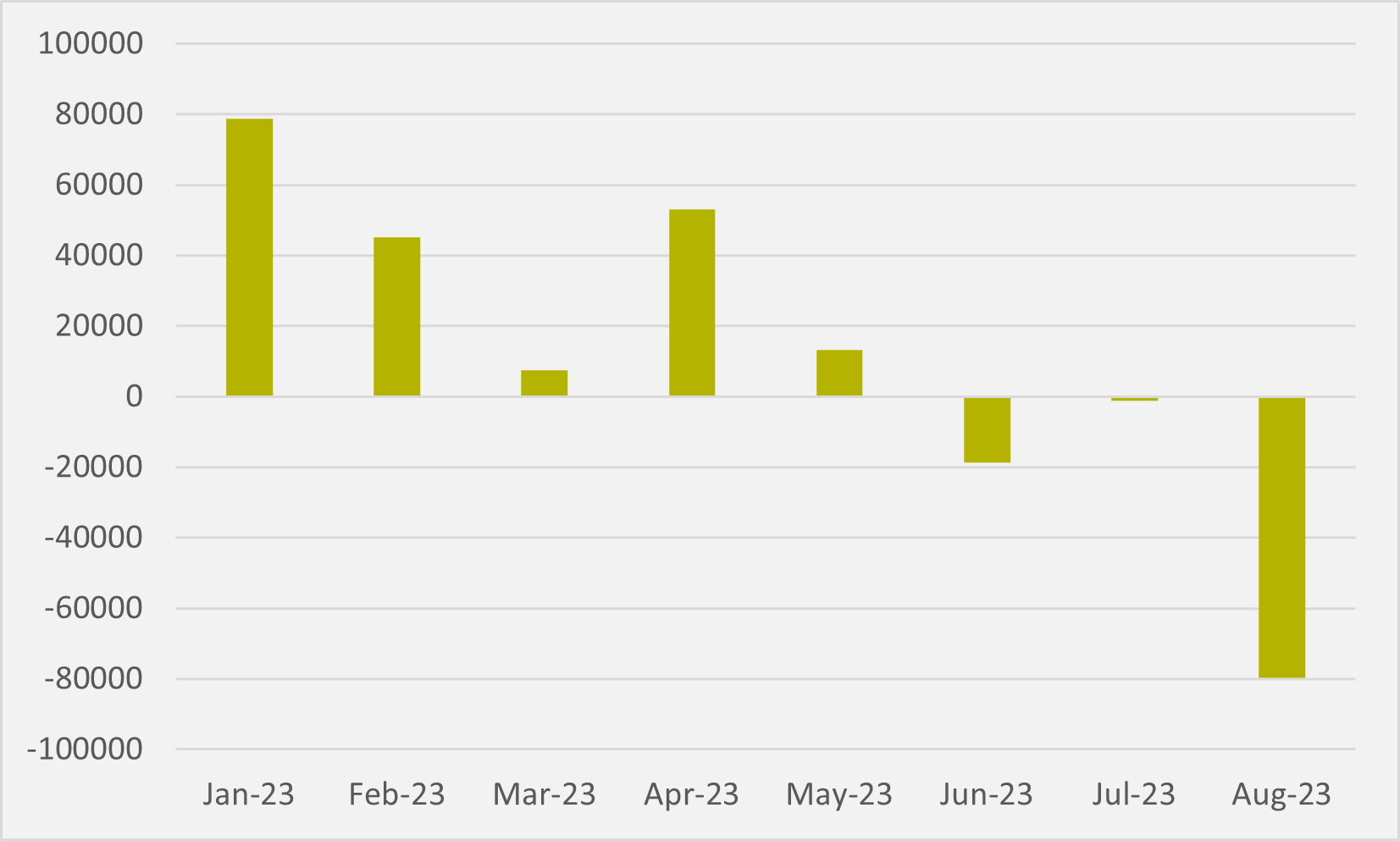 In terms of BEVs versus diesels across the 31 countries, BEVs outsold the largely discredited fuel by over 90,000 (see Fig.4).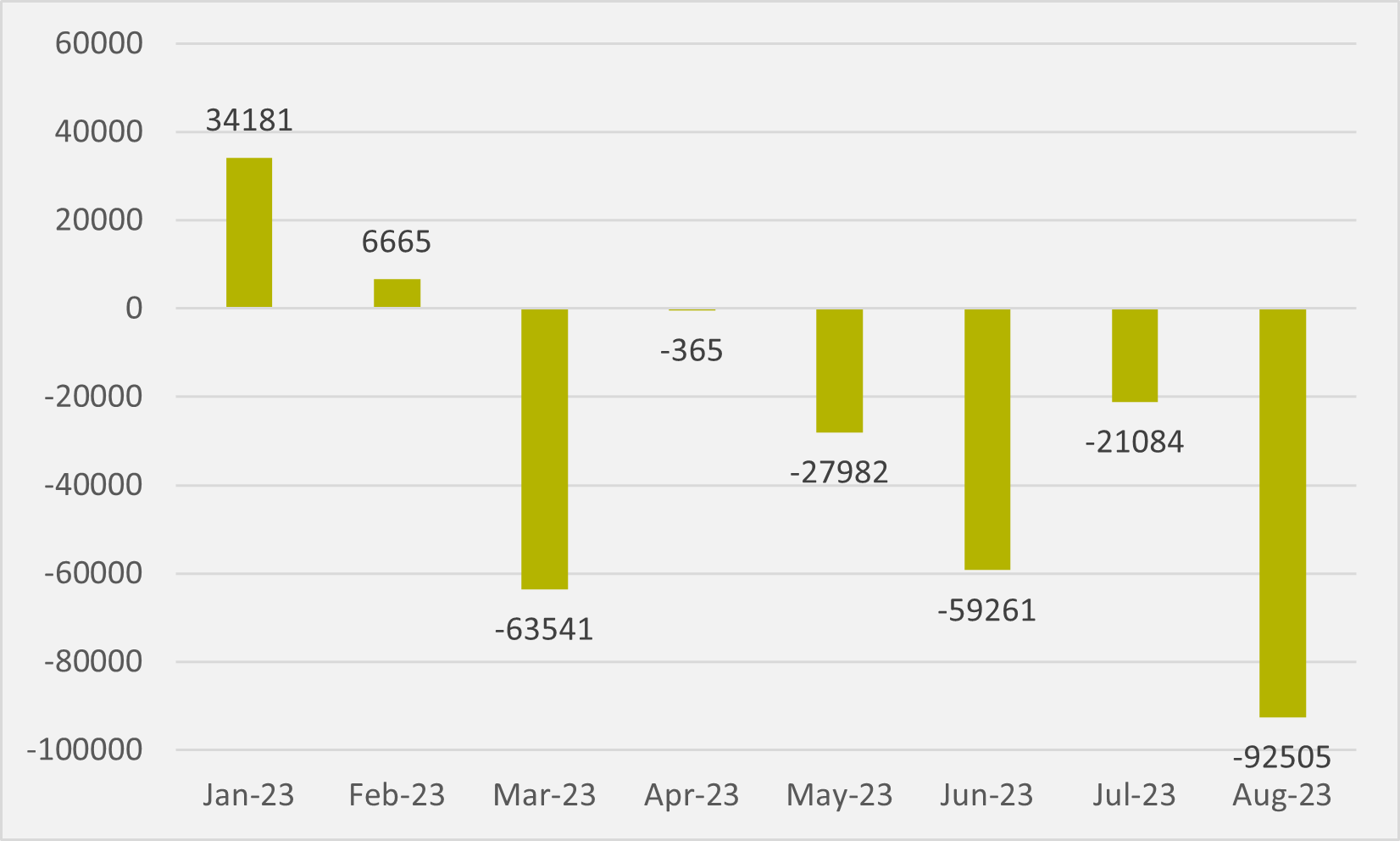 Among the 14 largest markets across EU+Efta+UK, three — Belgium, Denmark and Portugal — still have cumulative 2023 YTD sales more than double last year's. Belgium has shifted 170pc more than in 2022 as it closes in on 60,000 of cumulative sales.
And the Netherlands remains not far off doubling last year's sales, at 87pc growth. For Denmark and the Netherlands, maintaining this breakneck pace is all the more impressive as they are both in the top five European countries in terms of EV penetration.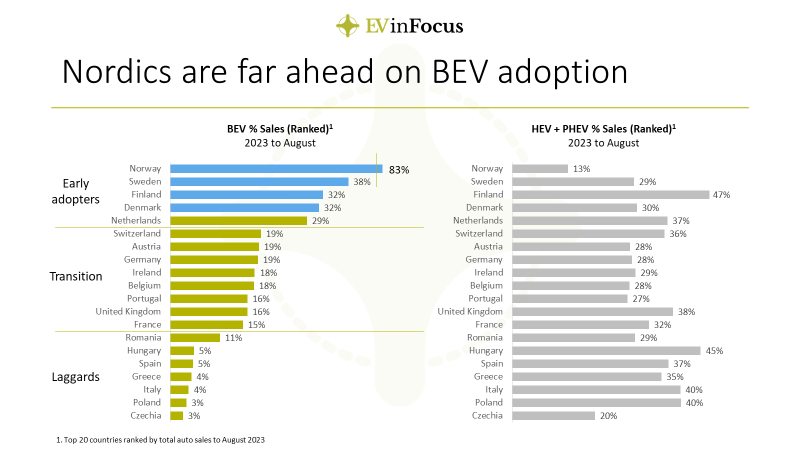 Another six can boast BEV growth rates of over 50pc, including the Netherlands (87pc growth), Spain (74pc), Switzerland (60pc), Austria (57pc) and the Republic of Ireland (54pc). And Germany has joined them, as the stellar August lifts year-on-year cumulative growth from 37pc at the end of July to 56pc at the end of August.
Clearly, there will be a September hangover from this pre-cliff edge buying frenzy which will likely impact not only Germany but the pan-European figures. It will be worth monitoring both the depth of the initial dip and also its duration.
Other end-of-BEV-subsidy hangovers in Germany and Norway in January of this year have proven relatively brief. But the withdrawal of PHEV subsidies in Germany has seen that market catch a cold it has yet to shake.