Policy and Regulation
US appetite grows to cut China out of battery supply chain
Politicians want to go China-free. But there are serious doubts over practicality

James Ley, senior vice-president, energy metals at consultancy Rystad Energy, admits he was "taken aback" on a recent trip to the US by widespread ambition to try to remove China entirely from the country's battery supply chain, even though it may not be practicably possible, especially for lithium iron phosphate chemistry (LFP).
And his experience is reinforced by continuing pressure on US OEM Ford over its relationship with China's Catl from three US House of Representatives committees.
NCM comfort
The US and Europe are both well-placed, in Rystad's view, to meet growing demand for nickel cobalt manganese (NCM) cathode active material (CAM), with announced domestic projects enough to meet demand by 2025 and new planned capacity outstripping demand in the second half of the decade.
The consultancy does caution, though, that some of this US surplus comes from the plans of Nevada-based Redwood Materials, which is "highly dependent on black mass [recycling] and sustainable mining — can this deliver?"
And both continents will still be reliant to some extent on imported raw materials for these NCM CAM plants. Rystad forecasts that the US will get close to producing as much lithium carbonate equivalent (LCE) from local mines as it will have demand but will still fall slightly short.
It cautions that even coming close to meeting demand is dependent on projects not suffering further delays in the permitting process and predicts the US likely end up reliant on Canada for lithium production. Red tape means US lithium mining projects are taking some 15 years to develop, according to Rystad, compared to 5-6 years in Australia and seven years in South America.
European Li shortaage
In contrast, Europe will see a "huge shortfall", says Ley, in meeting its LCE requirements and will need to compete with China in a battle to secure supply. And its efforts to secure raw materials will be hampered by its OEMs being "obsessed by ESG credentials" when producing countries such as Indonesia for nickel and some African nations for cobalt have "nasty ESG ratings".
Both regions have sufficient local lithium carbonate processing in the works to meet demand. But where the US is currently behind Europe is in lithium hydroxide processing, where it has insufficient announced projects to meet Rystad demand projections.
LFP gap
The biggest shortfalls, though, on both sides of the Atlantic are on LFP battery manufacturing versus demand. This is not surprising given that Rystad has "very aggressive" growth projections for the chemistry, including its use on 30pc of all EVs.
In an overall battery cell market that it forecasts to rise from under 1TWh this year to 3TWh by 2030, it predicts the share of that market captured by LFPs to rise from 25pc in 2020 to 43pc in 2025 and 46pc by the end of the decade (see Fig.1). Ominously for US ambitions to break free of China, Rystad sees 65pc of global battery cell production in the East Asian heavyweight in 2025.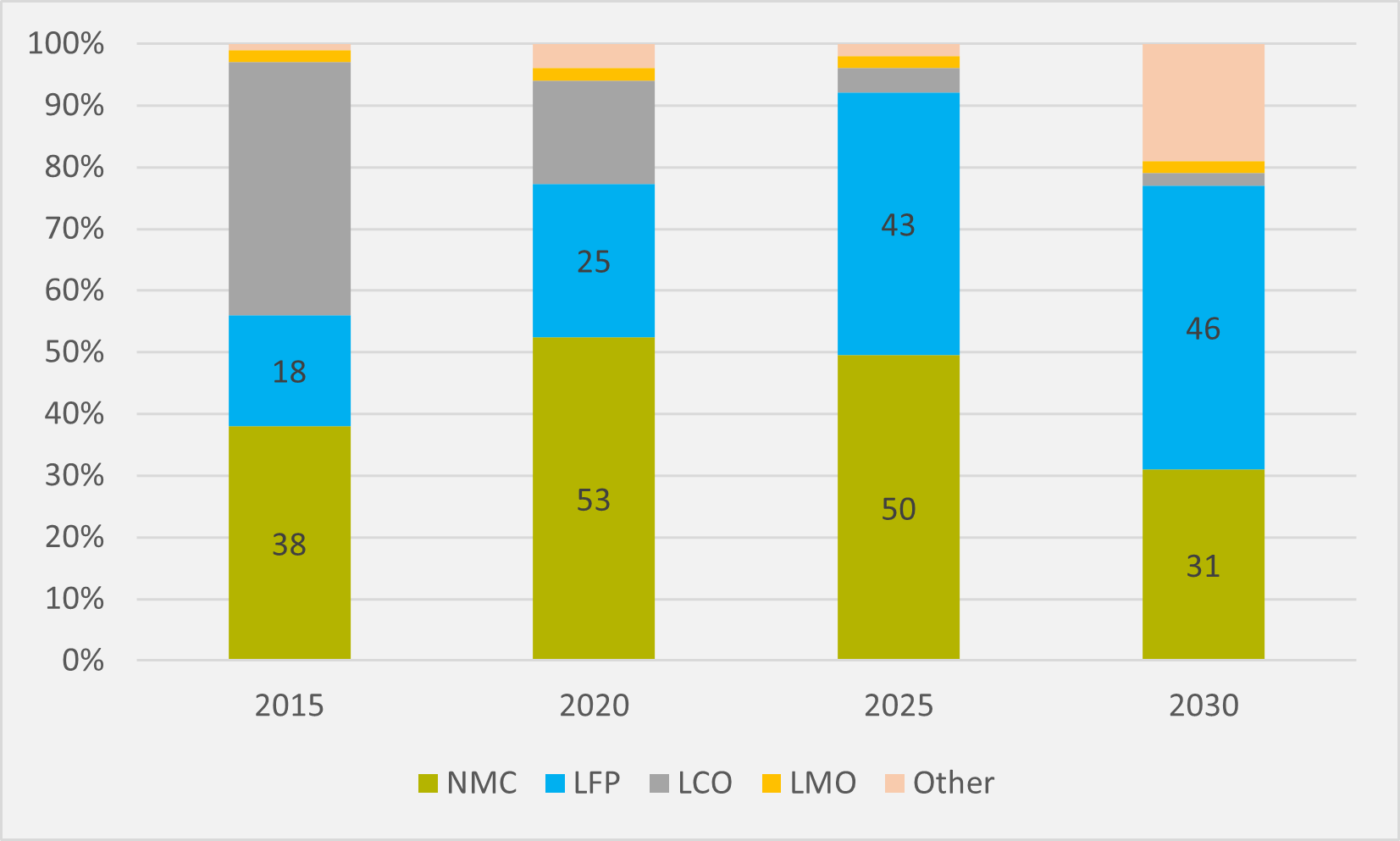 The US and Europe are both way behind in developing domestic LFP cathode manufacturing capacity to meet their rising requirements. Europe has a "big gap", says Ley, as there are "hardly any" LFP cathode plants currently planned on the continent.
Rystad forecasts European demand rising to over 600,000t/yr by 2030. But there are only two announced European LFP cathode facilities — the 10,000t Freyr facility being developed in the Nordics in collaboration with China's Aleees, and a joint venture involving Norwegian battery maker Morrow, Denmark's Haldor Topsoe and German materials firm Ibu-tec which is currently lacking in capacity data.
The US is in not much of a better position to meet LFP cathode demand that Rystad sees topping 700,000t/yr by 2030. No-one is currently producing LFP CAM in the US currently and, while the consultancy has identified three projects being developed by 6K, Mitra Chem and ICL, their combined capacity by end of decade falls short of 100,000t/yr.
Sorry to interrupt you. We think China-West relations is a top tier issue for e-mobility, and indeed that e-mobility is a top-tier issue for China-West relations. Maybe you do too? Anyway, we regularly cover this in our weekly newsletter. Please consider joining our network of EV professionals. As a newly founded media business we won't be hit google search anytime soon, so this is pretty much the only way to bring our content to the world. Our thanks in advance.
The US will need its preferred Japanese and South Korean battery making partners to significantly "speed up" their development of LFP capabilities if it has any hope of getting to zero reliance on China across the whole battery value chain, including no use of Chinese IP. But Ley has serious doubts over whether an entirely non-China supply chain is possible.
The most cost-effective way to meet LFP demand in the short term would simply be to import them from China, but that is not politically palatable on either side of the Atlantic. But Ley says Europe can be "smart" by taking a different approach to the US and, rather than trying to cut out China entirely, working alongside Chinese LFP expertise on European projects.
He points to Catl's German plant as a good example of how such cooperation would look like. But there may be issues around US pressure for Europe to take a similarly hard line on China, Ley cautions.
Ford letter
In a reminder of US political hostility to working with Catl or other Chinese battery makers, this week saw the chairs of three House committees again write to CEO Jim Farley seeking Ford's "immediate compliance" with congressional investigations into its Catl partnership. Just a few days earlier, the chair of one of them had publicly welcomed Ford's decision to pause a Catl-linked project in Michigan
"Ford's ongoing refusal to provide substantive responses addressing the serious issues discussed in April, July, and September letters undermines Ford's own commitment to 'act with transparency, integrity, and honesty' and raises serious concerns regarding its licensing agreement with Catl," says the letter from Mike Gallagher, chairman of the House Select Committee on the Chinese Communist Party, Jason Smith, chairman of the House Ways and Means Committee, and Cathy McMorris Rodgers, chairwoman of the House Energy and Commerce Committee.
"We write again today to seek a fully responsive production on the licensing agreement, Ford's knowledge of Catl's apparent attempt to shield its connection to Xinjiang-based companies, and Ford's commitment to advance US battery production. If Ford does not comply fully with all of the Committees' July document requests and the September Energy and Commerce document request by no later than 6 October, we will consider other means to obtain the documents, including compulsory process or insisting that you appear before Congress to publicly explain your failure to comply."
Clearly there is a US political ill-will blowing against Chinese battery makers. And Ley's experience suggests that it goes a lot deeper than a 'Reds-under-the-bed' right-wing conspiracy theory. But whether the US can scale-up an entirely non-Chinese LFP supply chain in a timely and cost-effective manner remains doubtful.