Battery and Components
Ford gigafactory JV gets monster government loan
US-South Korean battery firm Blue Oval gets access to government-underwritten capital

The Loan Programs Office (LPO) of the US Department of Energy (DoE) has made a conditional commitment for a loan of up to $9.2bn to Blue Oval, the joint venture (JV) between US OEM Ford and South Korea's SK On, for the construction of three battery manufacturing plants to service future Ford and Lincoln EVs. The plants, one in Tennessee and two in Kentucky, will add 120GWh+/yr to US battery production capacity.
The LPO estimates more than 455 million gallons/yr of gasoline will be saved across the lifetime of vehicles powered by these batteries.
One driver for the loan approval is the Biden administration's Investing in America agenda to onshore and re-shore domestic manufacturing of technologies critical to cleaner energy and transportation. The US aims for EVs to be at least 50pc of all new car sales in by 2030 and expanding domestic battery production is critical to that goal.
There are also jobs and social angles to the loan. The project is expected to create a total of c.5,000 constructions jobs in Tennessee and Kentucky, and 7,500 operations jobs once the plants are operational.
The project also supports President Biden's Justice 40 Initiative, which has a goal that 40pc of overall benefits of certain federal investments, including LPO financing, go to DOE-identified disadvantaged communities (DACs). The Tennessee site is located in a DAC, and communities surrounding both Kentucky sites are identified as DACs.
"The DoE's commitment to this project will strengthen battery manufacturing in the US while reducing carbon emissions, providing customers with high-performance vehicles, and creating good jobs for future generations," says Robert Rhee, Blue Oval CEO. "Blue Oval and our parent companies, Ford and SK On, are expanding demand for batteries and the exciting vehicles they will power. This federal loan from the DoE helps with that mission."
Construction is on schedule at the plants, with battery production scheduled to begin in 2025. Ford aims to produce 2mn EVs/yr globally by 2026. While the commitment demonstrates the DoE's intent to finance the project, it remains conditional. The project must reach critical milestones and satisfy certain conditions before the DoE issues a final loan.
The Advanced Technology Vehicles Manufacturing (ATVM) loan programme, which lends to projects related to fuel-efficient vehicles and eligible component manufacturing in the US, lent $2.5bn to Ultium Cells — another US OEM-South Korean electronics heavyweight JV, this time between GM and LG — to construct three new battery cell manufacturing facilities in Michigan, Ohio, and Tennessee in November. Recent LPO conditional commitments have spanned the critical mineral and battery supply chains and involved mineral processing, battery manufacturing, and battery recycling (see Fig.1).

In October, the administration also announced a first set of projects to be funded by the Bipartisan Infrastructure Law, or IIJA, to expand domestic manufacturing of batteries for EVs and the grid, and for materials and components currently imported from other countries. The government will stump up almost $2.8bn, with project developers contributing the remaining $6.1bn across a range of projects in materials separation and processing, component manufacturing and recycling (see Fig.2).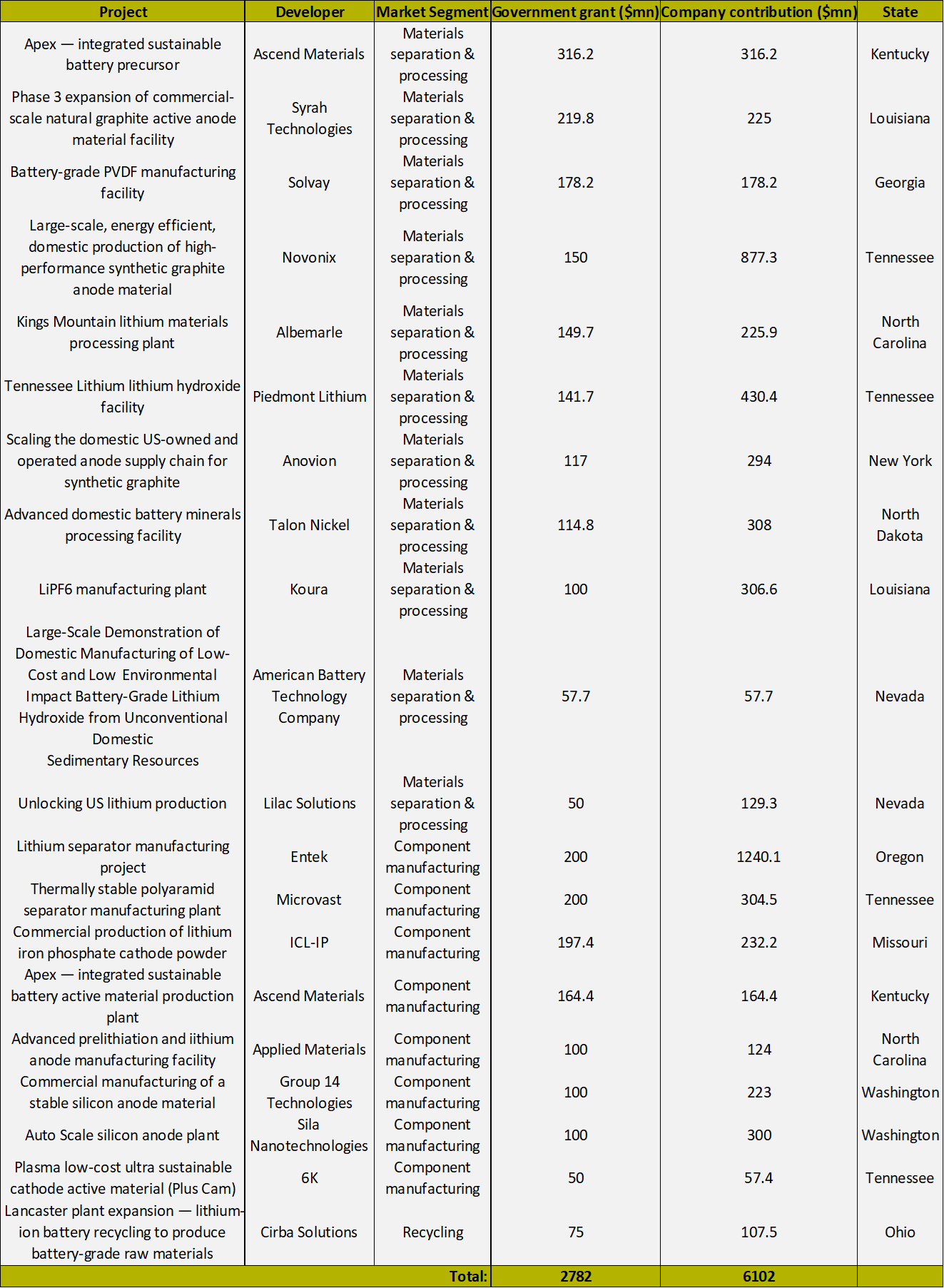 And in November, it awarded a further $74min in funding under the IIJA for 10 projects to advance technologies and processes for EV battery recycling and reuse.