Vehicle Sales
Why VW's halving of European BEV orders is not all it seems
Conditions are hard as adoption temporarily plateaus. But maybe not as hard as headline figure makes out

Much has been made of VW's admission that, at the end of September, its European BEV order book sat at 150,000, compared to 300,000 at the same point last year. On the face of it, this halving of demand serves as stark evidence of plummeting demand for BEVs on the continent.
And it is likely fair comment that we have reached in Europe something of a demand plateau, where the large proportion of the earliest enthusiast have made the switch but the next big wave of adopters has not broken yet.
If we discount January and August, for reasons we will come to, the share of BEVs in new sales across the 31-nation EU+Efta+UK block has been stubbornly in the 13-16.5pc range for the first nine months of the year, according to the Acea lobby group (see Fig.1).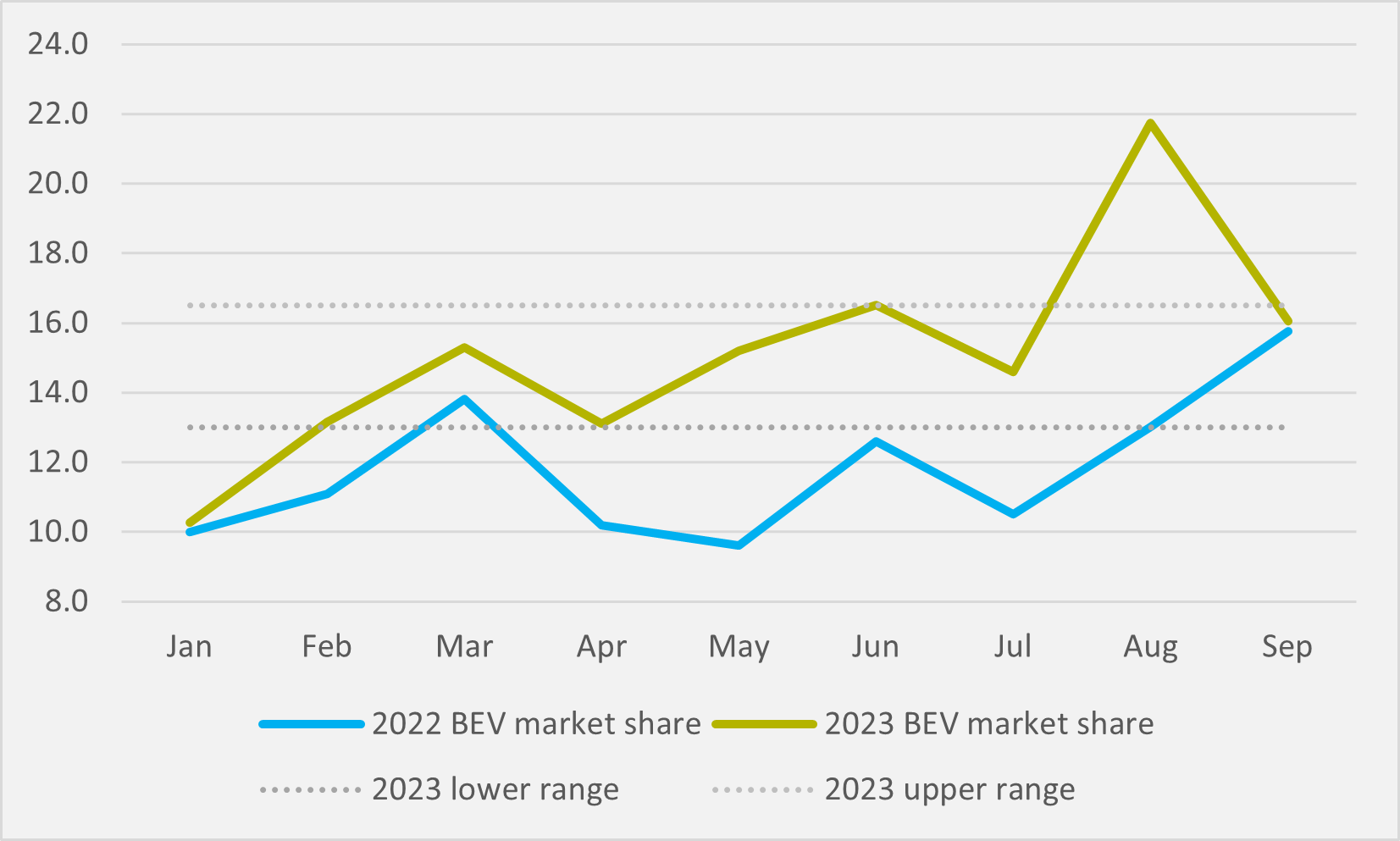 VW is hardly alone among legacy and EV pure play OEMs in flagging slower-than-forecast increases in BEV uptake in their Q3 results commentary. But there is no doubt that the 300,000-to-150,000 decline has caught the eye. "Our order intake is below our ambitious targets due to the lower-than-expected overall market trend," says VW CFO Arno Antlitz.
"We currently face a general reluctance in the European market to buy battery-powered vehicles," he continues. "Currently there is a certain uncertainty in the market, which is not only related to Volkswagen, it is the whole market."
And Antlitz view is that the European BEV adoption curve is proving slightly different to anticipated. "Most of the players in the market expected it to be more linear," he says.
"But, if you look at a lot of development in society or in nature, often you do not find linear. We might see a quarter or two, or even a longer period, where we see a deviation from the linear path.
"Look at our guidance for this year. We said 8-to-10, we are more on the 8pc side. But we still believe in the ramp-up of the electric business, the finance chief elaborates.
Pre-order effect
It is worth noting that, when Antlitz goes into greater detail about the halving in orders, what we are seeing is the impact on what happened at the end of last year in terms of BEV new sales subsidy changes still playing out, not a new trend of lower demand. In fact, "order intake is picking up quarter-by-quarter", the finance chief says.
"It was rather low in the first quarter this year due to pre-pay effects. You are aware that, at the end of last year, a lot of subsidies changed in countries. Our order index is picking up again and Q3 was already, I would say, 30pc above Q2 order index," Antlitz continues.
This is a much different story to many of the headlines around the 150,000 orders. And it is backed up in the data. German BEV sales in Q4'22 jumped to from just over 10,000 in Q3 to almost 20,000 (see Fig.2), largely on the back of a rush to buy BEVs before an end-of-year haircut to subsidies available to non-private BEV buyers. So this would have been a material stimulus for VW's German BEV order book at the end of September '22 that was not there at the end of the same month this year.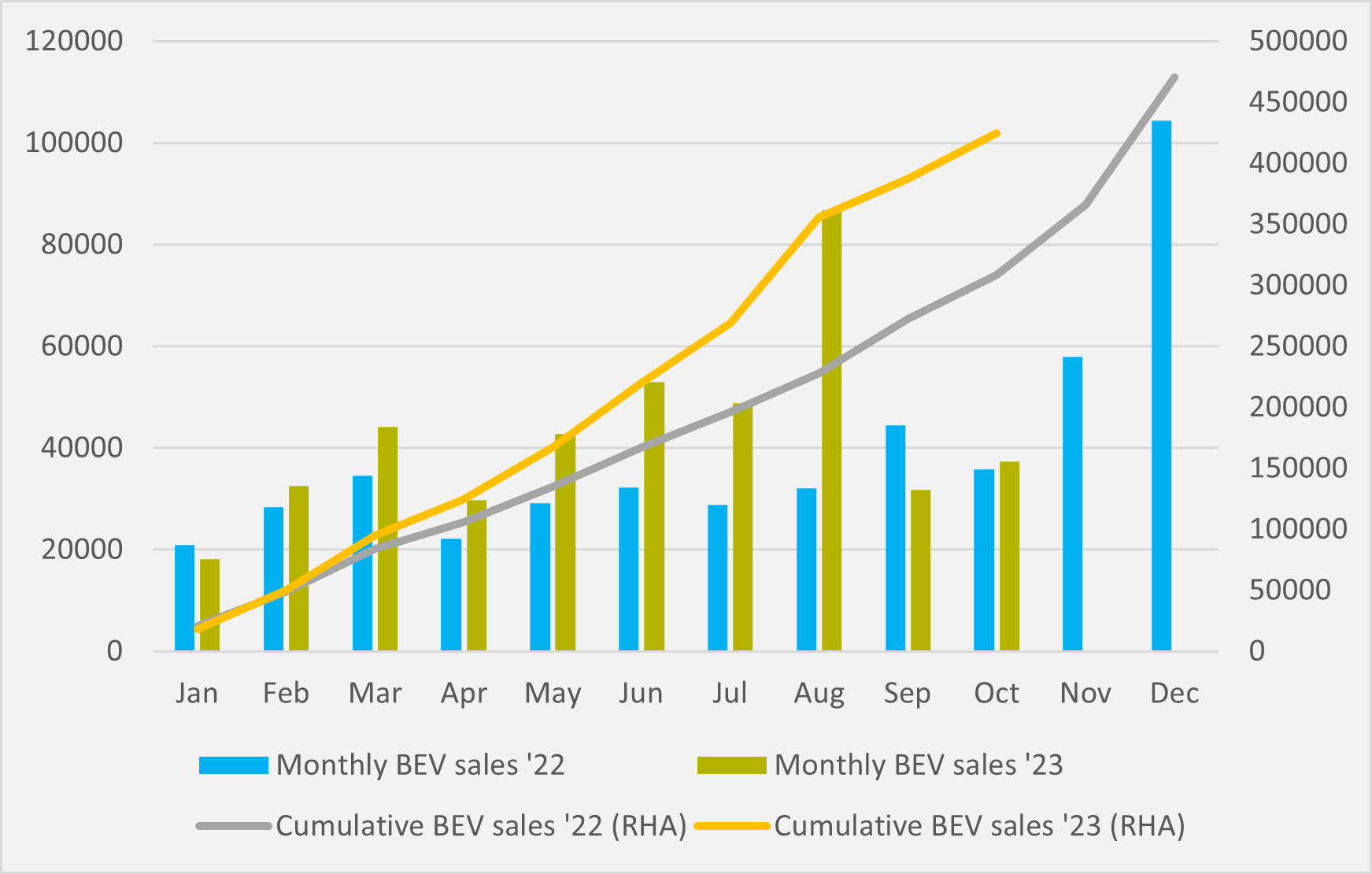 And German BEV demand for Q4 this year will also have taken a hit from another change in subsidies — this time ending all support for non-private BEV buyers — at the end of August. We can already see the impact on the overall market, with new German BEV sales spiking to almost 90,000 in August as buyers rushed to beat the deadline, before slumping to just over 30,000 in September and October.
The shift in momentum can be observed in specific models within the VW Group. In the last four months of 2022, the trend was up, from c.8.500 all-electric cars shifted by Audi, Cupra, Porsche, Skoda and VW in Germany in September to over 25,000 by December (see Fig.3). Again, that 300,000 order book being bolstered by the subsidy-cut demand stimulus.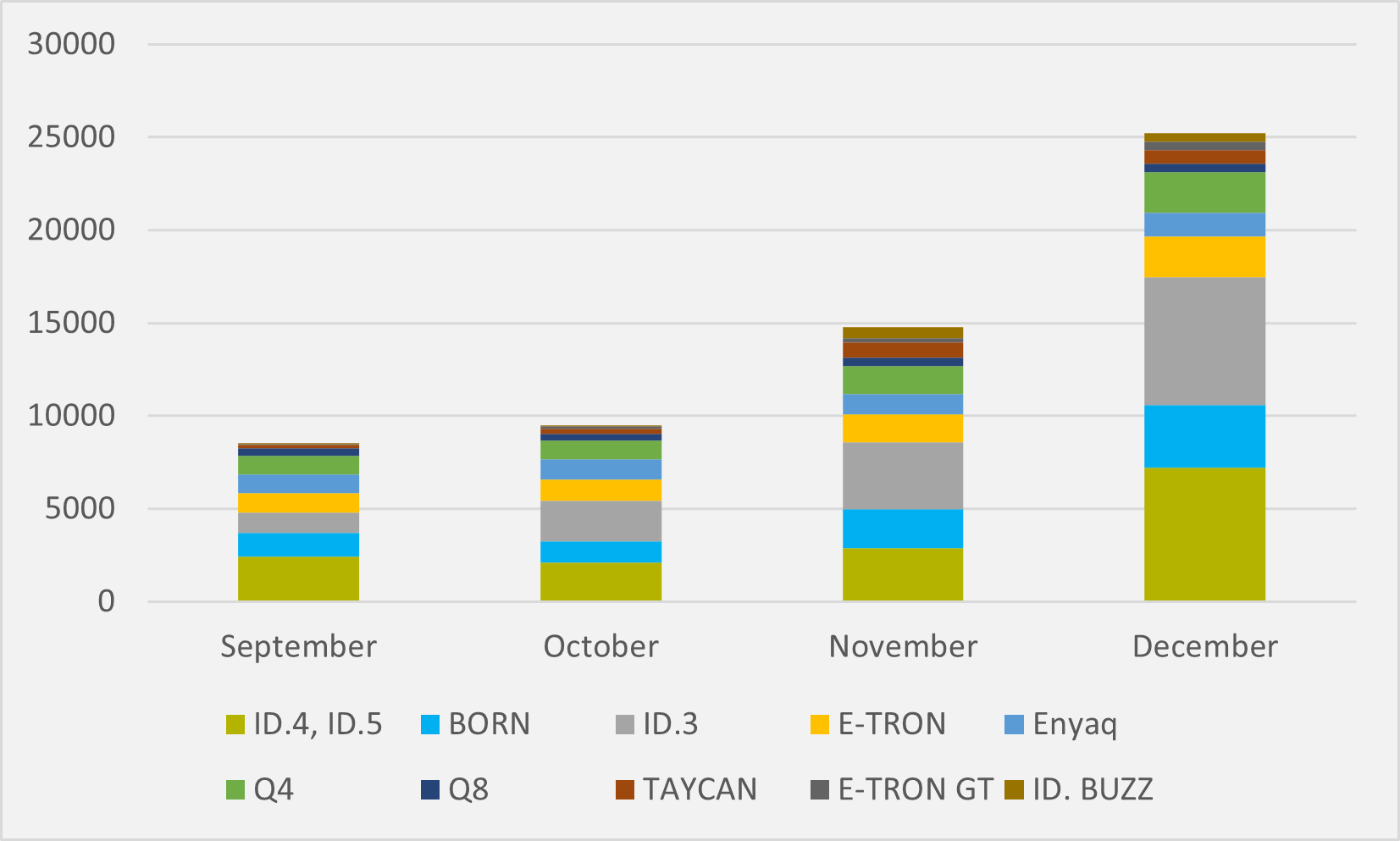 In sharp contrast, VW's momentum going into the fourth quarter of this year is not building, due to the hangover from August's dash to beat the buzzer on subsidies. The firm's brands sold 21,500 BEVs in August, but this collapsed to 7,200 in September and recovered only to c.10,500 in October (see Fig.4). One could argue that VW growing its European orders quarter-on-quarter when faced with this trend in the continent's largest national market and its home ground is not something at which to be sniffed.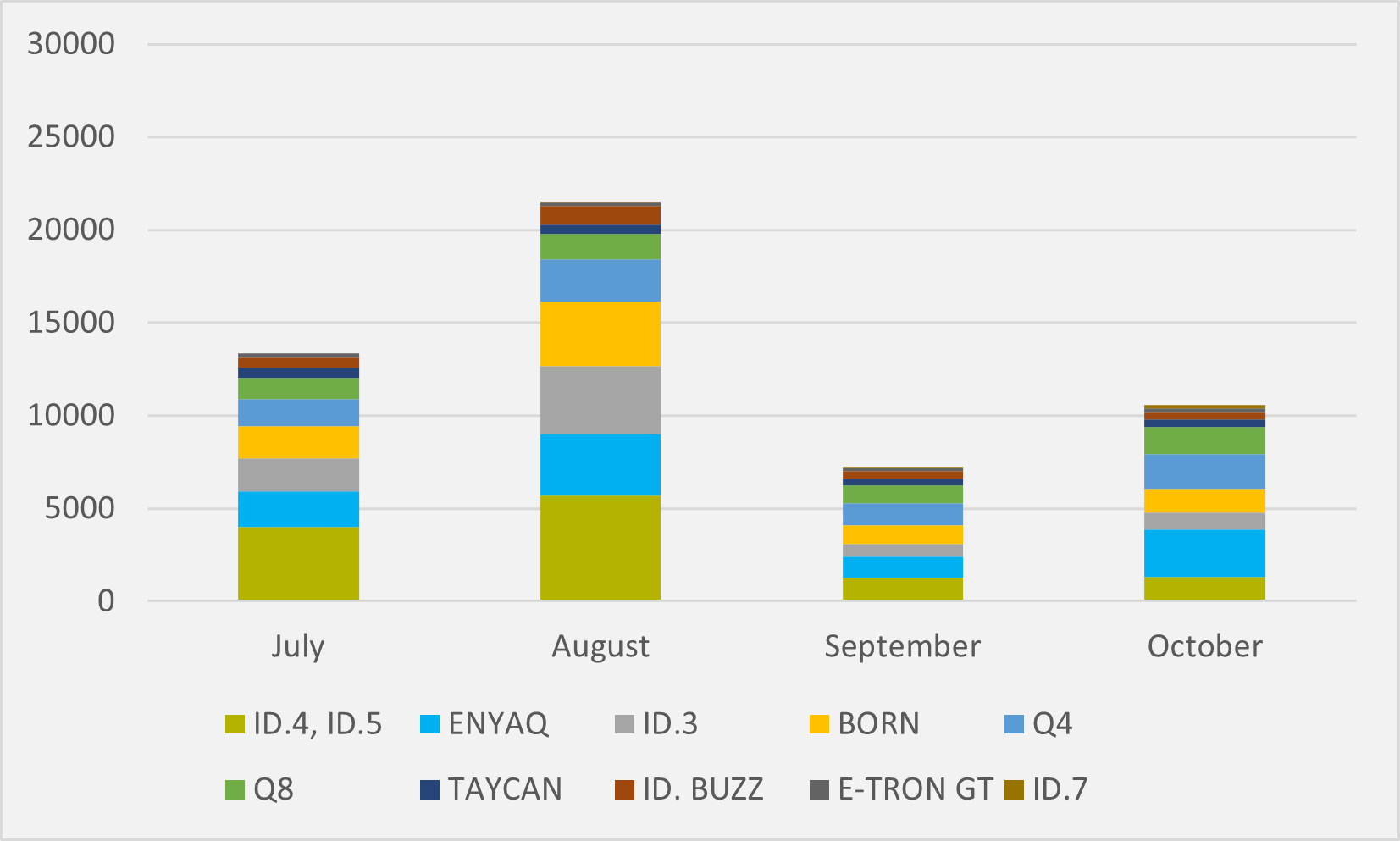 Nor is Germany the only market where Q4 orders last year will have juiced in a way than is not replicated this year. In Norway, an end-of-year change in subsidies saw BEV sales spike to almost 33,000 in December (see Fig.5), far above any other month of 2022 or indeed 2023. Again, that upcoming boost will have been feeding into VW's 300,000 end-of-September numbers last year, and no similar jump will be inflating its 150,000 number this year.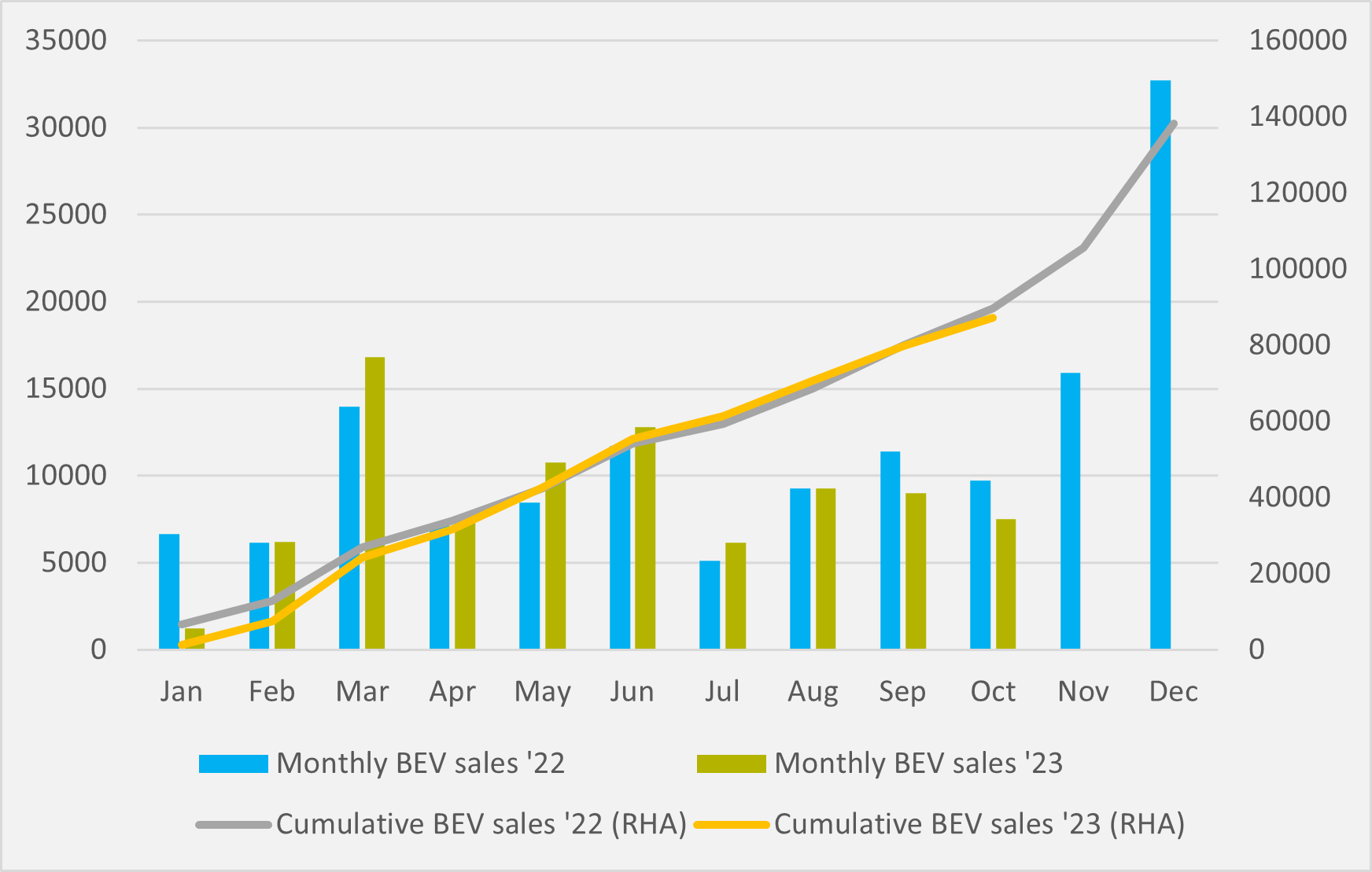 It should also be noted that, outside of his cautionary words about demand and the order discrepancy, Antlitz is largely positive about VW's European BEV future. And, in fact, despite only having half the orders on its books, VW is actually forecasting that this year's Q4 sales will outstrip last.
"New orders for BEVs recently picked up. We gained market share and remained in a market-leading position in this segment in Europe," Antlitz says. "We will see also in Europe for Q4, we expect a higher volume than last year."
Discounts
Achieving that would be a very different picture than the headlines on drop in orders paints. Part of VW's optimism is based on product. But, while it stresses a value over volume strategy, it also appears to be leaving the door open for some price cuts, if only temporarily, to boost sales.
In particular, lower material costs might allow for some price flexibility. "We expect our order intakes to pick up further in Q4, with product momentum and with perhaps also better material prices," Antlitz says, hinting at the possibility of passing on lower input costs to boost demand.
"You could expect better EV costs next year due to material cost," he adds, warming to the theme. But he is adamant that any price cuts will only be in the short term.
"There might be certain temporary measures in the market — promotions, whatever — but we are not planning to lower our prices on the BEVs, in order to secure our residual values," Antlitz says.
VW sales figures are also relatively promising. "We sold 532,000 BEVs in the first nine months of 2023, equalling 7.9pc of deliveries. In the third quarter alone, the share of BEVs advanced to 9pc," Antlitz continues on the subject of global sales. "Importantly, at 61pc year-on-year growth, we continued to outgrow the market in Europe," he adds.
And the finance chief is optimistic for the future of VW's BEV strategy. "Performance in the coming months should be further supported by the launch of the upgraded ID.4 and ID.5, as well as the ramp-up of our all-new ID.7 and with an increasingly competitive product offering," he predicts.
This positivity extends into the medium term too, with the firm sticking, at least for now, to its target of BEVs making up 20pc of global sales in 2025. "This might be challenging given the current environment," Antlitz admits, "but we are rather optimistic for our increase in BEV volume overall."