Corporate Strategy
UAW strike gives GM pretext for EV 'retiming'
Detroit Three OEM dresses up EV rollback as "agile approach" to cost increases but admits core EV profitability problems

Legacy automaker GM is "moderating the pace of our EV acceleration in 2024 and 2025 to maintain strong pricing" citing uncertainty around operating costs caused by strike action from the United Autoworkers (UAW) labour union. Instead it will take an "agile approach" to what CFO Paul Jacobson calls the company's "retimed EV volume and product production decisions".
But when analysts sought some explanation for the withdrawal of EV margin guidance, executives had a rather convenient pretext. It wants to ensure its revised strategy is "not something… dominated by the UAW," Jacobson says.
By that, he means that GM is anticipating much higher operating costs in any future contract agreement with UAW workers. This has put pressure on the company to reduce costs where it can. And, although management was reluctant to say so, EV production is set to be rolled back to allow the OEM to prioritise producing its higher margin ICE vehicles.
Navigating a tightrope
However, executives trod a fine line at the company's Q3 results call not to appear to diminish GM's commitment to EVs in the long term. "Our commitment to an all-EV future is as strong as ever, and we continue to plan to have annual EV capacity of 1mn units in North America as we exit 2025," says CEO Mary Barra.
But Barra's statement might arguably be seen as lip service, considering the realities of what the new approach means for the company's near-term BEV output. The so-called retiming decisions "will impact our previous EV production targets, including the 100,000 EV target we had for the second half of 2023, and cumulative 400,000 EVs from 2022 to the first half of 2024", Jacobson admits.
The company will also delay the launches of Chevrolet Equinox EV, the Silverado EV RST, and the GMC Sierra EV Denali, each by several months, as well as withdraw a chunk of its capital commitment to its Orion plant, which is dedicated to building the firm's best-selling BEV, the Chevrolet Bolt.
"Given a more agile approach to our EV transition, we now expect to retime at least $1.5bn of capital spending at our Orion plant, implement engineering improvements, and improve EV profitability prior to accelerating production of battery electric trucks," Jacobson says.
The catchphrase at GM is now "agility", which was mentioned seven times during the results call, as management reserve the right "to continually evaluate EV demand and adjust production schedules to maximise profitability". "Higher labour costs will make it even more imperative that we continue to focus on the most significant and margin-accretive parts of the business," Jacobson says.
And this leaves EVs out in the cold. "Clearly, [EVs] are loss making," says Adam Jonas, head of global auto research at bank Morgan Stanley, despite GM not giving separate margin or profit results for its EVs. When asked if GM would commit to a more definite roadmap for EV strategy once a UAW contract is signed, Jacobson said that investors would have to wait for a clearer picture.
"This year the margins in EVs are just relatively nonsensical, mainly because we have got a big, scaled infrastructure with limited production across the board. So, we are absolutely committed to presenting that roadmap and we will do that at our investor day."
GM has, though, decided to delay said investor day from mid-November until March. "We have got a lot of good strategic data points to put out there. We wanted to make sure that it was not something that was dominated by the UAW," Jacobson continues.
Demand response
"We are not providing new targets but are moving to a more agile approach to continually evaluate EV demand and adjust production schedules to maximise profitability. We purposely built flexibility into our manufacturing facilities and are uniquely positioned among our competitors to be able to flex our production between ICE and EVs," the finance chief says.
But the firm still believes it is outperforming the wider market on its BEV sales. "What I would say is the observation about slowing EV demand growth is something that everybody is been talking about. We have seen it in competitor earnings profiles, etc. But I want to be clear, we are not seeing that in our portfolio right now," Jacobson asserts.
Indeed, GM's US Q3 BEV sales are up by 28pc quarter-over-quarter (see Fig.1), claiming a 20.1pc market share of US EV sales in the quarter.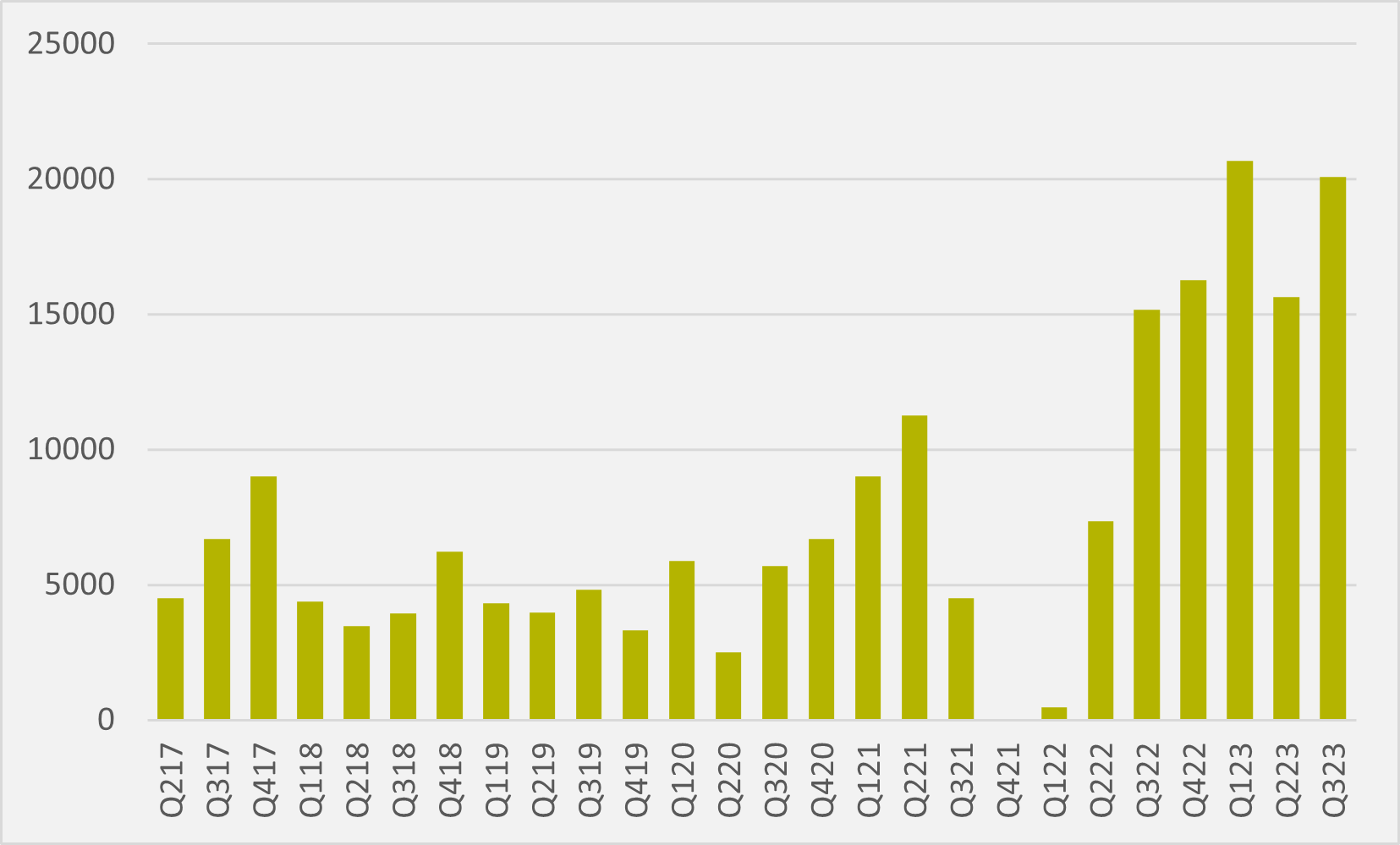 But that is not enough to change the narrative. "We are scaling in a way that is consistent with the operating discipline I mentioned," Jacobson reiterates.
"What we have seen here is an opportunity to slow some of that scaling down and take advantage of some of the learning that we have seen through the engineering and manufacturing process in the early stages."