Vehicle Sales
GM just shy of record quarter for EVs
North American sales up by 28pc in Q3, missing Q1 high point by only hundreds of vehicles

US auto giant GM has secured its second most successful quarter ever for US EV sales, having delivered 20,092 BEVs in the period. Total sales rose by 128pc quarter-on-quarter, driven in part by a considerable acceleration in sales of the now reprieved Chevrolet Bolt, which have already eclipsed 2022's full-year sales with a quarter of the year to go.
Other catalysts for the success include a 124pc quarter-on-quarter rise in Cadillac Lyriq sales, as well as material improvement in deliveries of the two models of the Hummer EV. The Chevrolet Blazer EV recently began customer deliveries, while the Silverado EV began deliveries in September, although together these only added 37 cars to GM's quarterly total.
The quarter is roughly in line with the company's performance in Q1 of this year (see Fig.1), which to-date is GM's most successful quarter. Yesterday's results come up just under 600 vehicles short of that peak in sales.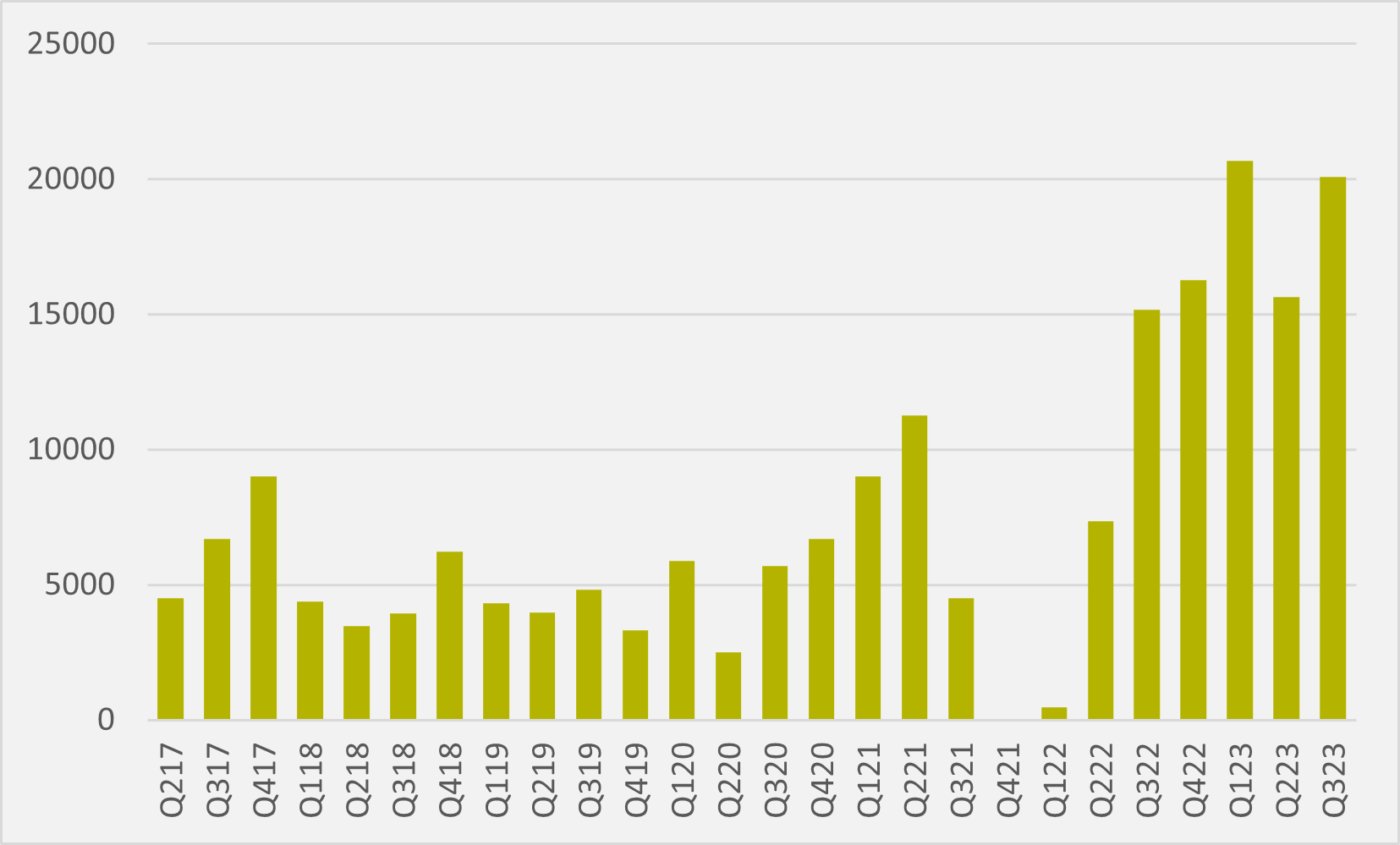 The numbers perhaps highlight the severity and outlier nature of the downturn that the company took on its EVs in Q2 of this year. CEO Mary Barra blamed the drop on "unexpected delays in the ramp because our automation equipment supplier has been struggling with delivery issues that are constraining module assembly capacity".
GM will hope that the relative consistency between Q1 and Q3 this year indicates a normalisation of its EV sales performance and that Q2's downturn will prove to be an anomaly. With the company in the middle of a vast ramp-up of its Ultium platform EVs, production challenges may be starting to ease for the Detroit giant.
But the company's confidence in "a lot of pent-up demand" for its electric offerings will really only appear justified once it starts posting growth beyond its current quarterly record set in Q1. The company's EV production remains untouched by ongoing UAW strike action, although expansions to the strike are a possibility.
Breakdown
GM sold 15,835 Bolts in the quarter (see Fig.2). This brings the year-to-date sales figure for the Bolt to 49,494, amounting to a 130pc rise over 2022's full-year sales of 38,120, albeit Q1'22 was still being hit by a recall process.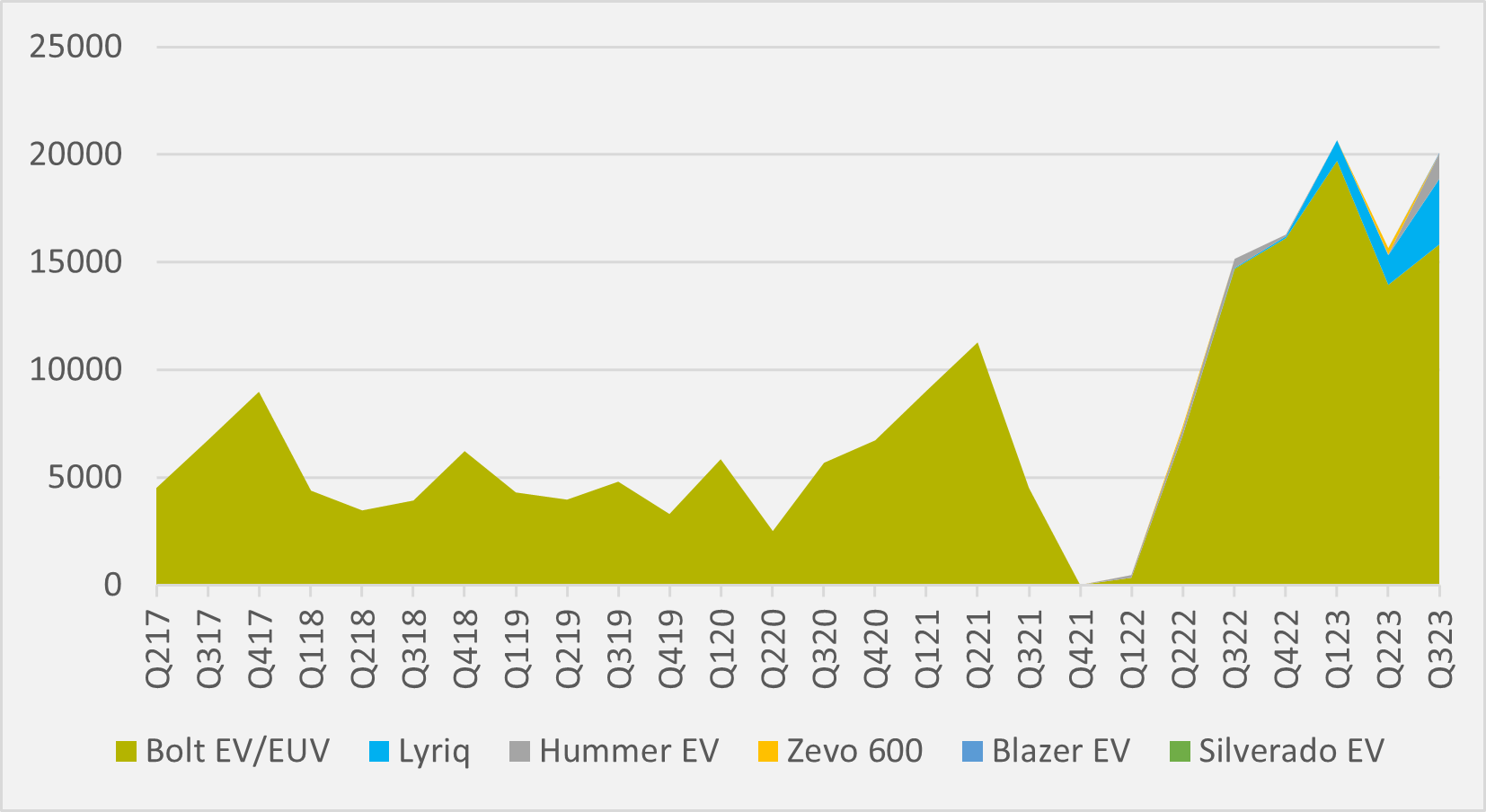 The company also delivered 3,018 Cadillac Lyriq models in the quarter, a 124pc rise over Q2 as the model continues to ramp up strongly (see Fig.3). The Bolt continues to make up the vast majority of EV sales — in Q3 it accounted for 79pc of GM's electric sales. But that was down from 89pc in the last quarter, with the ground almost entirely made up by improved performance of the Lyriq.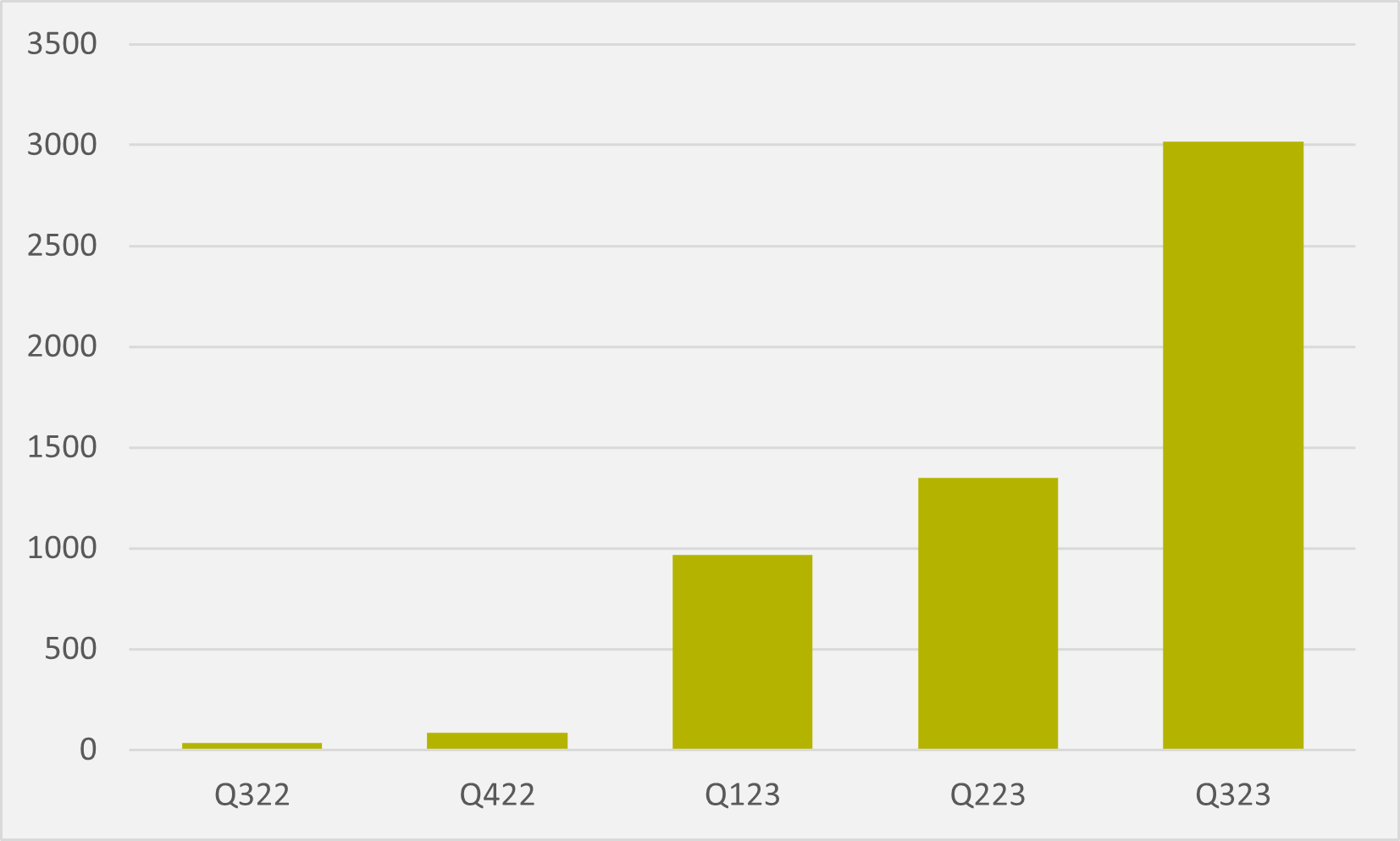 GM shifted 1,167 combined models of the GMC hummer electric pickup and SUV, a huge increase from the mere 47 models delivered last quarter. Indeed, the numbers for the Lyriq and Hummer EV vindicate CEO Barra's confidence in their prospects.
"We have had more than 2,000 customers reserve GMC Hummer EVs and Cadillac Lyriqs in transit to dealers at the end of June," Barra said at Q2 results. "To address pent-up demand among our Hummer EV customers, we are planning to increase second half production by thousands of units."