Charging and Grid
Slow charging drives UK public charger rise
Charging growth is steady but promises around ultra-fast charging still not materialising

The number of publicly available EV chargers in the UK rose by 12pc in the period between July and September, according to a report from the country's Department for Transport (DfT), citing data from charging firm Zapmap.
As of 1 October, there were 49,220 public electric vehicle charging devices installed in the UK, DfT says. This amounts to 5,200 public charging devices installed in Q3.
Of the overall mix, 8,908 had 50kW of power or above, representing 18pc of all charging devices. At the other end of the scale, 30,737 had a power rating of 3kW up to 8kW, representing 62pc of all charging devices.
"There was an increase in the number of public charging devices in the majority of regions in the UK; however both Northern Ireland and the northeast of England saw a decrease in the total number of charging devices publicly available in the region," the DfT says.
Destination charging accounts for 45pc of all public chargers with 22,167 devices. This is compared to on-street charging devices, which number 18,942, a proportion of 38pc. DfT defines destination chargers as those located at the end of an EV journey or where a driver may typically stop for an extended period of time. Consisting of both 50kW and above and 49kW and below charging devices, these are located in retail car parks, car parks, leisure, education areas and transport.
Just 7pc of public devices are en-route charging, which DfT defines as charging devices located for charging to continue a journey — located in motorway service areas, service stations, electric forecourts, and ferry terminals.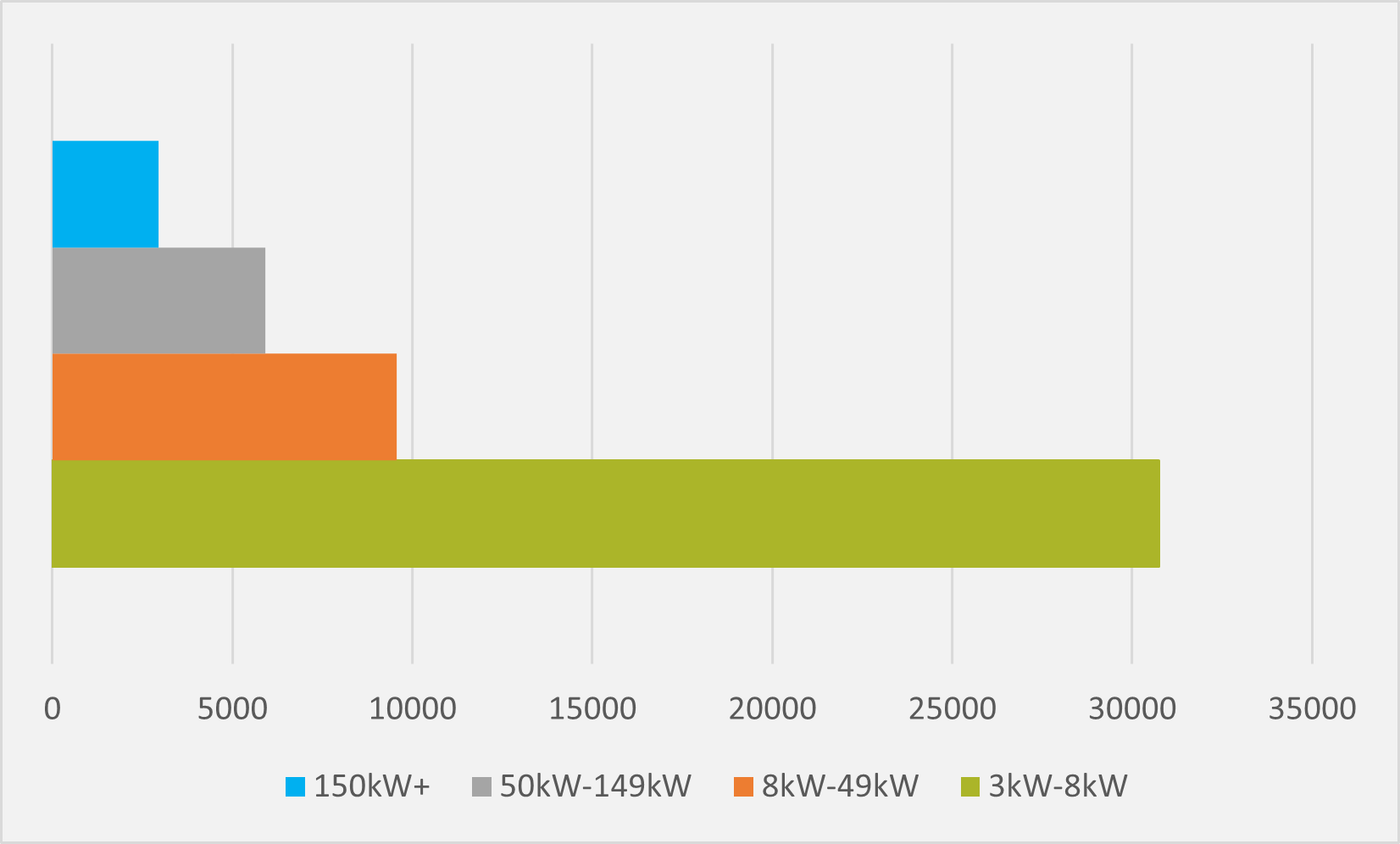 Prior to the October statistics release, DfT separated public chargers into four different categories, slow (3kW-6kW), fast (7kW-22kW), rapid (25kW-100kW), and ultra-rapid (100kW or above). Figure 2 shows the rollout of chargers separated into these categories since January 2022. On-street chargers are almost all 7.1kW, which explains the disparity between the shares of slow and fast charging under the DfT's two different methodologies.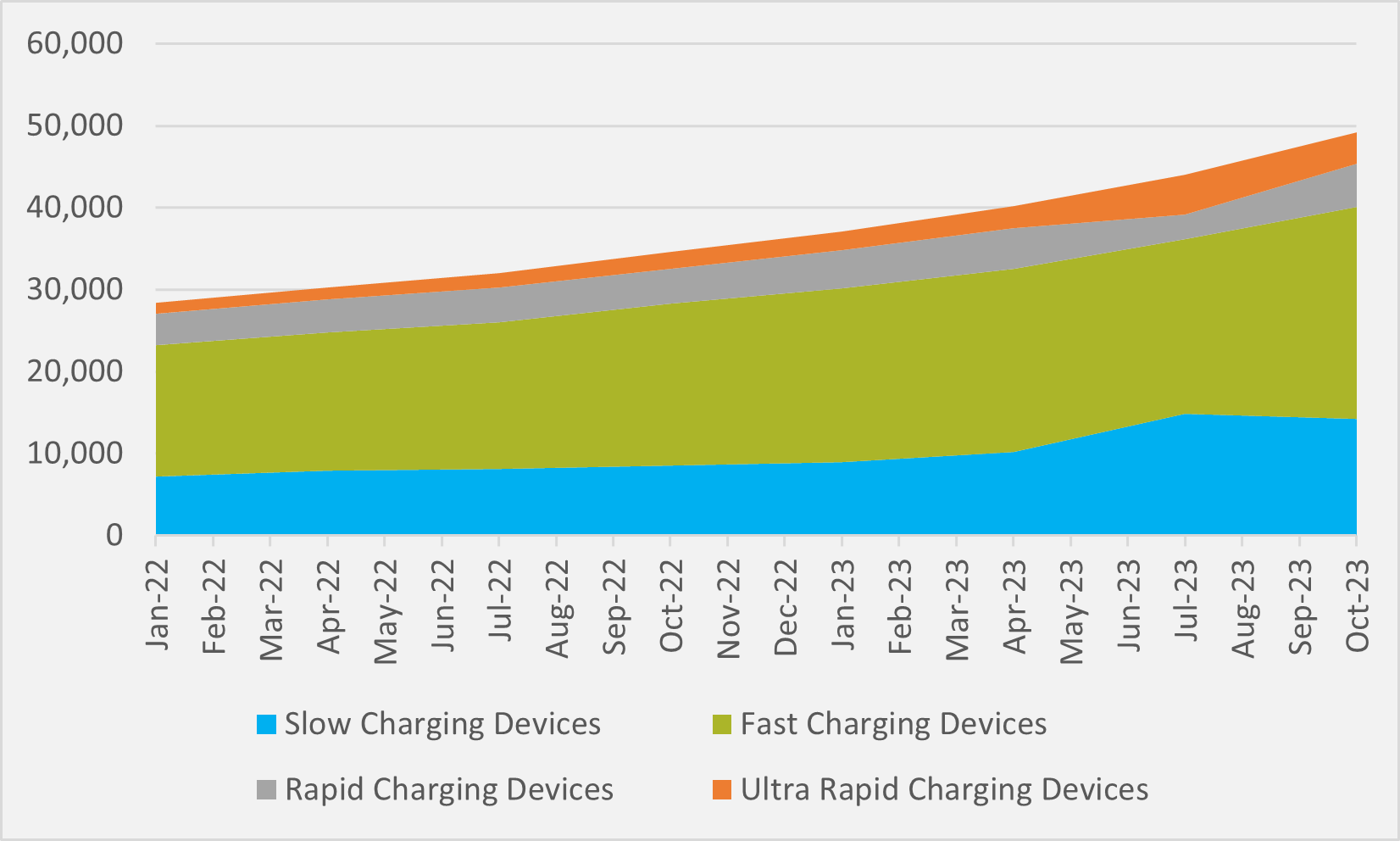 Growth of public charging is steady, with the fastest growing sector across 2023 being slow charging devices of between 3kW and 6kW. Under DfT's old categorisation, fast chargers of 7kW to 22kW are also growing quickly, but this may be dominated by those on-street chargers.
It is the ultra-rapid sector that may need greater focus. is the focus of recent debate. "I think increasingly freight is a big and important sector," says Jason Torrance, CEO of net zero advocacy consortium UK100.
"There are lots of different partnerships, some of which are going great guns and delivering impact. [But we must] have a national strategy or a route map for the delivery of net zero from the freight and logistics sector."
Widespread EV adoption in the sector will only go as far as high-powered charging infrastructure will allow it. "The government's target was to have at least six open access high powered (150kW+) chargers at every motorway services by the end of 2023," notes Melanie Shufflebotham, COO of Zapmap.
"Given that we are in November, it is clear that this target will not be met. However, in parallel [there has] been some other well-documented progress in high-powered charging provision."