Policy and Regulation
Rishi's red herring plays to the gallery
The UK PM hides the truth in plain sight with his shift on 2030 ICE ban

The UK's political right cannot say they were not warned that the country's prime minister is pulling a fast one on them with the postponement of the ban of sales of new ICE vehicles from 2030 to 2035. Unusually, for a politician, he told them straight.
"I expect that, by 2030, the vast majority of cars sold will be electric. Why? Because the costs are reducing, the range is improving, the charging infrastructure is growing. People are already choosing EVs to such an extent that we are registering a new one every 60 seconds," Sunak says.
In other words, his moving of the goalposts on the cliff edge for new ICE sales is largely an irrelevance. It is a purely political stunt, throwing red meat to right-wing culture warriors who, at best, prioritise the importance of personal choice over societal best and, at worse, actively deny climate science.
And it has been effective. "Polls show half of voters back his plan," says a headline in the Daily Mail. "Sunak spares public net zero pain," agrees the Daily Telegraph.
Even better for a government far behind in the opinion polls and actively courting social conservatives, the left-wing press is as outraged at the right is approving. "Widespread condemnation after net zero policy U-turn," thunders the Guardian. "Rishi Sunak's green U-turn 'will put thousands of jobs at risk and increased your bills'," agrees the Daily Mirror.
So Sunak has achieved his political aims even, though, on EVs, he has openly confessed there is almost no materiality to his policy change. There is, admittedly, dissenting voices from OEMs and charging firms warning about investment put at risk through uncertainty.
But even this is cut through in some quarters by a realism about the limited impact. "Whilst the decision to delay the ban on the sale of new petrol and diesel vehicles to 2035 is disappointing, this move should not have a significant impact on the uptake of electric vehicles in the UK, which continues to grow rapidly," says Karl Anders, CEO of the UK arm of charging firm Mer.
2030 picture
How true, though, are Sunak's words that a "vast majority" of UK new vehicles sales in 2030 will be electric? The EV inFocus view is that it is valid — with current BEV adoption rates likely to accelerate for several reasons:
a better range of models at more competitive prices
a shift in OEM sales & marketing priorities
innovations in battery technology and huge steps in both private and public charging eliminating range anxiety
a shift in perceptions on what is 'normal' versus what is unknown.
But it is also possible to model a range of scenarios based on current rates of change in the UK new sales mix, as per the latest data from the European Automobile Manufacturers' Association, or Acea. In the first eight months of last year, BEVs made up 14pc of sales, compared to 36.1pc for hybrids (HEV and PHEV) and 49.9pc for ICEs.
In the same period of this year, that market share for BEVs has risen to 16.4pc, a 2.4 percentage point increase, while hybrids have also grabbed a bigger slice of the pie — up to 38.1pc for a two-percentage-point increase. And these gains have inevitably come at the expense of the share of ICEs in new sales. These have fallen by 4.4 percentage points to 45.6pc.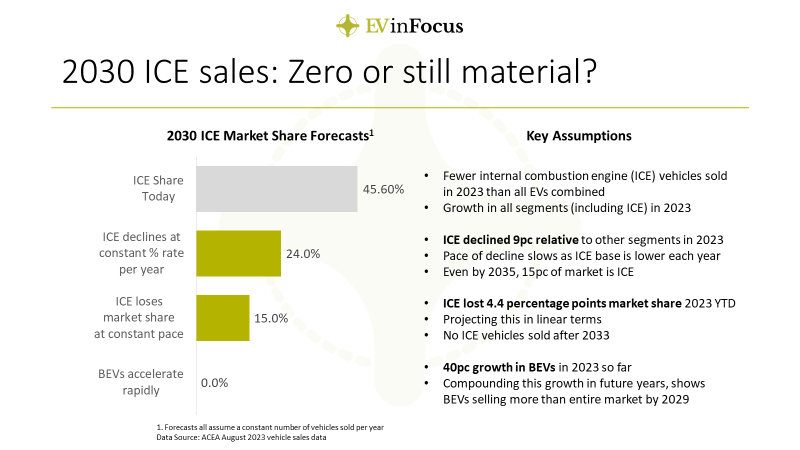 As discussed, we believe that BEV adoption rates will be quicker later in the decade than now. But three different methodologies for projecting current rates forward give a varied picture for the 2030 mix, ranging from no sales of anything but BEVs to a quarter of sales being ICEs now reprieved from a ban.
The first scenario sees ICEs losing market share at their current 9pc rate relative to hybrids and BEVs. That would leave them with a still material 24pc share of the mix in 2030 (see Fig.1).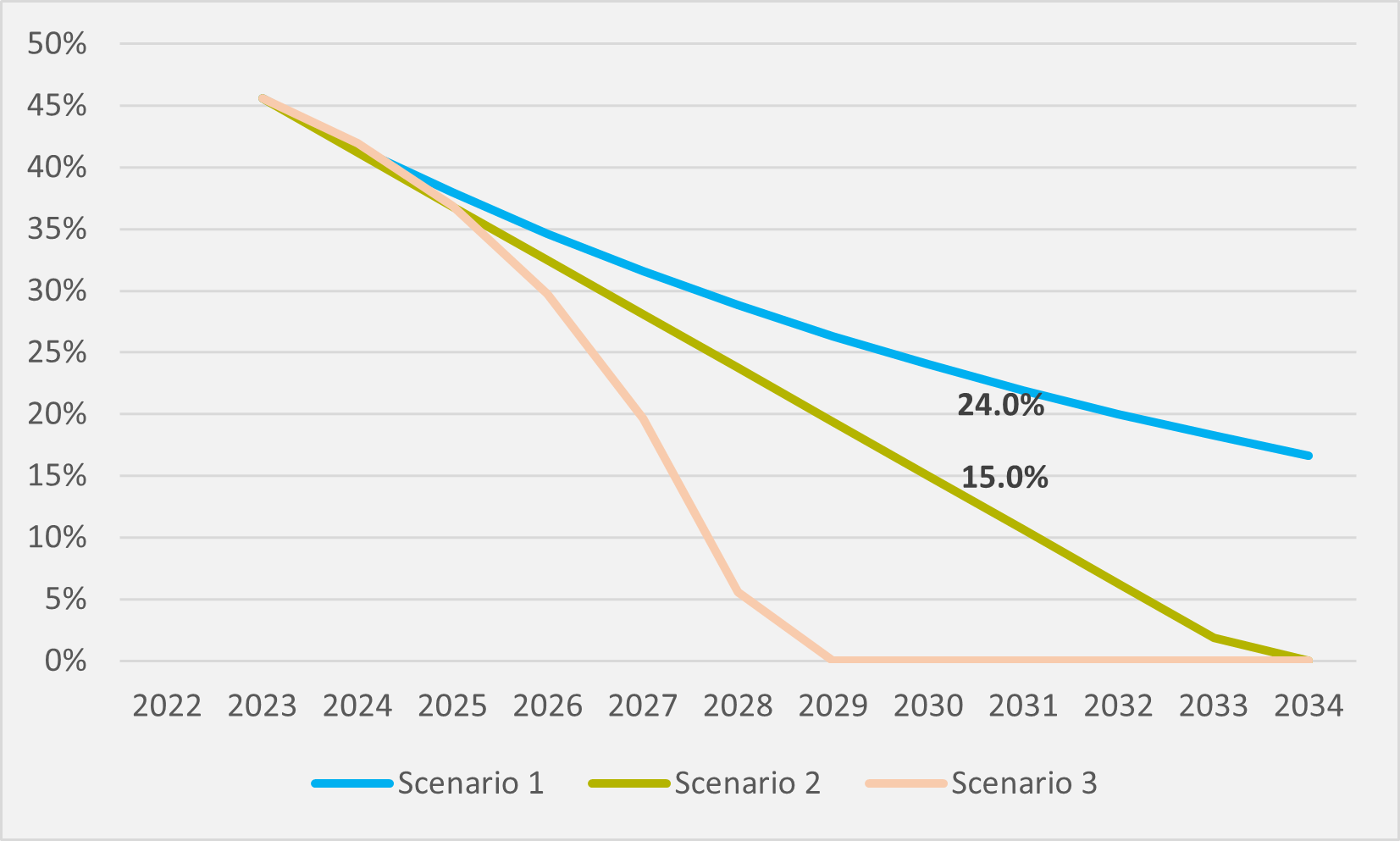 In contrast, if ICE sales continue to fall by the same percentage point figure as seen this year, their slice of the pie falls to just 15pc by 2030. Or, if BEVs continue to grow at their current 40pc rate, they would capture the whole market and more by 2029.