Vehicle Sales
Peugeot's E-Rifter revamp adds to Stellantis' European BEV optimism
Reasons to be cheerful for Franco-Italian conglomerate

France's Peugeot has released details of its updated electric people carrier the E-Rifter, with a re-designed interior and exterior as well as a longer range. And the refresh is just another plan in an increasingly bullish European BEV strategy for parent Stellantis.
The new E-Rifter is available in standard (4.4m) and long (4.7m) versions, with both versions available as either five or seven seat models.
The range has been extended to 320km from the 280 km of the previous version, on the same capacity battery of 50kWh, partly improved by the installation of a regenerative braking system that can be activated at three different regeneration levels.
The battery will charge in 30 minutes at a 100kW public charging point and can charge from a wide range of sources including a reinforced socket, wall box and smart wall box.
The vehicle features diagnostic software to assess the electrical installation required and optimum charging solution. The Peugeot smartphone application also has new features connected to the updated E-Rifter, including routes planned via charging points.
The new E-Rifter is due on sale in the UK in February 2024.
And Peugeot's parent, Amsterdam-headquartered conglomerate Stellantis, is felling bullish about its European BEV performance more generally. It reports a 41pc increase in its European BEV sales in Q3'23 compared to the same quarter last year, with over 87,000 BEV vehicles delivered.
It sees this putting it in second position in terms of BEVs sold in Europe, with a market share of 15.3pc. And it particularly identifies models such as the Fiat 500e, Opel/Vauxhall Corsa Electric, Peugeot e-208 and the Jeep Avenger as contributing to its rising sales, as well as its BEV commercial vehicle line-up that it sees as having a 38pc market share.
Stellantis clinched the top position in Germany's electric car segment in September, the firm reports, taking a market share of nearly 23pc on the back of 7,300 units sold. And this was particularly boosted by the performance of its German Opel brand.
In a first month where Germany removed the last of incentives for new non-private buyers of BEVS, sales unsurprisingly cratered — having spiked in August on a last surge of buyers eligible for the expiring help. German BEV sales plunged from over 85,000 in August to just above 30,000 in September (see Fig.1).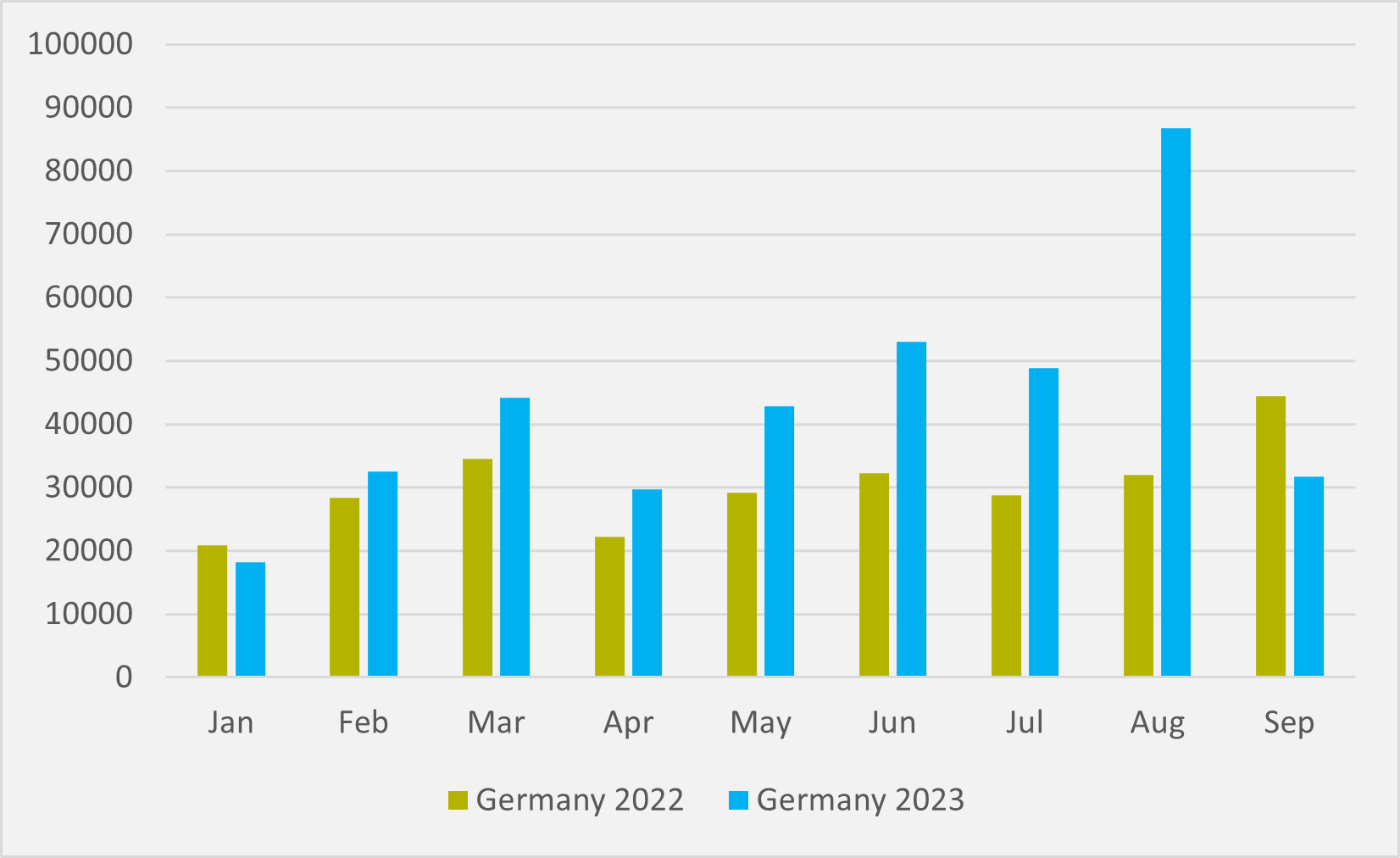 Opel's Corsa and Mokka Electric offerings might appeal more to value-conscious private buyers than the fleet-friendlier luxury offerings of rivals such as Audi, BMW and Mercedes. The Corsa Electric was the second best-selling BEV in Germany in September, shifting around 2,200 vehicles, while the Mokka Electric took fourth place with around 1,300 vehicles sold.
Another Stellantis car, the Fiat 500e, was third with approximately 1,800 vehicles sold.
"I would like to highlight our momentum in electrification in Europe: we have several BEVs in the pipeline and we will double the number of all-electric models available to our customers from the current 24 by the end of 2024," says Uwe Hochgeschurtz, Stellantis COO for the Enlarged Europe region.
"Early in the year, we set ourselves the goal of further expanding our position in Germany and narrowing the gap with the market leader. In September, not only did we reduce the gap in electric cars, but we even surpassed them."
And that momentum is continuing into Q4. Stellantis had a strong October in Germany, with e-commercial vehicle sales nearly doubling, contributing to a record market share of 25.7pc.
In the UK, Europe's second-largest BEV market, Vauxhall is the number one e-commercial vehicle brand, with the Vivaro Electric topping its BEV segments. But this is also the case, according to Stellantis, for the Vauxhall Corsa and Mokka passenger cars.