Charging and Grid
Norway outlines BEV fuel savings
The remaining ICE drivers in the Nordic country will have paid a heavy price

Norwegians who continue filling up their cars with diesel and gasoline will have forked out anywhere from 296pc to 656pc more than BEV owners charging at home in the second quarter of this year, according to data from the Norwegian Public Roads Administration.
The average price of domestic electricity in Q2 was NOK1.438/kWh (13¢/kWh), comparted to NOK19.86/l for diesel and NOK22.04/l for gasoline.
The government agency calculates, based on the three most popular car models in 2022 within each segment, that a compact BEV — defined as smaller family car like the Nissan Leaf, BMW 1 Series or Mazda 3 — requires 16.73kWh of charge to travel 100km. A diesel of comparable size needs 4.77l to travel the same distance, while a petrol car needs 5.87l.
Therefore, the compact BEV would have cost its driver on average NOK24 to travel 100km in Q2 based on solely charging at home, compared to NOK95 for a diesel owner and NOK129 for a petrol owner (see Fig.1). That makes the compact BEV, in fuel terms, 296pc cheaper than a diesel and 438pc cheaper than a petrol car.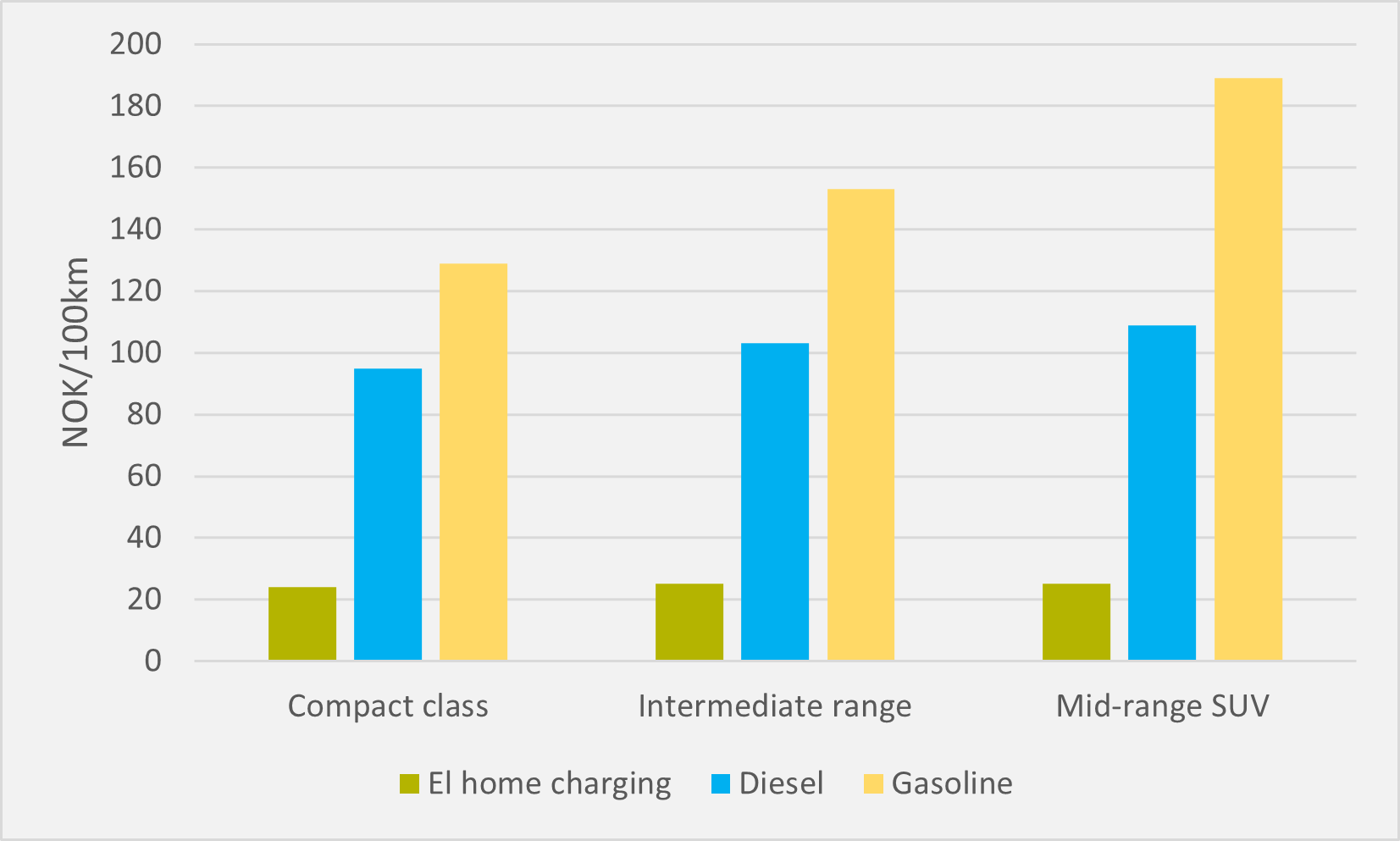 And those disparities only increase when looking at bigger, heavier cars where the ICE models get less fuel-efficient. For larger family cars like the Polestar 2, Skoda Octavia and Audi A4, the average Q2 cost of at home charging to drive 100kms for an intermediate range BEV was NOK25, only fractionally higher than a compact. But diesel costs rose to NOK103 and gasoline to NOK153, making them 312pc and 512pc more expensive fuel options, respectively.
For mid-range SUVs, defined as a larger family car with high ground clearance such as the Tesla Model Y, Peugeot 3008 and Volkswagen Tiguan R, the average BEV cost for 100km-worth of juice at home remained stable at the same NOK25 as for the intermediate range. But the cost of filling up with diesel rose to NOK109, making it 336pc more costly.
And gasoline SUV drivers faced even more pain. As the amount of gas required to mover an SUV 100km goes up, according to Norwegian Public Roads Administration calculations, to 8.57l, their fuel costs averaged NOK189, meaning a premium of 656pc compared to a similarly sized home-charged e-SUV.
Fortunately, very few purchasers of new cars in Norway will have had to stump the additional cash. In the first six months of this year, new sales of diesels totalled 1,620 and of petrol cars just 840, paltry market shares of 2.4pc and 1.3pc, respectively, of all new sales — with even a combined ICE share of the pie of 3.7pc well behind HEVs (6.2pc) and PHEVs (7pc). In contrast, BEVs made up over 83pc of all new sales, according to data from the European Automobile Manufacturers' Association, or Acea (see Fig.2), even after a January wobble in BEV sales after Norway removed some of the incentives for going all-electric.