Corporate Strategy
Musk slices another 20pc off Cybertruck production forecast
Output expectations the latest target to be revised as Tesla stock dips

Tesla CEO Elon Musk has further revised down targets for Cybertruck production, saying that Tesla now hopes to produce only 200,000 trucks/yr, just over two weeks after he tried "to temper expectations for Cybertruck" when announcing Q3 results.
"We are aiming to make about 200,000/yr at volume production — maybe a little more. But I cannot emphasise enough that manufacturing is much, much harder than initial design," he says.
Only a fortnight ago on Tesla's third quarter results call, Musk told analysts that he was expecting production of c.250,000 Cybertrucks a year, albeit he was cautions that rate would not be reached next year. "I think we will probably reach it sometime in 2025," he said.
The revised target comes after a string of setbacks for the market leader, after Tesla's share of new BEV sales in the US in Q3 came in at a fraction above 50pc, which, while still dominant, constitutes the largest single quarter drop in market share the company has ever experienced.
Musk does, however, reiterate the company's goal of rolling out the first Cybertruck models this year. "We plan to do our first deliveries next month," he says.
But he continues to return to the challenges in scaling. "The production line will move as fast as the slowest, most unlucky, and most foolish part of the entire production line," the Tesla chief says.
"There are 10,000 things that have to go right — at least — for production to work. So if you have 9,999 that are working and one that is not, that sets your production rate [back]".
Momentum
Tesla stock has dipped sharply in recent weeks and now sits at its lowest value since February this year. Tesla's valuation has dropped by 21.2pc since the announcement of its Q3 results (see Fig.1) when Musk bemoaned a hostile macro environment and voiced particular concerns about how high interest rates could affect Tesla's affordability.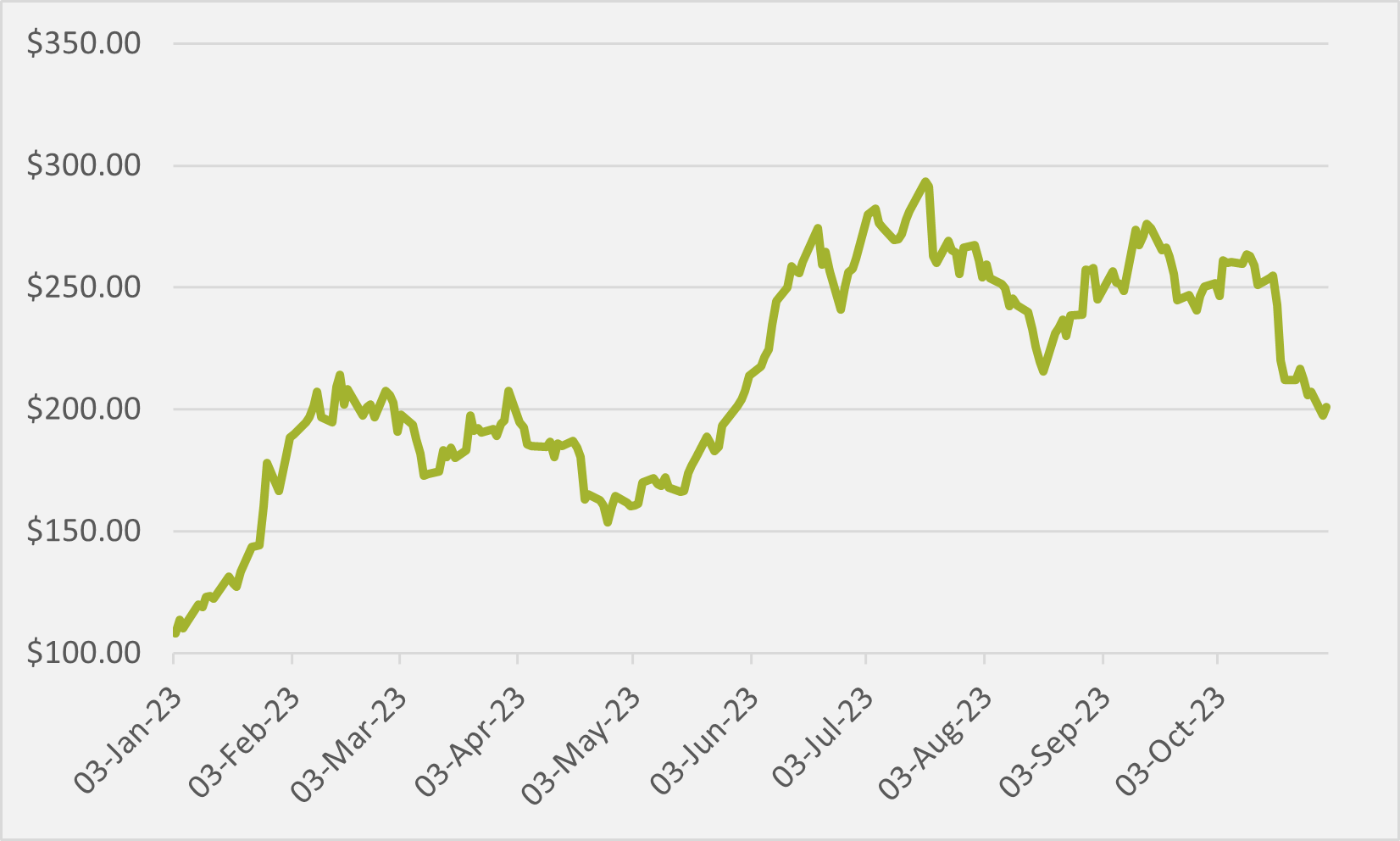 "If interest rates keep rising, you just fundamentally reduce affordability. It is just the same as increasing the price of the car," Musk told analysts.
And these macro headwinds will affect the Cybertruck's eventual proliferation too, Musk says, as even if, or when, the vehicle is produced at scale, the environment could still impede Tesla's ability to price the truck competitively.
"When you reach volume manufacturing, which is insanely difficult, then you want to make the car affordable. It is harder to reduce the cost of the car by 20pc than it is to reach volume production in the first place," Musk says.
Betting against Musk and Tesla has been a fool's errand for several years in the EV space. But even just considering the sort of buyers who choose a pick-up and their likelihood to be enthusiastic adopters of electrification of any type — never mind a vehicle as visually striking as the Cybertruck — makes EV inFocus continue to ponder whether this is a product choice gone awry.
Ford's Jim Farley calls the Cybertruck a pickup for for Silicon Valley. We are still to be convinced it is not a first Tesla misstep in a very long time.