Corporate Strategy
Elon Musk's interest rate obsession
The Tesla chief feels his firm's price cuts represent running to stand still

Elon Musk, CEO of US EV pure play Tesla, admitted to being "a broken record" on the subject of interest rates as his firm presented Q3 results. Four times on the analyst call, he went into detail on the subject.
New Tesla CFO Vaibhav Taneja also made two mentions of higher rates. And their impact appears to transcend much of Tesla's thinking, from pricing to customer appetite to the timing of its new Mexican factory.
"I am worried about the high interest rate environment that we are in — I just cannot emphasise this enough," Musk says. "[For] the vast majority of people buying a car, it is about the monthly payment. And as interest rates rise, the proportion of that monthly payment that is interest increases naturally.
"If interest rates remain high or if they go even higher, it is that much harder for people to buy the car. They simply cannot afford it," he warns.
And it is a subject to which he would return. "I keep harping on this interest thing," Musk admits. "It just raises the cost of the car.
"We are looking at internal analysis, which we think is more or less on track, that when you look at the price reductions we have made on, say, the Model Y, and you compare that to how much people's monthly payment has risen due to interest rates, the price of the Model Y is almost unchanged."
Consumer squeeze
Even after price cuts, which have included a recently announced partner vehicle leasing programme in the US where a standard Model Y is available for $399/month, Musk remains concerned about his cars' affordability.
"There's very significant price elasticity," he warns. "To be totally frank, if our car costs the same as a [Toyota] RAV4, nobody would buy a RAV4 or at least they are very unlikely to."
And he concerned that "lot of these incentives like the tax credit are actually very difficult for the average person to access". "Most people do not have $10,000, or even $7,500, burning a hole in their bank account. A large number of people are living pay cheque to pay cheque," Musk says.
This could potentially translate into better news for Tesla next year, given that Musk speculates that potential buyers "cannot front $7,500 for 18 months or even six months to get the tax credit, or they actually do not in some cases even have that $7,500 in taxes". A switch so that the incentives can be moved directly onto sticker prices could reduce this friction.
But Musk seemed in uncharacteristically downbeat mood. Returning once gain to interest rates, he describes those charged on credit cards in particular as "usurious".
"If interest rates keep rising, you just fundamentally reduce affordability. It is just the same as increasing the price of the car," Musk complains.
"I just cannot emphasise again how important cost is — it is not an optional thing for most people, it is a necessary thing. We have to make our cars more affordable [so] that people can buy them."
Cost cutting
The firm has made some progress in bringing down the input costs to give it greater scope to absorb its interest rate-driven price cuts. "Despite factory shutdowns, our cost per vehicle decreased to approximately $37,500. We saw sequential decreases in material cost and freight. Reducing the cost of our vehicles is our top priority," says CFO Taneja.
This reduced mean cost represents around a $2,000 reduction per vehicle in the last year. And the company says it will be "unflagging" in its pursuit of additional cost reductions in 2024. It can also point to its new Fremont, CA facility as getting "pretty close, in terms of per unit cost, to where we are for our other established factories".
But the cost reductions have not been able to keep pace with price cuts. "There is an inherent lag in cost reductions, which in turn impacts margins," admits Taneja. Gross margins slipped to under 18pc in Q3, compsared ot over 25pc in the same quarter last year (see Fig.1)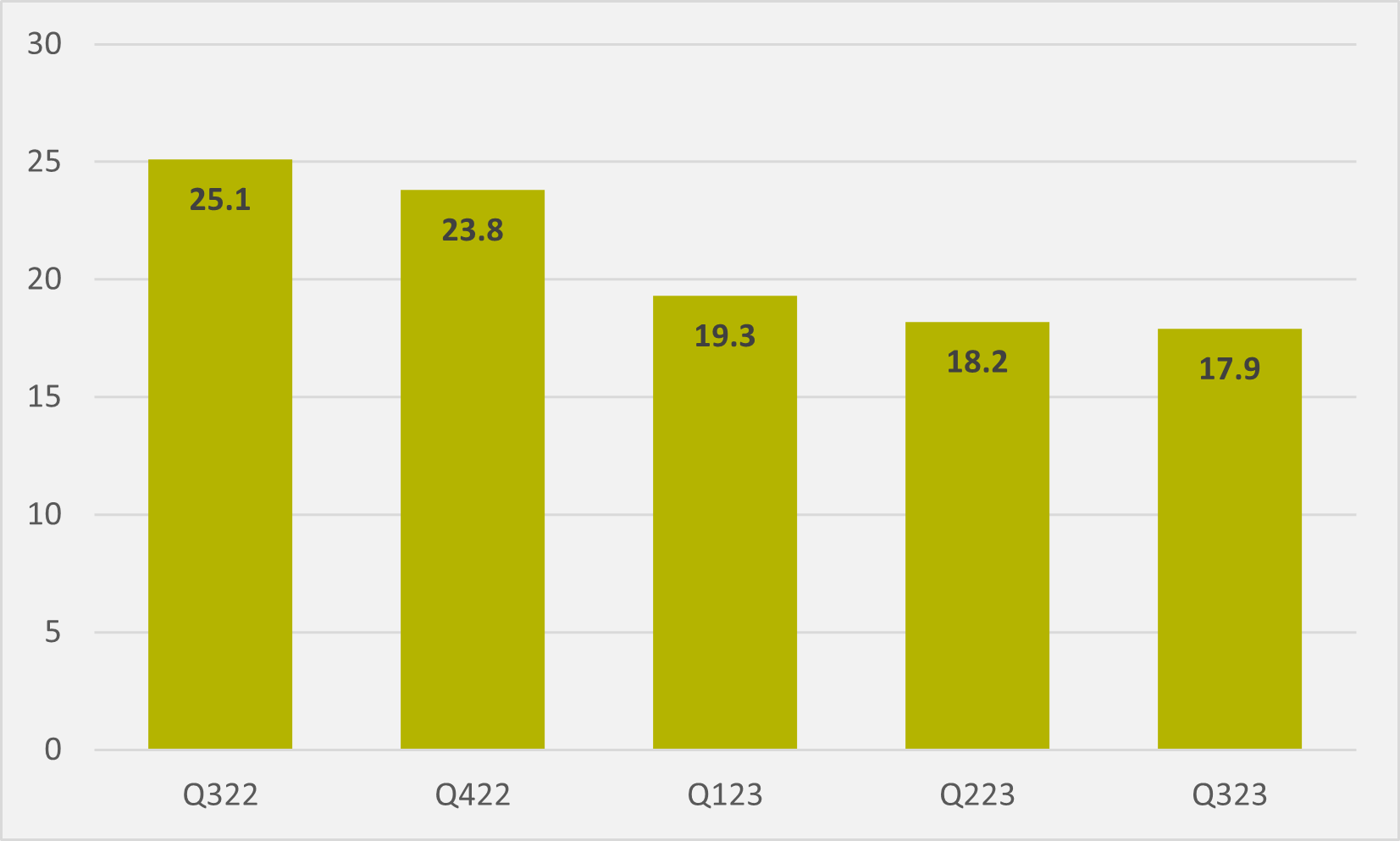 Tesla reported total revenue of $23.35bn in Q3 and adjusted Ebitda of $3.75bn, 24pc down year-on-year. Its share price dropped from above $240/share at Wednesday's close to test $220/share in early trade on Thursday.
Mexican standoff
And the macroeconomic certainty is feeding into the firm's future plans too, such as the timeframe for its new Mexican manufacturing plant. "I just do not have visibility into it. If you can tell me what the interest rates are, I can tell you when we should build the factory," Musk says.
On the one hand, the Tesla chief offers reassurance that the project will definitely happen. "We are going to build it. I think we will start the initial phases of construction next year," he says.
But on the other, he openly mulls alternatives. "We still have room in this building," Musk notes of Giga Texas. Then he concedes that the Austin employment market and wider demographics would put a significant break on expansion there.