Vehicle Sales
Li Auto and Xpeng set new monthly records in October
And Nio enjoys third best month

It continued to be good news for China's new energy vehicle (NEV) makers in October, as Li Auto and Xpeng saw best-ever months with both firms hitting new milestones in topping the 40,000 and 20,000 marks respectively.
Peer Nio was not quite able to match its record monthly result achieved in July but still posted its third highest monthly sales amid continuing strong year-on-year growth.
Li is currently produces a range of extended range EVs (EREVs) — where a battery provides drive for the majority of the time, but a small ICE offers top-up for longer drives — although it is gearing up to launch its Li Mega BEV, which it is targeting at the RMB500,000+ ($68,320) segment.
The model has "garnered widespread attention ahead of its official launch", according to Li CEO Xiang Li. The firm plans three more BEVs in 2024, most likely in the second half of the year, and two more in 2025.
The firm sold 40,422 EREVs in October, meaning a seventh consecutive month where it has recorded best-ever monthly sales.
"We are the first Chinese emerging new energy automaker to reach this [40,000] benchmark, highlighting our entrance into the next stage of accelerated scale growth," says Li.
He boasts his firm "has led the sales chart of SUVs priced above RMB300,000 for six straight months, becoming the best-selling premium brand among SUVs in China". The Li L9 has topped the full-size SUV market for 13 consecutive months, while the L7 and L8 have ranked first and second place in the large SUV market for six consecutive months, according to Li.
Cumulative deliveries of the L8 and L9 have each surpassed 100,000 units, he reports. Li's cumulative deliveries for 2023 thus far are at almost 285,000, compared to under 100,000 sales in the first ten months of last year. The firm's geographical reach also continues to expand, up to 372 stores in 132 Chinese cities bye the end of October (see Fig.1).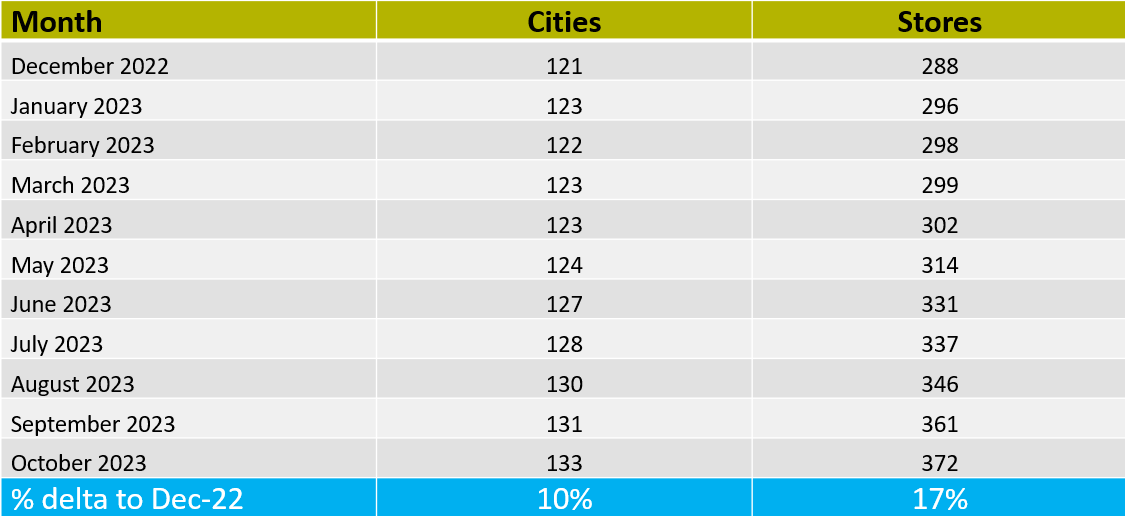 And Li has proven adept at meeting and even exceeding ambitious sales targets this year (see Fig.2). In early May it forecast Q2 sales to be in 76,000-81,000 range, despite Q1's 52,584 at that point representing its best-ever quarter. It exceeded that goal by delivering more than 85,000 vehicles in Q2.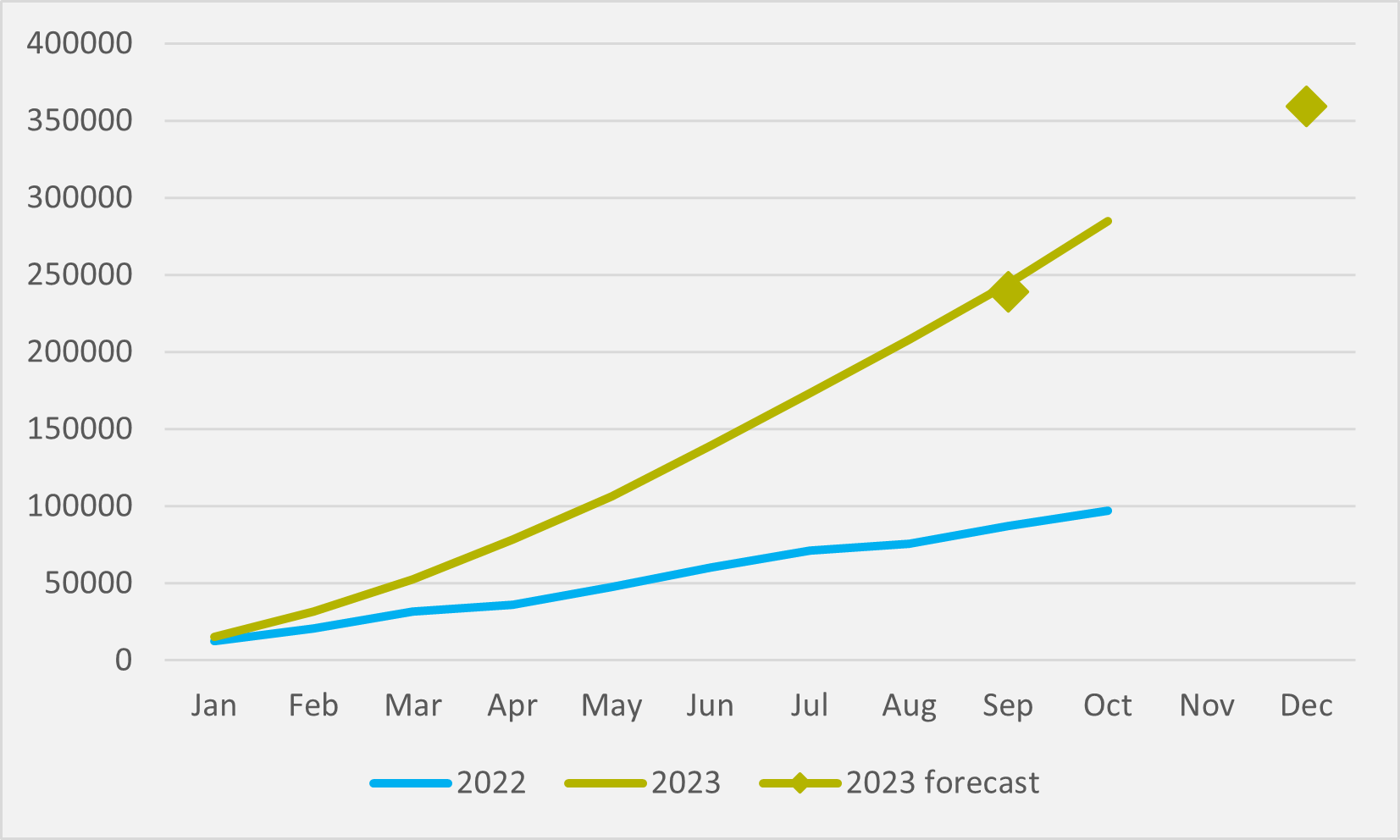 In mid-August, Li predicted it would sell 100,000 cars in Q3, then reach 40,000/month in Q4. It has turned both into reality, shifting over 105,000 units in Q3 before October's 40,000+ milestone.
Made targets
Another Chinese NEV maker that has been as good as its word on ambitious targets is Xpeng, which celebrated a first 20,000+ month in October (see Fig.3). In August, it predicted Q3 sales of 39,000-41,000 — albeit that was a downward revision from a May prediction of 45,000 — and reaching sales of 20,000/month in Q4.
At that point, over the first seven months of the year, Xpeng's cumulative sales were lagging 2022's figures by some 28,000. But after coming in right in the middle of forecast range for Q3, recording a best quarter since Q4'21, it has now narrowed that year-on-year gap to just 2,200 (see Fig.4). Given how closely it has tracked August's forecast, it seems reasonable to suggest that Xpeng's sales performance may well exceed last year for 2023 as a whole.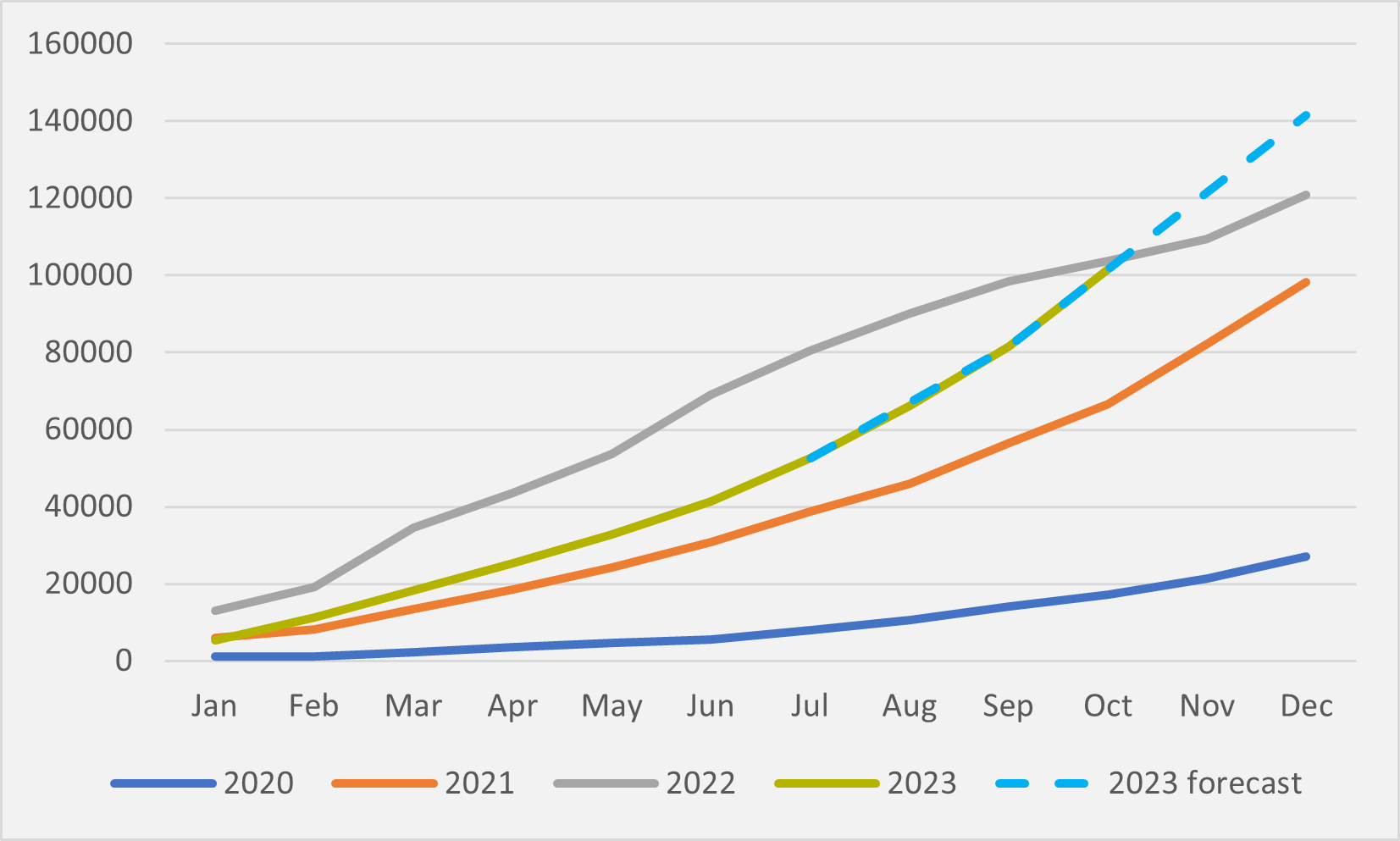 A major driver of Xpeng's recovery has been its new G6 launch, on which production output has been "significantly ramped up". The vehicle sold 8,741 units in October, making it a best-selling battery electric SUV in the RMB200,000-250,000 price segment, Xpeng says.
The firm plans to expand rollout of its XNGP automated driver assistance system (ADAS) functions that are not reliant on high-definition maps to 50 cities by year-end, it said at its late October Tech Day. A new ADAS feature called AI Valet Driver will also be made available for select customers by the end of 2023, with the aim of achieving nationwide coverage in 2024.
The Tech Day event also saw the debut of the X9 large 7-seater MPV, which Xpeng intriguingly describes as "starship-inspired".
Missed targets
Nio was not able to join its NEV peers in reporting a record month in October. But its 16,704 sales was its third best-ever performance behind July and August. Four of the firm's five best-selling months have now come in the second half of 2023 (see Fig.5).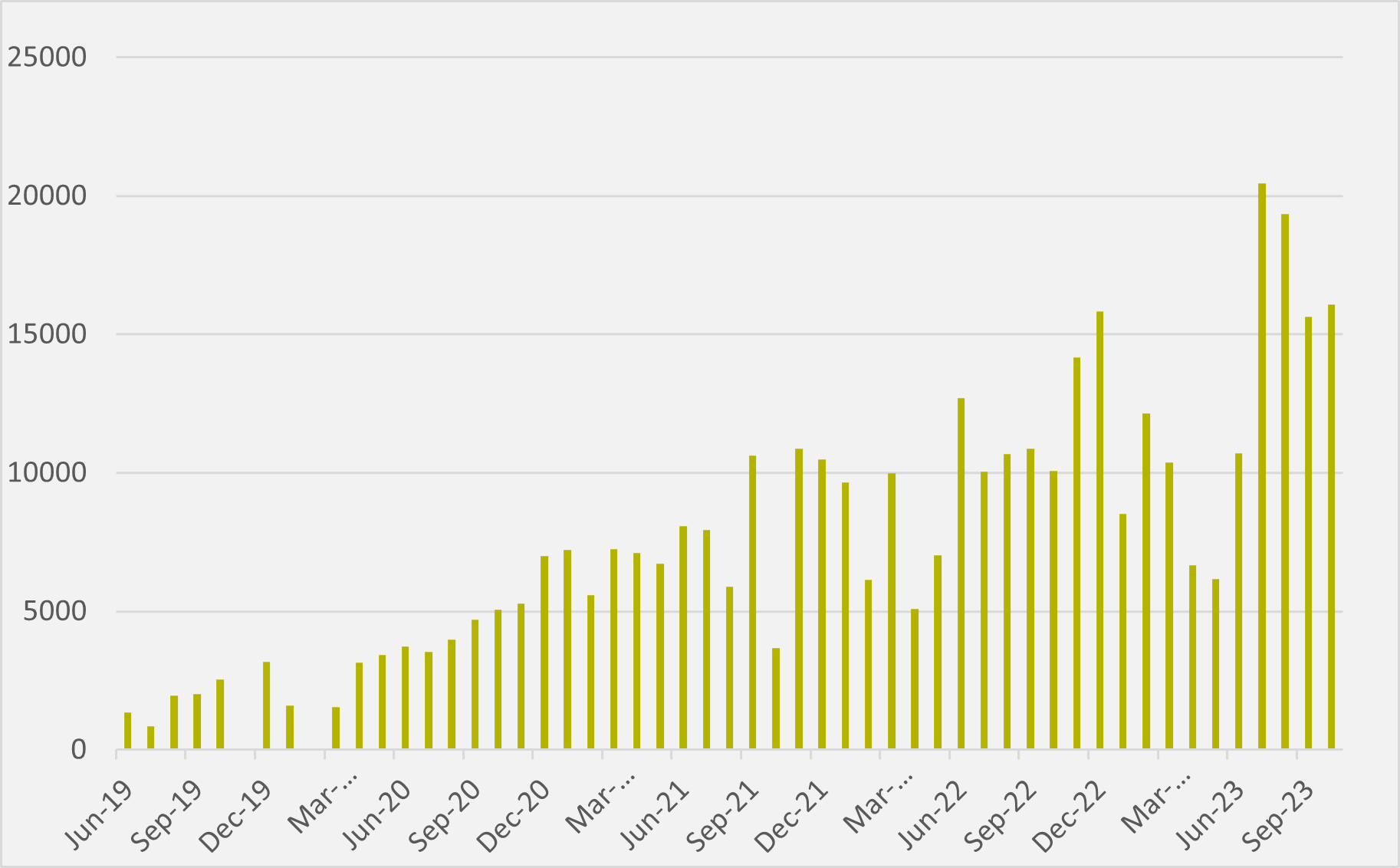 The October deliveries consisted of 11,086 premium smart electric SUVs, and 4,988 premium smart electric sedans. For a third consecutive month, sales were up by more than 30pc year-on-year (see Fig.6).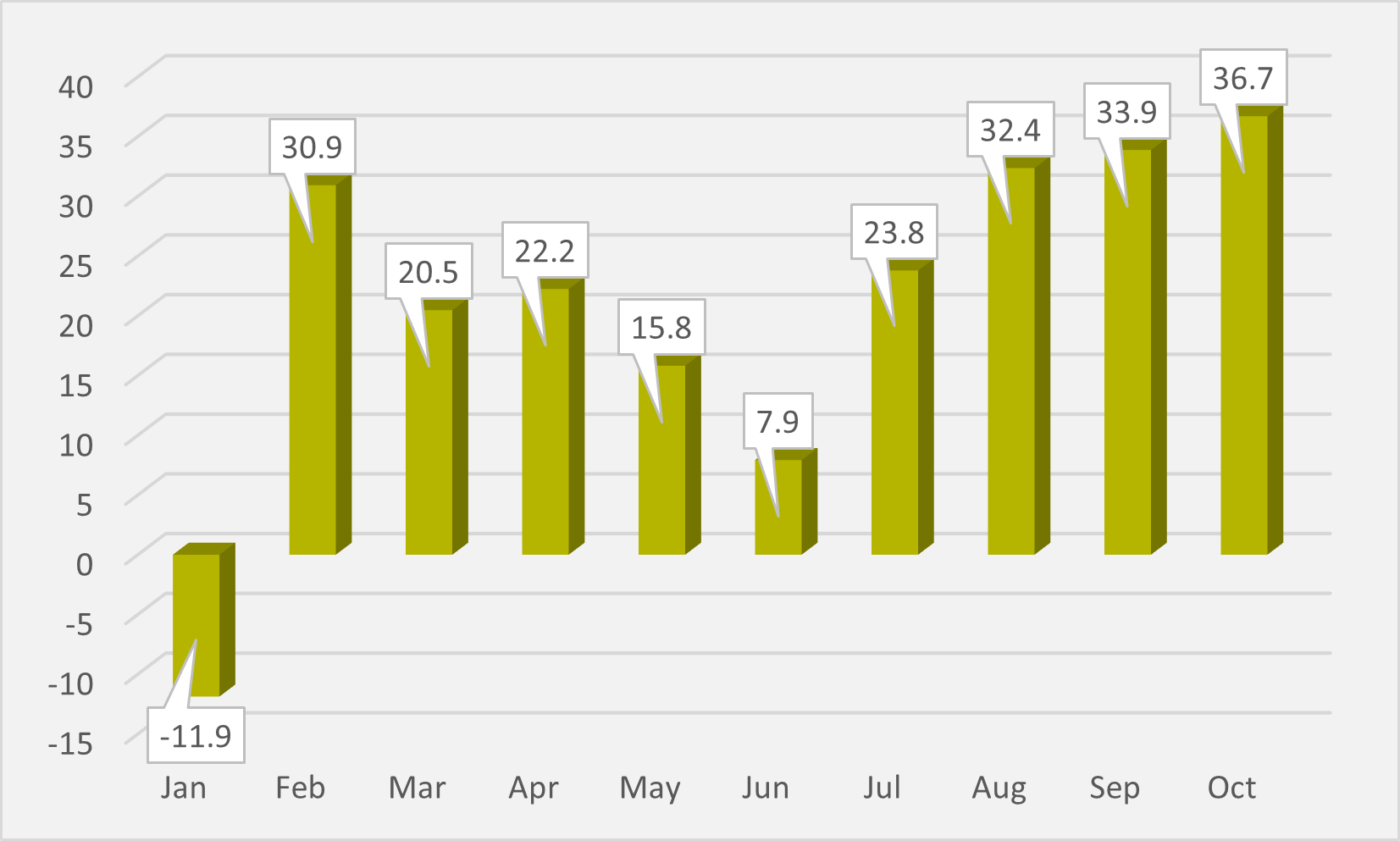 Cumulative sales for 2023 thus far stand at over 125,000, compared to c.92,000 at the same point last year and above 2022's c.122,000 full-year sales. But, unlike its peers Nio cannot boast of meeting ambitious growth targets.
Its initial aim was to double 2022 sales in 2023, but it will miss that by some distance. It did creep in just above the lower end of the 23,000-25,000 range for Q2 deliveries it predicted in May.
But it remains far from the 30,000/month sales that Nio CEO William Li had said would be possible with all of the firm's vehicle portfolio up to speed. If the firm is able to post November and December sales around the average of the four strong H2 months thus far, it will take annual sales up to just over 160,000 (see Fig.7), which is where New York-based brokerage US Tiger Securities predicted in mid-June sales would come in, revising its forecast down from a previous expectation of 210,000.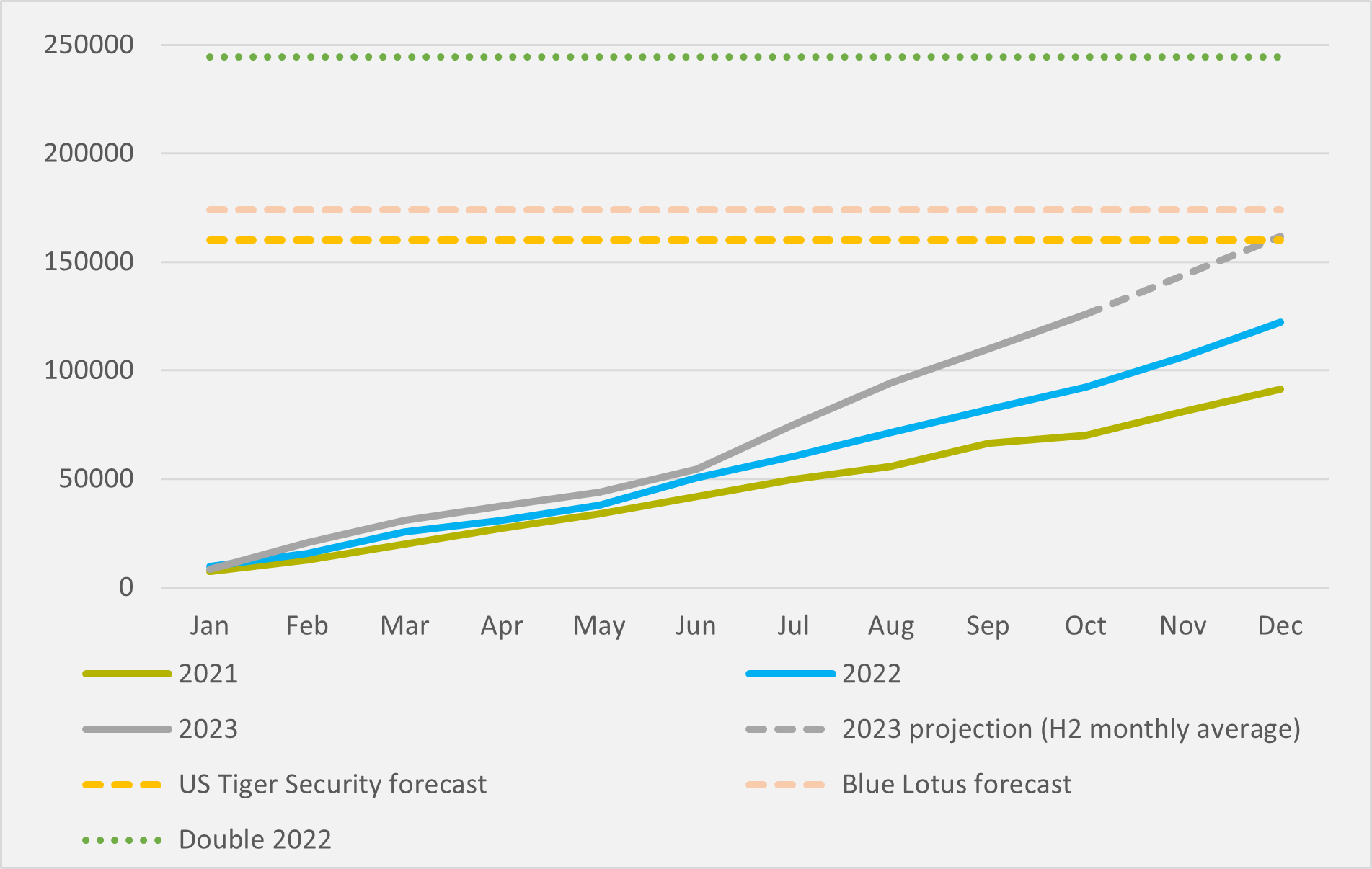 In contrast, Chinese equity research house Blue Lotus at mid-year upped its Nio full-year sales prediction from 156,000 to 174,000. But the NEV maker will need two record months in excess of 20,000 sales to achieve that.