Corporate Strategy
Li Auto to have four BEVs in 2024
The Chinese OEM will aim to build on its EREV success
China's Li Auto will unveil its Li Mega BEV SUV by the end of this year and will add three more in 2024. At present, the firm only produces extended range EVs (EREVs), a type of light hybrid where an ICE does not power the vehicle itself at any point but can be used to replenish the battery.
"We firmly believe our dual energy strategy is the best solution to replacing ICE vehicles at scale," says the firm's CEO Xiang Li. "The dual-energy strategy composes of EREV technologies that centre on high-capacity batteries and highly efficient range extenders, as well as a high-voltage BEV technology that can truly address pain points in charging speed and charging on long trips."
At the firm's technology day in June, it introduced an 800V high-power charging solution. And Li is confident that, with peak charging power of over 500kW and 500km of driving range from a 12-minute charge, "in conjunction with our own 5C charging network, our BEV can offer a very comparable energy replenishment experience to ICE vehicles".
As part of its charging infrastructure ambitions, Li has commenced operations at 37 so-called 5C supercharging stations already. It aims to have over 300 by the end of this year and over 3,000 by the end of 2025.
The firm is confident that the Li Mega "will emerge as the new top seller among all vehicles priced over RMB500,000 ($68,835)". Despite competitive pressures in China's BEV markets, it also forecasts it can reach 25pc gross margins across its BEV and EREV portfolio, from c.21pc on its current EREV offerings.
"There is no guarantee these [BEV] models will be as successful as current models," cautions Bo Pei, a New York-based senior equity research analyst at brokerage US Tiger Securities. He also sees timing risks given that the Mega will appear only at the end of the year, while he expects the three new BEV SUVs will likely materialise only in the second half of 2024. Based on previous statements about its plans, there should also be two more BEV offerings in 2025.
"If the transition to pure BEV is faster than expected, EREV might lose its appeal to consumers," he warns.
But the firm seems unafraid of putting all its eggs in the China market basket, as it currently rules out exports. " We will not do any globalisation after we become dominant in China because China is a very big market," says Li CFO Johnny Tie Li.
"Our product is designed and is available for sale only for China mainland," he continues.
New price target
But Pei has nonetheless upgraded his price target on Li, given the sterling performance of its EREV business. The firm delivered 34,134 vehicles in July for yet another monthly record, further extending the firm's sales outperformance relative to last year (see Fig.1).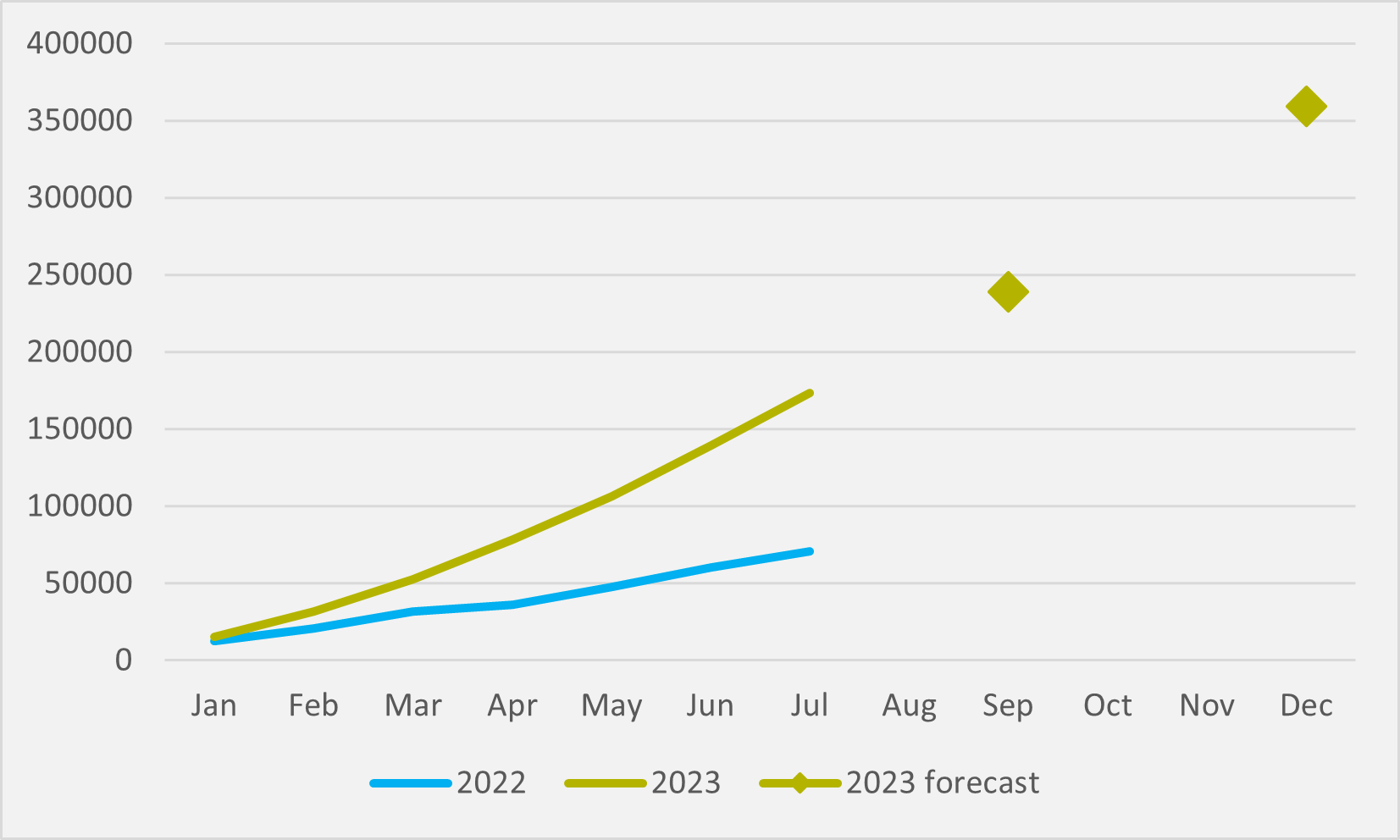 And it is forecasting 100,000 deliveries for Q3 as a whole owing to component constraints, before reaching 40,000vehicles/month capacity in Q4. For the year as a whole, that would be put it at c.350,000 sales for the year.
But this is still small beer compared to its ambitions over the next few years, which include assumptions in the BEVs joining the EREV line-up. "For 2024, the company targets to reach the delivery levels of BMW, Audi, and Mercedes in China, implying total deliveries of >700,000," says Pei. "And the company continues to target 1.6mn deliveries in 2025 (see Fig.2)."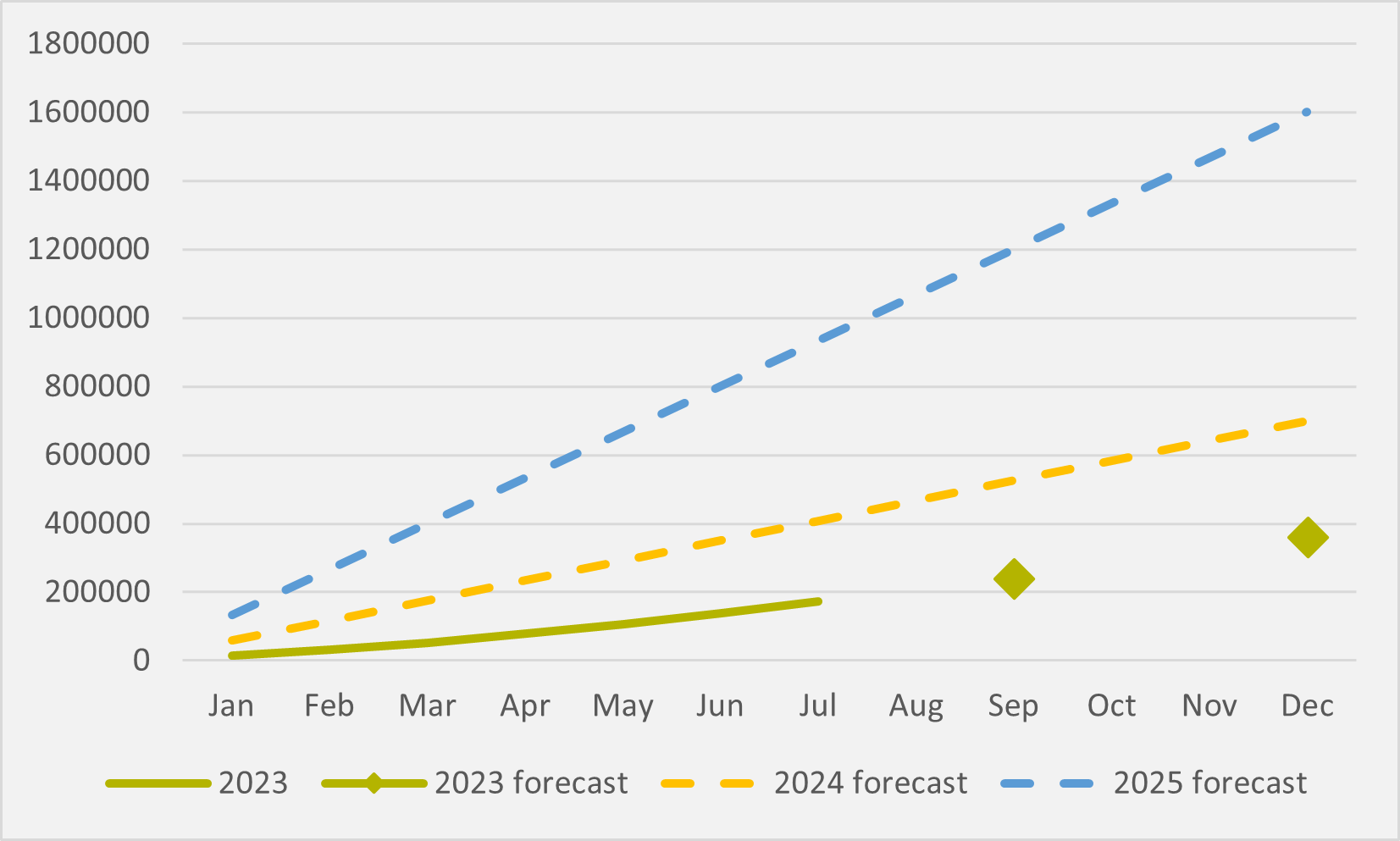 A key factor in Tiger lifting its target price from $35/share to $50/share is a slew of beats in Li's Q2 results. Non-Gaap net income of RMB2.7bn was 32pc above Tiger's forecast and 60pc above the consensus. Overall gross margin of 21.8pc was 1 percentage point above Tiger's expectations and beat the street as a whole by 0.85 percentage points.
Q3 delivery guidance of 100,000-103,000 is 14pc above consensus at the midpoint. And revenue guidance for the quarter of RMB32.3-33.3bn is 7pc above consensus.