Corporate Strategy
Xpeng targets $20,000 autonomous BEV
The firm has had a change of heart on bringing advanced driver assistance technology to the Chinese mass market

"Two years ago, I expressed my view that considering cost-effectiveness, no auto company could offer competitive autonomous cars to consumers at RMB150,000 ($20,800) level." So says He Xiaopeng, CEO of Chinese EV pure play Xpeng. But he has since revised his view.
"As we implement technology innovation and full cycle cost reduction, I have changed my mind and formulated a clear plan to make autonomous cars affordable for the largest market segment in China, the RMB150,000 price range," He continues.
It is likely that any initial rollout of a mass-market smart car will carry Level 2 or L2+ advanced driver-assistance system (ADAS) technology, not sit-in-the-back driver-free Level 4 or 5 autonomous driving (AD). But this may come later, and even L2+ ADAS technology might give Xpeng an edge in the mass-market.
"This is a very competitive segment, so it is still uncertain if this will be a success," says Bo Pei, a New York-based senior equity research analyst at brokerage US Tiger Securities. "But if the company can bring features and value not currently available in this segment it should gain good market share — just like it did with G6 — and that is what the company wants to do."
"Over the second half of this year, we plan to make additional major breakthroughs in experience and coverage with our XNGP ADAS to further drive customer acceptance and the adoption process, widening the technology gap with our peers," He predicts, further suggesting that his firm is looking at ADAS first, AD later. "An inflection point in user acceptance for ADAS is emerging faster and stronger than we expected," the Xpeng chief continues.
Fully hands-free
Pei expects that RMB150,000 model will be "near term, L2 + with driver ready to take over, but expanding to city scenarios where historically such AD was not available". His assumption is, in the longer term, that Xpeng will be "definitely aiming for higher-level AD as regulation catches up".
Xpeng's He predicts that 2025 or 2026 will be the "iPhone 4 moment" for AD. "Another big part to [AD] is whether or not the driving experience can actually beat a human driver in terms of its smartness and also its driving efficiency," the Xpeng chief says. "Personally speaking, I expect to reach that point of iPhone 4 moment in 2025 because, thanks to the rapid development of large language models — we believe that is actually bringing up the schedule. Otherwise, it could be 2026."
But Pei cautions that AD development is still restricted by China's transport laws and navigation pilot on city roads is not allowed, which "may give other competitors enough time to catch up" with Xpeng's innovations in the ADAS/AD space. The firm could also, in his view, face stiff competition from full-stack AD solution companies such as Huawei or Baidu, as well as other models that focus on ADAS.
Line-up unclear
There is no clear timescale for when this RMB150,000 smart car might arrive as — beyond the X9 MPV people carrier due to debut late this year but not start volume deliveries until 2024 — the firm is offering little clarity on further additions top the product suite. According to Xpeng vice-chairman Brian Gu, the firm will launch two new large-volume models in the second half of next year, but he is not committing that one of these will definitely be the this affordable ADAS/AD-enabled offering.
"What we can say is that we expect that, by the second half of 2024, XPeng is going to launch multiple new models — as well as multiple facelift versions of previous models based on the same platform — and [they] will be between RMB150,000 to 350,000," adds He, further muddying the waters.
Recovery
Xpeng has had a torrid time over the last 12 months, given what He terms "intensified competition and [a] rapidly evolving environment. In all but two of the months between September 2021 and July 2022, the firm's monthly sales topped the 10,000 mark, with four of them breaking 15,000 (see Fig.1).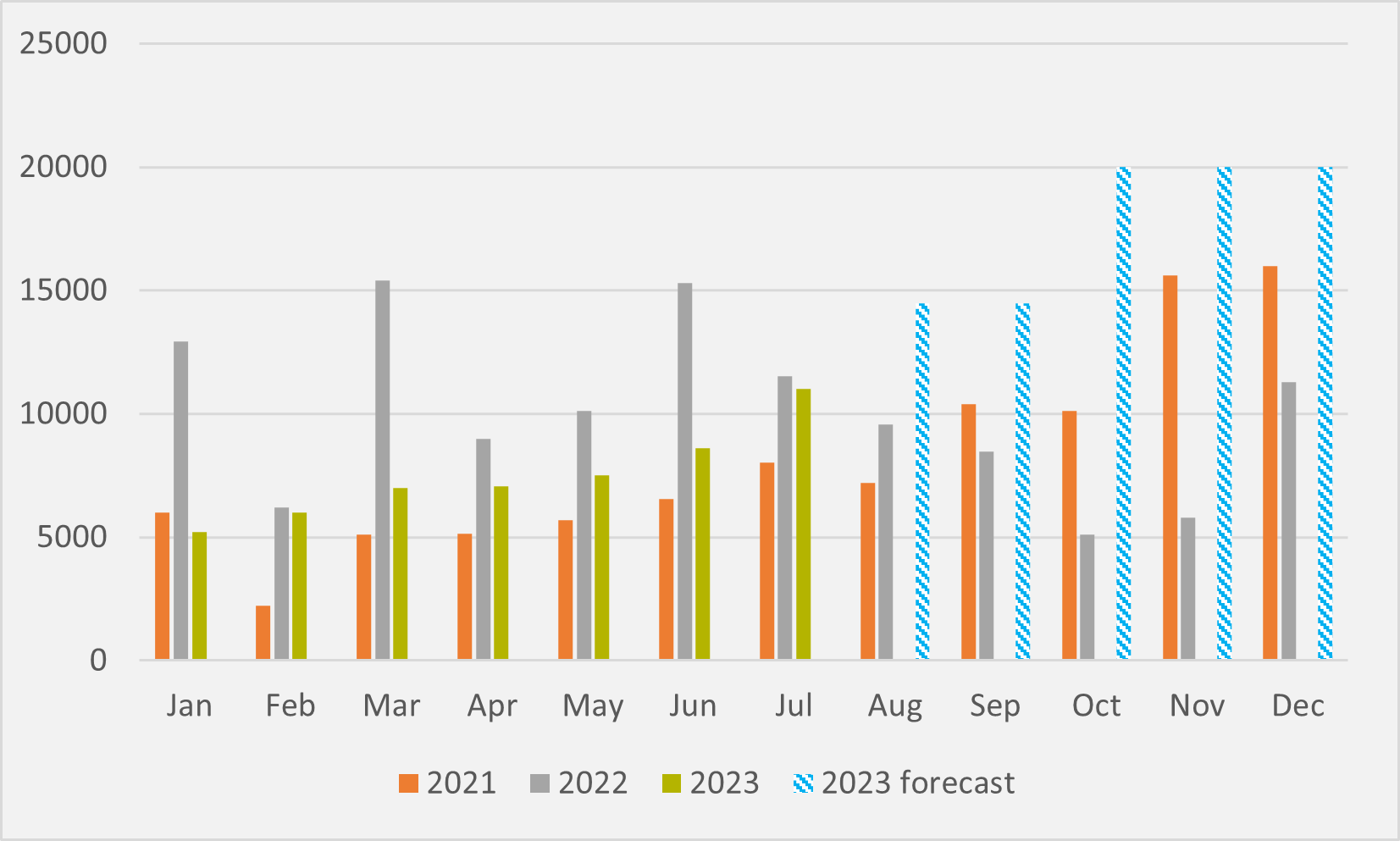 But August last year saw a 17pc month-on-month slump in sales that kicked off a run of eleven months where — barring an end-of-year December bump — monthly sales came in under 10,000, and indeed got as low as just 5,100 in October. The six months since February have seen month-on-month growth every month, meaning January's c.5,200 deliveries have more than doubled to July' 11,000 and return to five figures.
"I led a set of reforms across business strategy, organisational structure, product, and marketing to tackle huge risks and challenges and forge significant comprehensive transformation within a short time frame," says He. "Today, I am pleased to report that these transformational adjustments have generated better-than-expected results internally and externally."
Product refresh
A major driver of the sales recovery has been new offerings. "The P7i, our new product launched in March, has been gaining great consumer traction, with its monthly deliveries surpassing 3,000 units for two consecutive months since June, overcoming supply chain challenges," the Xpeng chief says. "As we enter the second half of this year, we believe we will further ramp up the capacity and product competitiveness of the P7i model line-up."
But another new launch has played an even bigger role. "The G6 has become the dominant BEV model in the RMB200,000 to 300,000 price market segment, turbocharging our sales growth momentum," He says, its success driven, in his view, by its technology, such as the 800V silicon carbide platform and full scenario ADAS, which is the "most advanced accessible to mainstream consumers in the RMB200,000-300,000 market segment".
In addition, orders for the top-end G6 Max version accounted for 70pc of total G6 orders in the first month of the Max's official launch, "far exceeding our estimate", says He.
"We currently estimate that G6 delivery volume in September will grow significantly, fuelling our monthly deliveries to reach over 15,000 units in total," the Xpeng chief continues. "In the upcoming fourth quarter, we will continue to accelerate G6 production throughput to capture the increasing market popularity that has followed its first batch of deliveries, with a goal to deliver more than 10,000 G6 monthly. With G6 ramp-up and enriched configurations for other on-sale models, we will strive for a peak monthly delivery of 20,000 in the fourth quarter."
The firm predicts 39,000-41,000 deliveries in Q3. With July sales already known, this would mean average deliveries across August and September to meet the middle of that forecast of c.14,500. If the firm could then ramp up to hit its 20,000/month target across all three Q4 months, it would represent a remarkable recovery where deliveries for 2023 as whole caught up with an overtook 2022's cumulative sales of just over 120,000 (see Fig.2). At the end of July, 2023 cumulative volumes were lagging almost 30,000 behind the same point last year.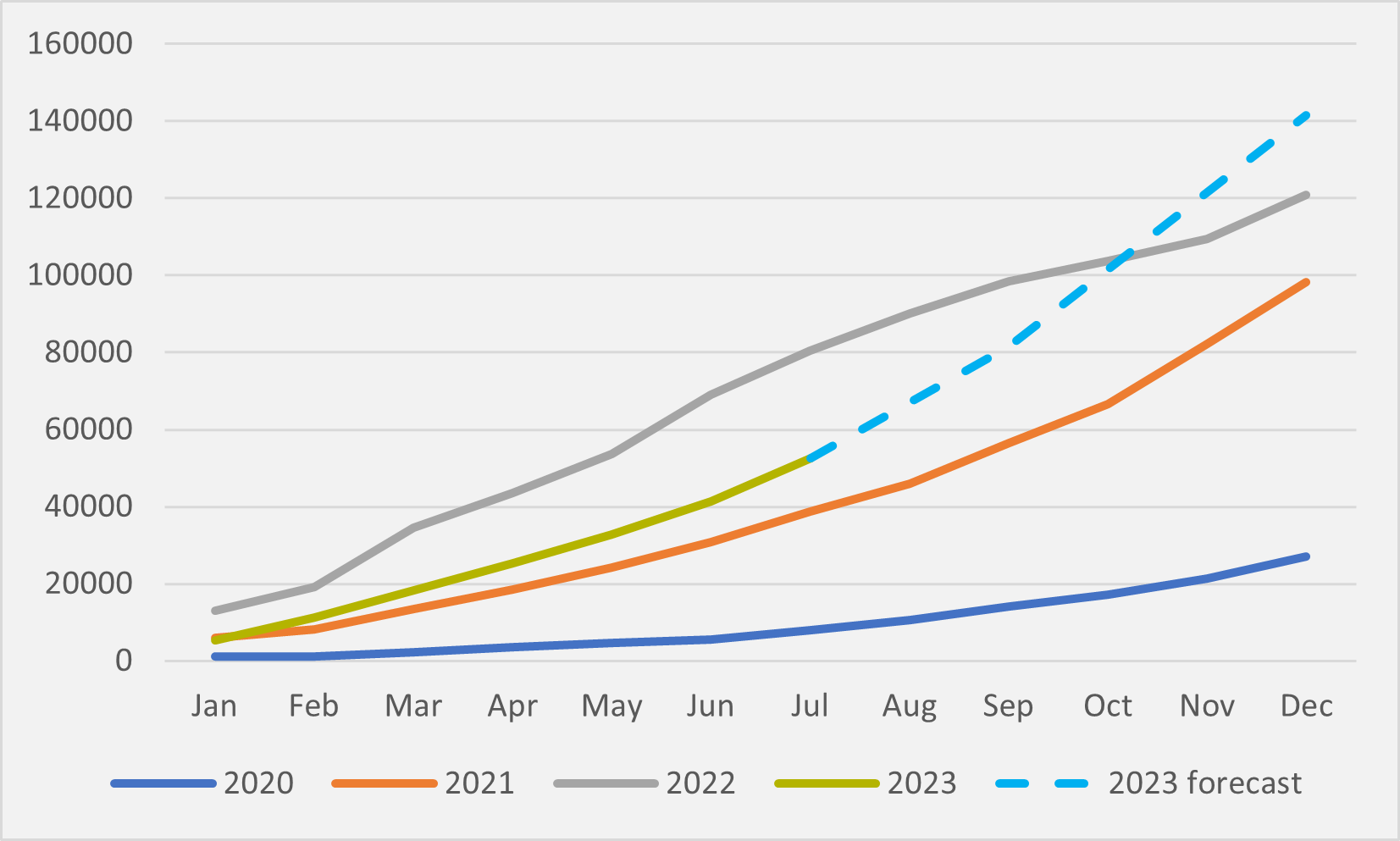 But the volume recovery has not been able to be achieved while maintaining price discipline. He acknowledges that the G6 was launched with "a pricing strategy that prioritises scale expansion". "Our strategy right now is to make sure that we regain growth and scale; I think that is the foremost strategic priority for us this year," the Xpeng chief says.
"When we established our pricing for G6, we anticipated competitive pressure," Gu adds.
And that means that Xpeng has continued to lose money, although it is forecasting overall cash flow from operations to turn positive for the second half of the year. "By 2024, we will achieve quarterly free cash flow positive. That is something we are confident next year we can actually hit," says the firm's vice-president, finance and accounting James Wu.
"We still maintain sometime in 2025, we will achieve breakeven for the whole company," Wu continues.