Charging and Grid
Fastned issues bonds after another strong quarter
Analysts buoyant about Dutch fast charging firm and its fast-charging valuation projections

Dutch EV charging network Fastned has issued bonds to raise €30.4mn ($32.2mn) as it aims to capitalise on momentum from a strong third quarter.
The bonds have a 6pc coupon and a 5-year maturity and represent a 13th round in the company's bond programme. The move "brings the total outstanding amount of investments raised with retail investors to more than €163mn".
Unlike recent convertible note offerings from US charging firm Chargepoint, as well as from US EV maker Rivian, the market has responded relatively positively to Fastned's capital raise. The company's stock rose marginally after the bonds were announced, and analysts at Deutsche Bank, as well as equity brokerage Oddo BHF/ABN Amro, are targeting a doubling of Fastned stock after its latest Q3 results.
''We are proud that investors increasingly see Fastned as an attractive investment and want to support our mission," says the firm's CFO Victor van Dijk. "Every new station built gets us closer to our goal of 1,000 stations by 2030, actively helping to curb climate change."
But Fastned's share price — while remaining buoyant above $25/share — has not regained the heights it experienced back in January, after it came close to tripling revenue in the fourth quarter of 2022 (see Fig.1).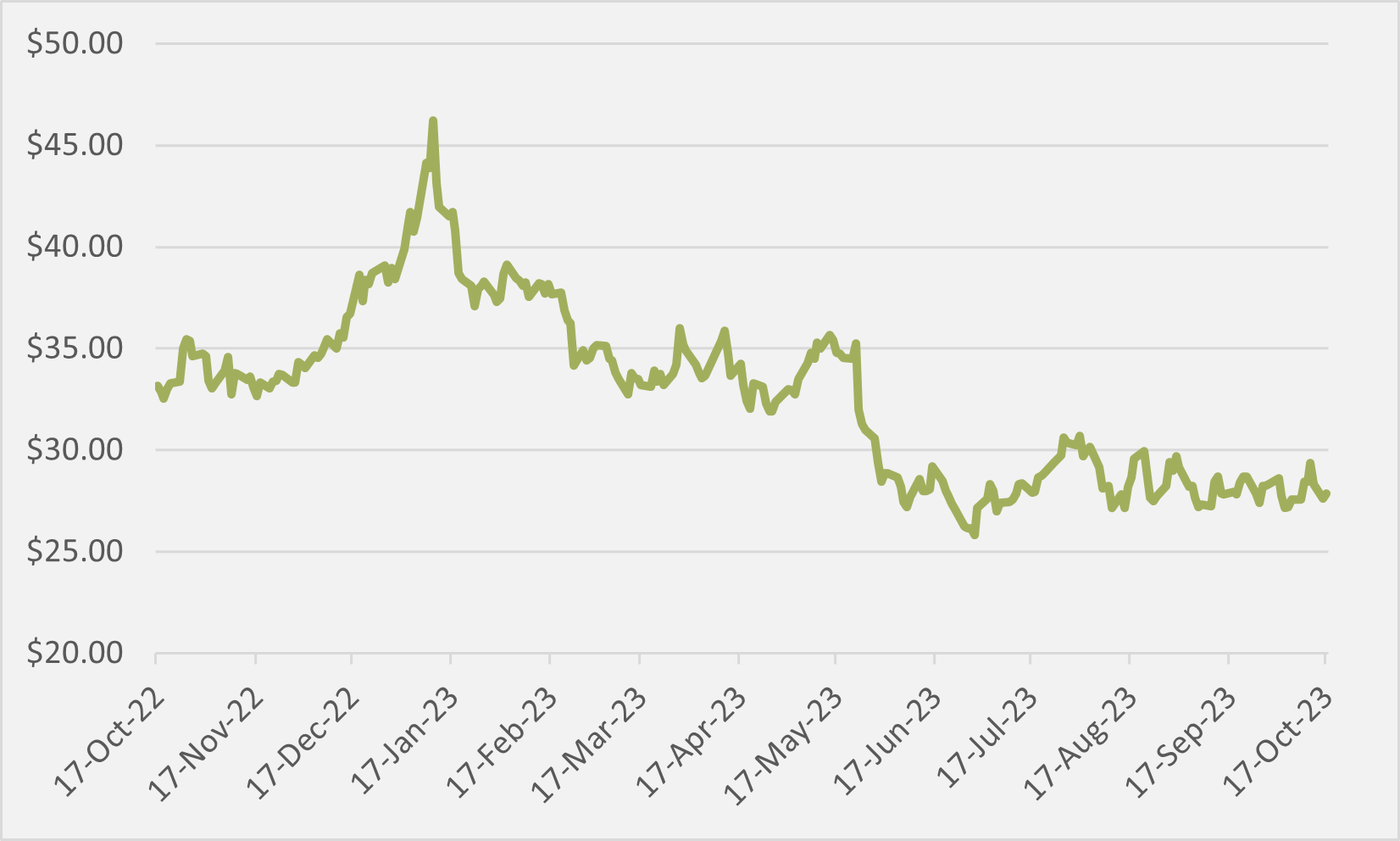 Fastned owns and operates a network currently numbering of 1,557 EV chargers at 280 stations across the Netherlands, France, Germany, and the UK. The company operates fast charging infrastructure with both Combined Charging Standard (CCS) as well as Tesla's North American Charging Standard (NACS) connectors.
Strong result
Its third quarter highlights include reaching revenue of €15.2mn and gross profit of €11.4mn, while boasting of handling 1mn charging sessions in the quarter, a 68pc rise in sessions compared to Q3'22. It should be noted, though, that Fastned's number of installed chargers has risen by 55pc from then end of Q3'22 to the end of Q3'23 (see Fig.2), so a utilisation rate based on sessions/charger will have seen a much more muted rise.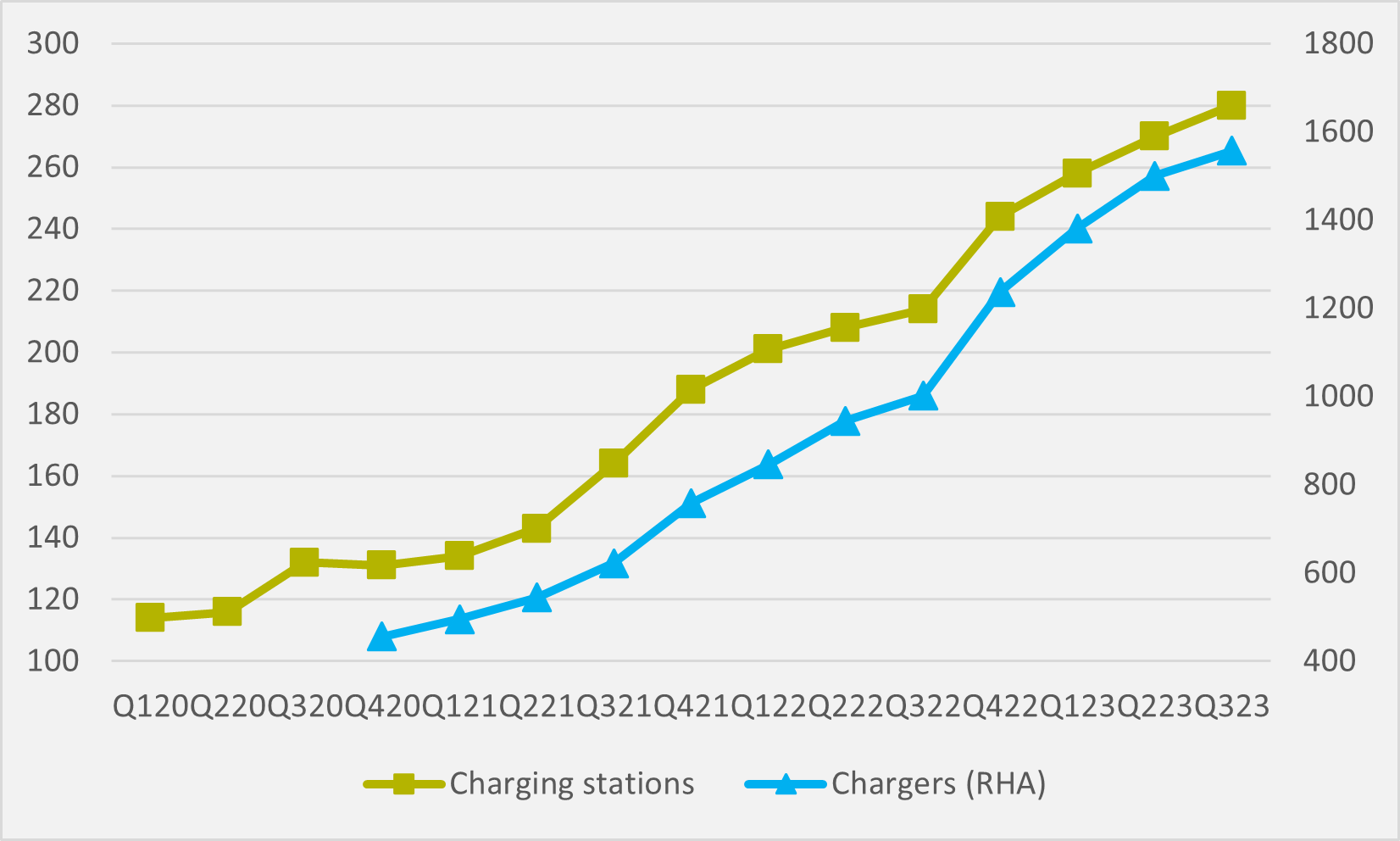 The company now expects 26 further stations to be installed before the end of the year and plans to expand charging operations into Italy in 2024, after it signed a contract with Italian motorway operator A4 Holding Group in September. Fastmed has a long-term target of up to 480 locations.
The rapid growth the company is experiencing may be unsustainable, as it concedes itself that its network growth "significantly outperforms BEV fleet growth, with BEV fleet share growing by 21pc year-on-year and 67pc over the last two years," thus potentially moderating the utilisation prospects of its expanding charging location network.
However, the company predicts that fast charging will take the lion's share of public charging market revenues by 2030, and projects that the public fast charging market will be worth over $10bn by that time.