Vehicle Sales
F-150 Lightning resurgence not enough to grow Ford October EV sales
Sales of the electric truck outstrip Mach E for first time

US legacy OEM Ford sold a total of 149,938 vehicles in its home market in October, 6,831 of which were BEVs, amounting to less than 5pc of sales. This represents a drop of 11.7pc month-on-month and a 9.1pc decline year-on-year in BEV sales.
But it is not all bad news. The F-150 Lightning electric truck saw its best-ever month, shifting over 3,700 units. One swallow does not a summer make, but better sales performance from the e-pickup may bolster faith in Ford CEO Jim Farley's BEV strategy "to go after customers we know really well," as he told analysts at his form's recent third quarter earnings call.
One issue Ford is having is putting together consistent sales performance from both its BEV passenger vehicles. The Mustang Mach-E had its best sales performance in September, selling almost 5,900 units.
If Ford had been able to maintain those levels and shift its greater volumes of Lightnings, it could well have enjoyed a first month of five-digit US BEV sales — but was unable to do so as e-SUV sales cratered month-on-month (see Fig.1).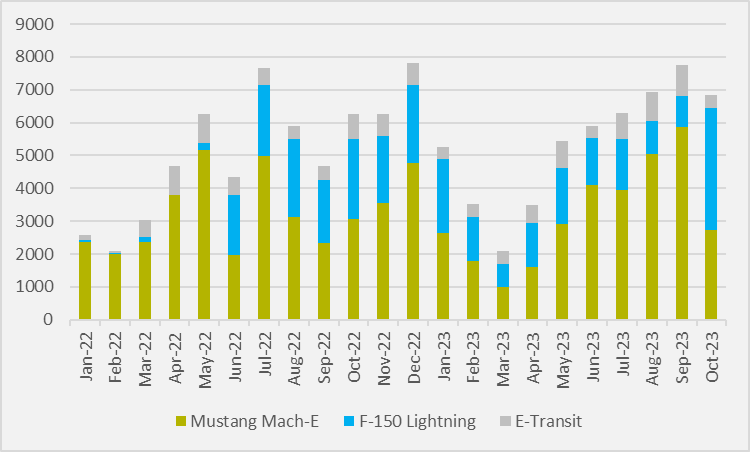 At Q3 results, Ford further elaborated on scale-backs to its EV business, including $12bn in planned investment deferred or even cancelled, and the release of three new vehicles delayed by months. And October's month-on-month and year-on-year falls in US sales do provide logic for the slowdown — albeit they only represented a 0.1 percentage point fall in EV sales as a proportion of total sales month-on-month.
The effects of Ford's throttling back will likely be seen first in production, and possibly more in delays to production ramp-up than impact on existing output. Nonetheless, the Mustang Mach-E — the only EV for which Ford announces standalone production figures, and which has consistently seen Mexican factory output far outstrip the number of vehicles Ford sells in the US — saw 3,821 fewer models made in October compared to September.
October's output of 7,895, however, is still 9.6pc higher than the number of Mach-Es produced in August.
Sales of the vehicle, which has always been Ford's bestselling EV, took a hit. Customers in October preferred for a first-ever month to buy more the company's electric pickup than the Mach-E (see main image), which dropped from 75.8pc of Ford's EV sales in September to 40pc in October.
Conversely, the F-150 Lightning jumped to 43.3pc of Ford's US BEV sales. The firm will hope this is the start of valediction of its view that it can make an e-pickup work because Ford "has a great reputation in those segments like full-size truck or pickups".
"We know the use cycle really well, but the innovation will be pointing towards different things. The F-150, I think, is probably the best example at Ford because we have world-class ICE. We have a hybrid that will probably be 20pc [of the] mix. And then we have Lightning and the next-generation Lightning that we are working on right now," Farley said at Q3s.