Vehicle Sales
Tesla tops Ford again in EU new sales in August
Second month this year where the EV pure play has topped its US rival in the bloc

US OEM Tesla saw just over 27,000 of its BEVs newly registered in the EU in August. And that meant it outsold Michigan-based legacy automaker Ford on a monthly basis for the second time so far this year.
Ford saw August EU new registrations slip to 26,245 to record its lowest monthly sales this year, according to data of the European Automobile Manufacturers' Association, or Acea. And that put it 1040 sales behind Tesla (see top image).
In March, Tesla also sold just over a thousand more BEVs than Ford's line-up across all powertrains — at much higher volumes in a traditional boom month. Back then, Tesla shifted 40,000+ units whereas Ford came in just under that mark.
All six other months have seen the legacy OEM comfortably outsell its BEV-only rival, by five-figure margins in every month since June. And, owing to Ford's traditional strength in the UK — only partially offset by Tesla's popularity in Norway — the challenger has yet to post a monthly win on an EU+Efta+UK basis.
Ford sold almost 7,500 new cars in the UK in August, according to industry body the Society for Motor Manufacturers and Traders (SMMT), compared just over 4,000 for Tesla. While that pattern was reversed in Norway —1,700 Teslas sold to slightly more than 400 Fords — it left the Elon Musk-helmed firm 570 cars behind on 31-country basis. Back in March, the gap was 680 in Ford's favour across EU+Efta+UK.
But the Dearborn, MI heavyweight should not rest on its laurels. Across the first eight months of last year, it had sold 327,539 units in the EU+Efta+UK. By comparison, Tesla had shifted less than 98,000 (see Fig.1).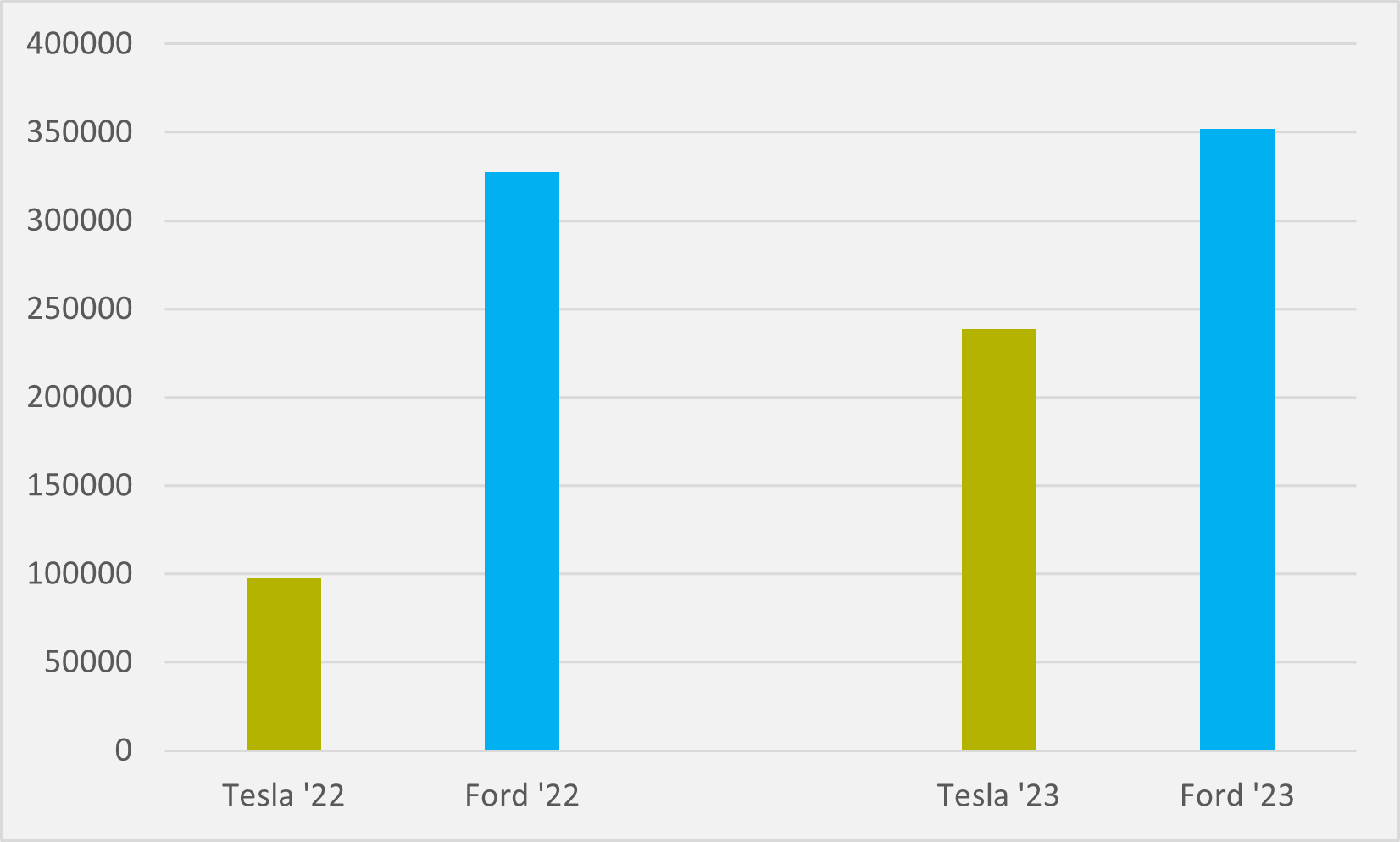 After eight months of this year, Ford has nudged its sales up to over 350,000. But Tesla has halved a deficit of 230,000 cumulative sales to under 115,000.