Corporate Strategy
Rivian stock plummets amid capital raise plan
Markets do not react kindly to $1.5bn convertible note offering

California EV pureplay Rivian plans to issue $1.5bn in debt in the form of green convertible notes, but the equity markets have not reacted well to its intention. The notes will be due in October 2030, and purchasers of the notes will have the option to the acquire up to $225mn in further notes.
The interest rate, initial conversion rate, and other terms of the notes will be determined at the pricing of the offering, Rivian says. The notes are as yet unpurchased, and Rivian has therefore not yet received any capital injection from the offering.
Rivian reported $10.2bn in cash and short-term investments at its Q2 results, leading CFO Claire McDonough to say that "we remain confident in our cash balance and the fact that it can fund our operations through 2025".
However, Rivian is not expected to generate positive margins until late 2024, putting some pressure on the company's 2025 liquidity runway given at the end of Q2. As such, the company said that it was exploring options to drum up additional capital.
"We will continue to evaluate a variety of capital markets available to Rivian across the entirety of the capital structure. As we have spoken about and exemplified [in] prior actions in the first half of this year, we will continue to employ a diversified approach as we look to maintain that strong long-term balance sheet position," McDonough said.
Analysts at financial services firm Cantor Fitzgerald calculate that the company ended the second quarter with $11.3bn in total liquidity, which the firm says should sustain Rivian until the rollout of its R2 vehicle, which CEO RJ Scaringe this week called the company's "future car".
"For us, as we think about building out the business, not just ramping production but building our service infrastructure, building all of our go-to-market activities, our parts distribution, making sure we efficiently deploy capital is a key focus," Scaringe said after Rivian announced its Q3 delivery figures this week.
But as of Q2, Rivian was losing close to $33,000 per vehicle, although the CEO says that "that is improving quarter-over-quarter, so we are seeing significant progress".
The company is, Scaringe assures, accelerating the rate at which its costs are coming down. "What we will see going forward is a very clear set of steps up to profitability," he says. "We are cognisant of maintaining a strong balance sheet, but we have not really commented on how we are thinking about the capital markets."
Swoon
Rivian stock tumbled in early trading on Thursday on concerns that the issuance of the $1.5bn in notes would dilute the value of the company's shares (see Fig.1).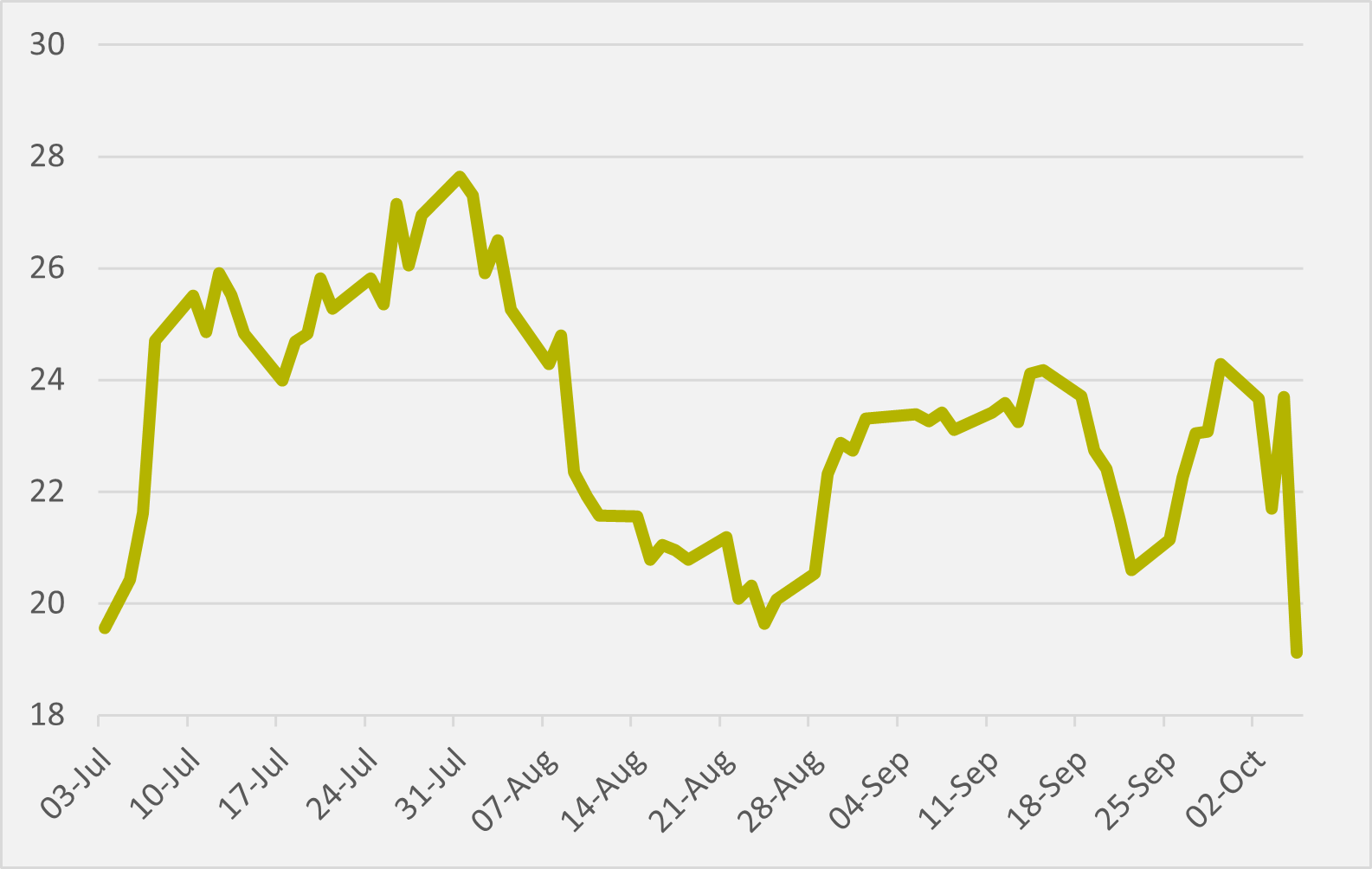 "Prior to this announcement, Rivian had a market cap of around $22bn, and the $1.5bn offering represents around 6pc of that. By definition, each share of Rivian is now worth around 6pc less than it was yesterday morning," says Nasdaq market researcher Martin Tillier. "Add in the fear that this will not prove to be a one off — and that there will be other stock-diluting capital raises in the future — and a drop of ten percent or so seems reasonable."
As of 11am ET, however, Rivian shares were trading 20pc down.
Enough about Rivian let's talk about EV inFocus. We are very proud of our weekly newsletter and would love to share it with you. Please consider signing up and supporting independent media. You can unsubscribe anytime.