Corporate Strategy
Proterra seeks Chapter 11 'reorganisation'
The commercial vehicle battery and e-bus manufacturer may end up as separate businesses

Electric commercial vehicle maker Proterra has entered Chapter 11 bankruptcy protection, but stresses the move is "an effort to strengthen its financial position through a recapitalisation or going-concern sale", rather than the end of the line for the firm.
It "intends to continue to operate in the ordinary course of business as it moves through this process" and is "taking action to maximise the value of its business and enhance the potential of each of its product lines". It blames "various market and macroeconomic headwinds that have impacted [its] ability to efficiently scale".
The firm has three main business lines — commercial vehicle batteries, drivetrains and associated hardware; its ZX5 e-bus; and DC fast chargers. "The foundation we have built has set the stage for decarbonisation across the commercial vehicle industry as a whole, and we recognise the great potential in all of our product offerings to enable this important transformation," says Proterra CEO Gareth Joyce.
"This is why we are taking action to separate each product line through the Chapter 11 reorganisation process to maximise their independent potential," he continues. That said, none of the three has seen sustained growth across the last couple of quarters (see Fig.1).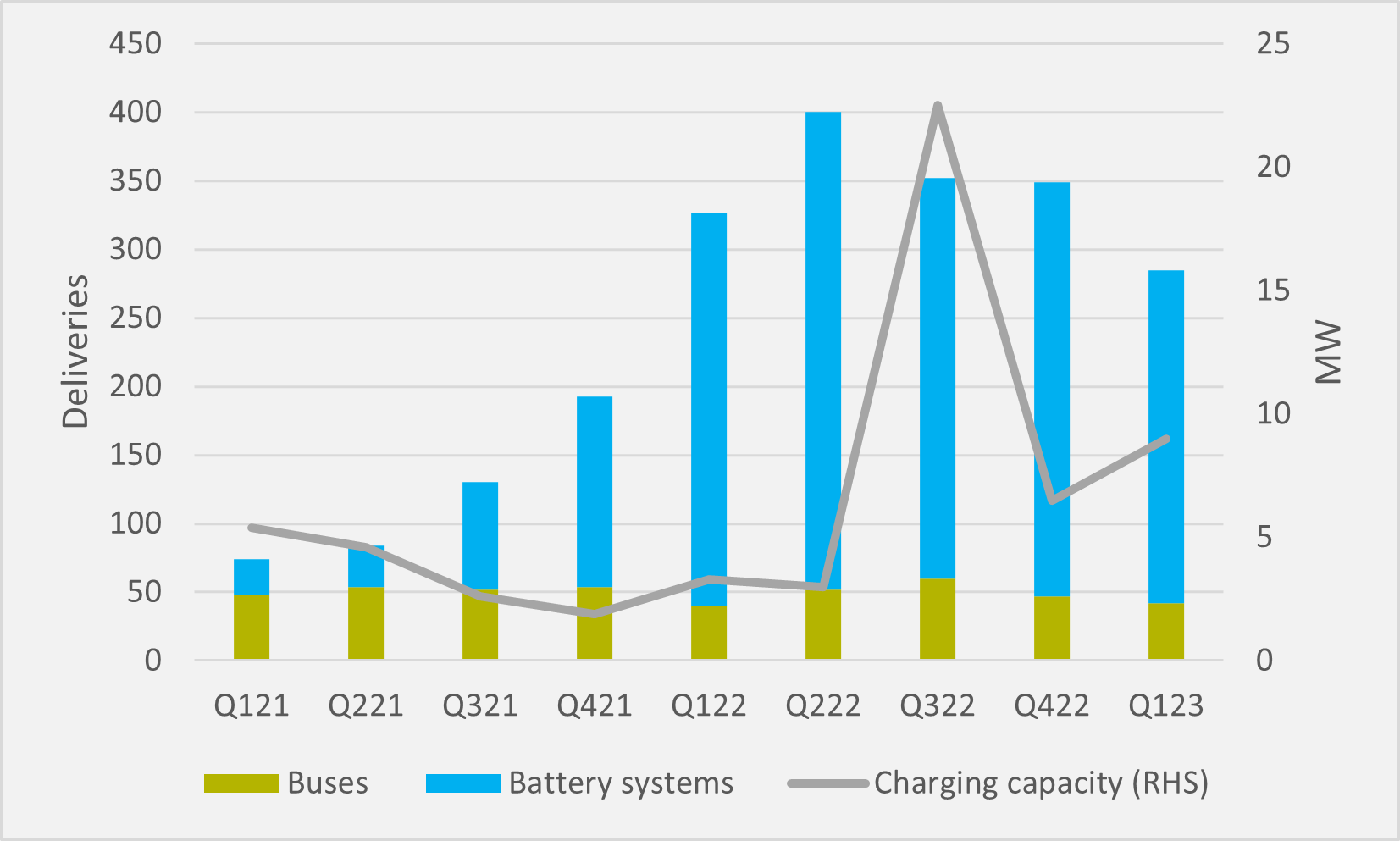 In the red
And the firm, has been consistently loss-making, with an adjusted Ebitda loss of almost $50,000 in Q1 and a net loss of almost $250,000. In its Q1 results call, the firm was "targeting positive gross margins in the second half of the year".
At that stage, Joyce admitted that the firm was "exploring potential options for raising additional funds" and that it did "expect cash usage in Q2 to be substantially higher than in Q1". But there was still $296mn cash on hand at the end of March and a further $43m in asset-based loans available.
And Joyce still had reasons to be bullish, not least Proterra's new Powered 1 battery facility that had started up in January, although it had "experienced some growing pains as may be expected with any new manufacturing facility". The firm had also consolidated its bus production at a single facility, shuttering a less efficient second plant at the end of March.
"We believe we have set ourselves up for improvement in gross margins in the future, taking into account expected higher operating efficiency at Powered 1 and the anticipated benefit of the planned closure of the City of Industry facility and consolidation of bus production in Greenville," Joyce said. But he cautioned that "a lot of the improvement depends upon the pace of Powered 1's production ramp".
Even growing competition in the bus market did not seem to overly phase him, as it opened more opportunities on the third-party powertrain side of the business.
"We are actually quite encouraged to see a number of the OEMs reaching into this space now, because we know they have existing customers with existing demand patterns that are likely to transition to clean powertrains and we believe we are well positioned to take advantage of that opportunity," Joyce said. "There are many OEMs out there who given the breadth of diversity in vocational applications of certain trucks, for example, have sourced powertrain solutions from Tier 1 OEMs."
Headwinds
Market observers have identified several factors that could have laid this optimism low. One is high turnover at senior management level.
Just this year, CFO Karina Padilla stepped down from her role in May after less than 18 months. In June her successor was bolstered by the appointment of a chief accounting officer, while the firm has also replaced its non-executive chairman this year.
But a potentially greater problem has been at the head of the executive, with previous CEO Jack Allen lasting only 21 months and Joyce in situ only for the last 19 — compared to the over six-year tenure of ex-Tesla man Ryan Popple prior to that. The firm was also hit by a class action lawsuit in July alleging that Proetrra had made "false and/or misleading statements" about its liquidity and financial stability and the potential positive impact of the new Powered 1 facility during its Q1 reporting.
Competition in the e-bus market, particularly from Chinese new entrant BYD, is also seen as a potential driver of Proterra's woes. The California-headquartered US arm of the Chinese EV heavyweight has made public 39 US customer wins since it entered the market in 2016 (see Fig.2), reaching 300 e-buses produced by April 2019, 400 by December that year and 500 by April 2021.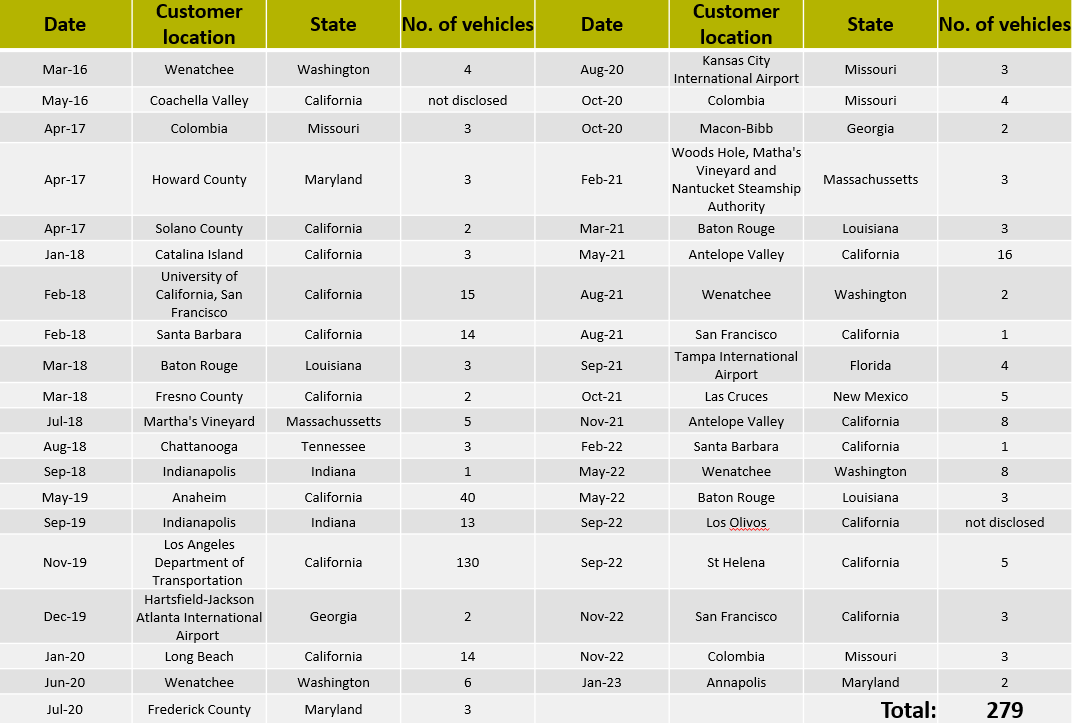 BYD's order size is worth noting. While it can boast a standout win of 130 vehicles for the Los Angeles Department of Transportation in November 2019, only one other is for more than 20 vehicle and just five more in double figures.
And only another three are for more than five vehicles, meaning that for 27 out of 37 orders where BYD specifies the number of vehicles, that number is five or less. In short, the e-bus selling business is a hard slog of multiple small-scale deals, where the scale and financial firepower of a BYD will be an advantage over a more cash-conscious competitor.
Maintain competition
One concern should Proterra be unable to find a backer for its e-bus division is reduced competition for transport authorities considering bus electrification, particularly given Nova Bus, a unit of Sweden's Volvo Group, announced in June it would exit the US market by 2025. "US transit agencies, those which rely heavily on US-FTA funding for procuring their buses, will now have two less battery electric bus OEMs from which to choose for 35- and 40-foot models, and will have only one OEM that manufactures a 60-foot BEB model," warns Jason Rogers, a transit vehicles engineering specialist at transportation infrastructure consultancy STV.
"I have heard it said that bus OEMs and their Tier 1 suppliers are facing battery/battery material rationing from their supply chain, which does not help to accelerate the rate of transit bus fleet transition to zero-emissions technology," Rogers continues. "While one might think that the loss of Proterra and Nova Bus production capacity for the US market would allow for an increase in production capacity by the remaining OEMs, those remaining OEMs still have their own production capacity, and supply chain, limitations.
"It would be in the best interest of the US transit bus market if the Proterra production capacity could be retained," he concludes.