Vehicle Sales
Xpeng sales rebound close to record levels
Chinese automaker almost matches its record sales quarter and is set for year-on-year growth

Chinese automaker Xpeng sold 15,310 EVs in September, rounding off a strong quarter which saw the company almost scale the heights of its peak sales quarter of Q4'21. The delivery numbers indicate a recovery for the firm's sales after a sluggish 2022 and first half of 2023.
In terms of deliveries, the quarter was the firm's strongest since the end of 2021 but, while sales recovered to close to the levels seen in Q4 of that year, the company has yet to exceed the quarterly sales level achieved almost two years ago. Recovery since the first quarter of this year, however, has been rapid (see Fig.1), driven by rising exports and a slew of pre-orders of the G6 SUV.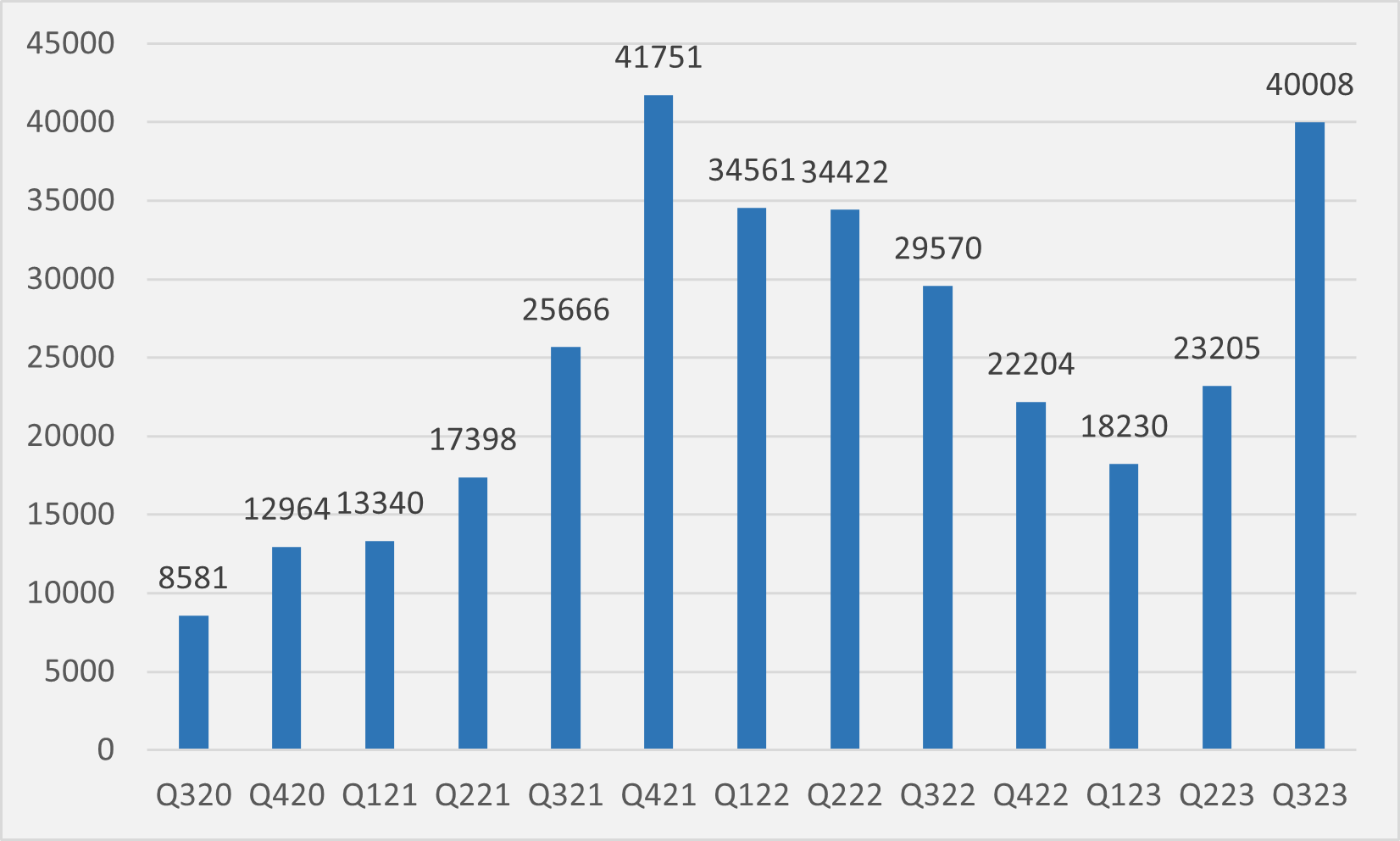 First exports of the G9 SUV to four European markets in September also made a small contribution.
The 40,008 vehicles sold in Q3 constitute a 72pc quarter-over-quarter increase, the firm's largest single quarter jump since going public. Cumulative sales remain down by 17.4pc year-to-date compared to the same point last year, although the gap between 2022 and 2023 is narrowing from 26.6pc in August.
Xpeng guided sales of 20,000 vehicles/month in Q4 when reporting Q2 results in mid-August. If this holds true, the firm should move ahead of last year by the end of October (see Fig.2). And hitting these fourth quarter targets would see Xpeng slated to sell more than 140,000 vehicles by year-end, putting it at 14.6pc up year-over-year.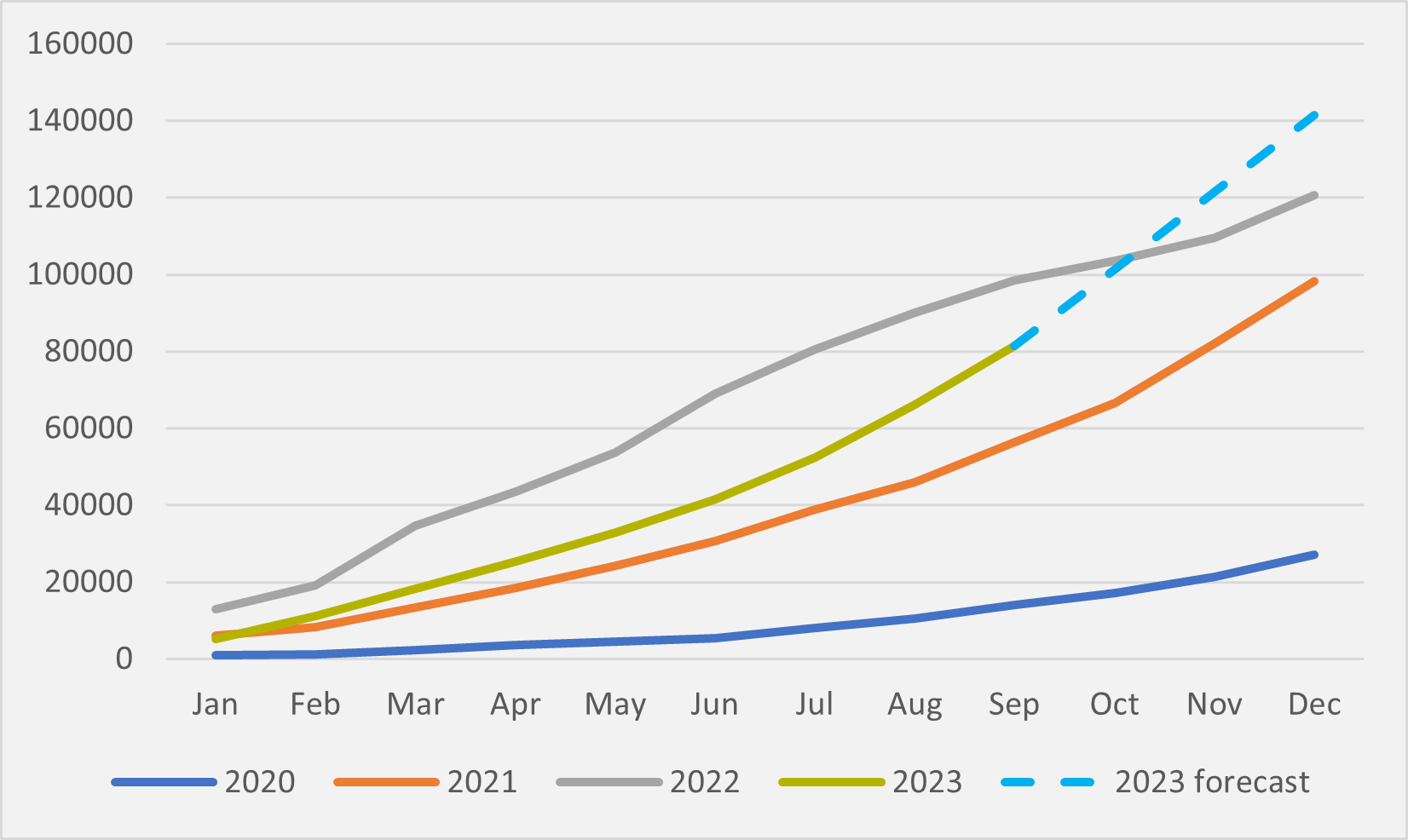 "In the upcoming fourth quarter, we will continue to accelerate G6 production throughput to capture the increasing market popularity that has followed its first batch of deliveries — with a goal to deliver more than 10,000 G6s monthly," CEO Xiaopeng He said at Q2 results.
Recovery
Xpeng's sales flagged throughout the first half of this year, as its older range of EVs fell behind competitors' newer models. Nio, for example, launched two electric SUVs, the EC7 and ES8, into the luxury SUV market segment in December 2022, with Li Auto following with the L7 EREV in February 2023. These new releases went into competition with Xpeng's slightly older G9, which it describes as its flagship SUV.
But, at Q2 results, He said that he expected that "delivery volume [of the G6 mid-size SUV] in September will grow significantly" and that it would be the catalyst for the firm's overall sales recovery. The CEO's predictions were vindicated as the G6 sold 8,132 units in September, up from 7,068 in August and 3,900 in July.
However, despite the G6 sales improving as expected, the appetite for the model did not translate into helping meet overall Q3 sales targets across the company's offerings as a whole of 15,000/month. In fact, September was the only month in the third quarter to reach that target, resulting in quarterly sales of 40,008 total vehicles, 11pc below company projections of 45,000 for the three-month period.
The G6 now accounts for over half of Xpeng's sales in September and close to half of its Q3 sales. But the car is in direct competition with the Tesla Model Y, the best-selling EV globally. And Tesla last week announced an updated version of the SUV for China via its Wechat channel.