Vehicle Sales
Rystad sees EV penetration going quicker than expected
The energy markets forecaster is seeing the e-mobility revolution already having material impact on the oil market

EVs have come of age to the extent that they are having an impact on current oil markets, according to Norway-based consultancy Rystad Energy. And, with EV penetration last year outpacing expectations, its impact is only going to get more material.
"EVs are going faster than expected a year ago," says the firm's eponymous founder Jarand Rystad. "EVs are starting to have an impact on oil demand today. And this is just going to accelerate further next year and the years to come," agrees Jorge Leon, senior vice-president at Rystad.
The firm forecasts that oil demand growth in 2024 will be back at the 1.4mn bl/d levels seen in 2014-19, rather than the c.2.5mn bl/d seen in 2022 and 2023, precisely because EV sales will moderate growth (see Fig.1). And Rystad has seen China's road transport demand for oil — unlike aviation sector requirements — fail to return to 2019 levels in its post-Covid rebound, in which accelerating EV penetration must play a role.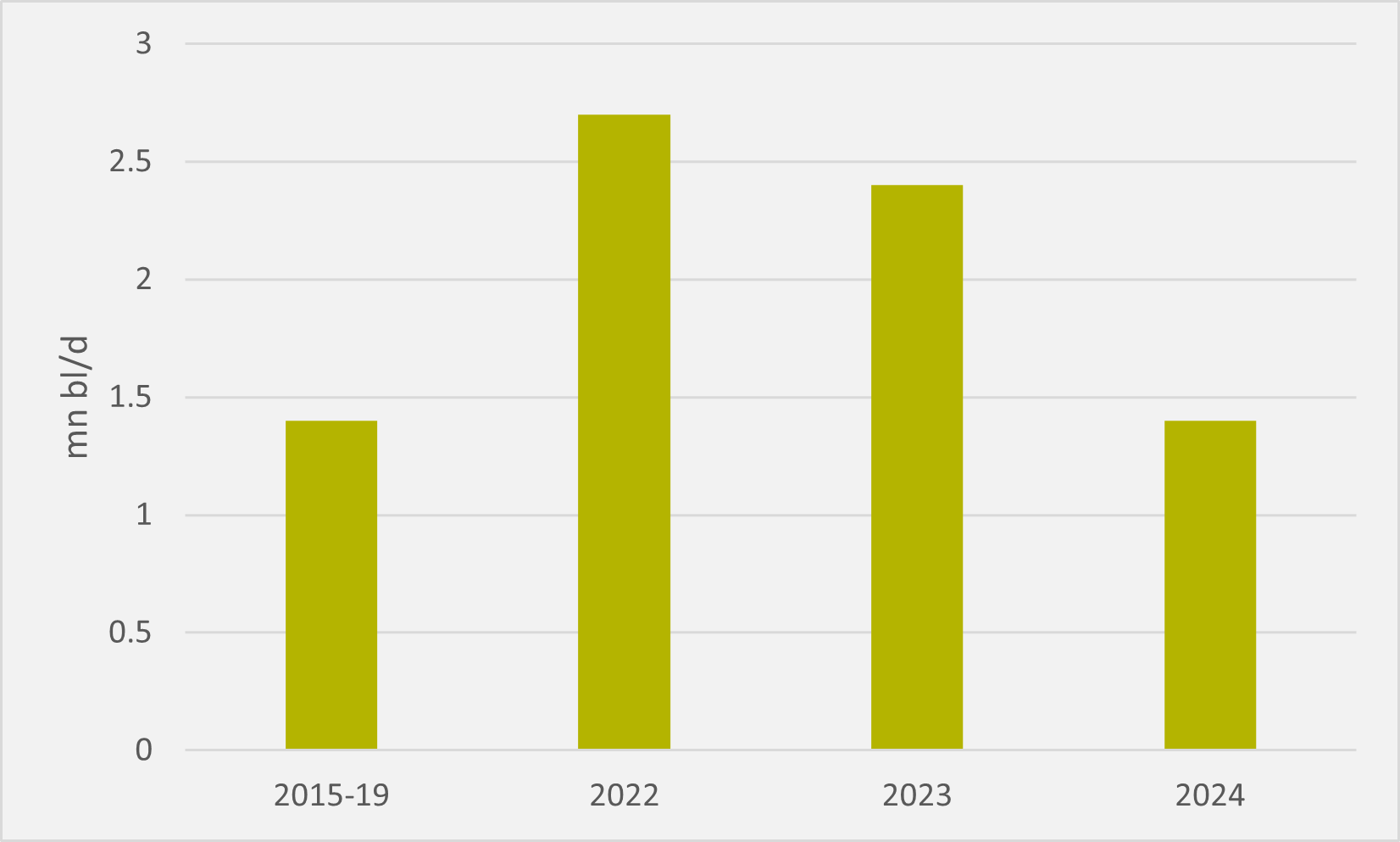 "In 2022 alone, we estimate that EVs contributed to scraping up to 0.5mn bl/d off gasoline and diesel demand. This occurred in some key geographic regions — Europe, China and also the US. It has not been a negligible impact," says Sofia Guidi Di Sante, senior oil market data analyst at Rystad. " I was surprised to see, for instance, that we already have some barrels taken off the market [by EVs] in the US."
In its central scenario, which would take the world to 1.9°C warming by 2050 rather than the 1.5°C target, Rystad sees that impact increasing as EVs reach more than 50pc of global sales by 2030 (see main image).
"We forecast EV sales to follow an S-shaped curve in the long term. This means that, in the short and medium term, we will see an exponential growth of EV sales in the same way we have seen in the past few years," Guidi Di Sante predicts. And this would lead to "a radical change in the fleet composition at the global level", with 20pc of the global fleet being EVs by 2030.
Different speeds
But she stresses that the trend will be not be uniform globally. "Northern European countries and China are really at the forefront of the electrification process, but we also expect other European countries and also the US to pick up in this trend in the next few years," Guido Di Sante says. "However, in order to see the sales picking up in other regions of the world, we would need to wait until 2030."
This variation in global pace does, though, allow Rystad to observe a pattern of how later adopters have followed similar timelines to the earliest movers. Jarand Rystad points to how his firm's home city of Oslo, then Norway as a whole, then China and now the global market have moved along similar trajectories (see Fig.2).

But the timelines for EV adoption could actually quicken, he cautions. "There are some arguments that it will go faster, because it is now disruptive technology, a much better technology than it was 10 years ago."
Trucking
The freight sector, however, paints "very different picture to what we see for passenger vehicles". "The pressure on oil products [demand] will only start to materialise starting from the 2030s — this is because, right now, we do not really have widespread and commercially viable substitutes for oil products or alternative technologies," Guidi Di Sante says.
From the 2030s, change will come, particularly in trucking, with "the EV impact here being the main driver behind the slowdown of diesel demand in the long term". "However, the key difference compared to passenger vehicles is that in this case, the electrification trend will not be enough in order to meet the 1.9°C target," the analyst suggests.
Interestingly, though, while there is a sliver of anticipated demand for hydrogen, Guido Di Sante sees bigger roles for greater efficiency of existing liquid fuels and better logistic cutting miles travelled than for the H2 solution.