Vehicle Sales
Model 3 and Y set to hit four million mark
Tesla's bestselling compacts hit new production and delivery highs in Q2

The first few days of July will see US OEM Tesla produce the third quarter's 982nd EV that is either its Model 3 compact executive D-class sedan or its Model Y compact crossover SUV based on the same platform. And this will be significant in that, according to Tesla production data going back to the first recorded quarterly production of the Model 3 in Q3'17, the vehicle will be four millionth produced across the two brands (see Fig.1).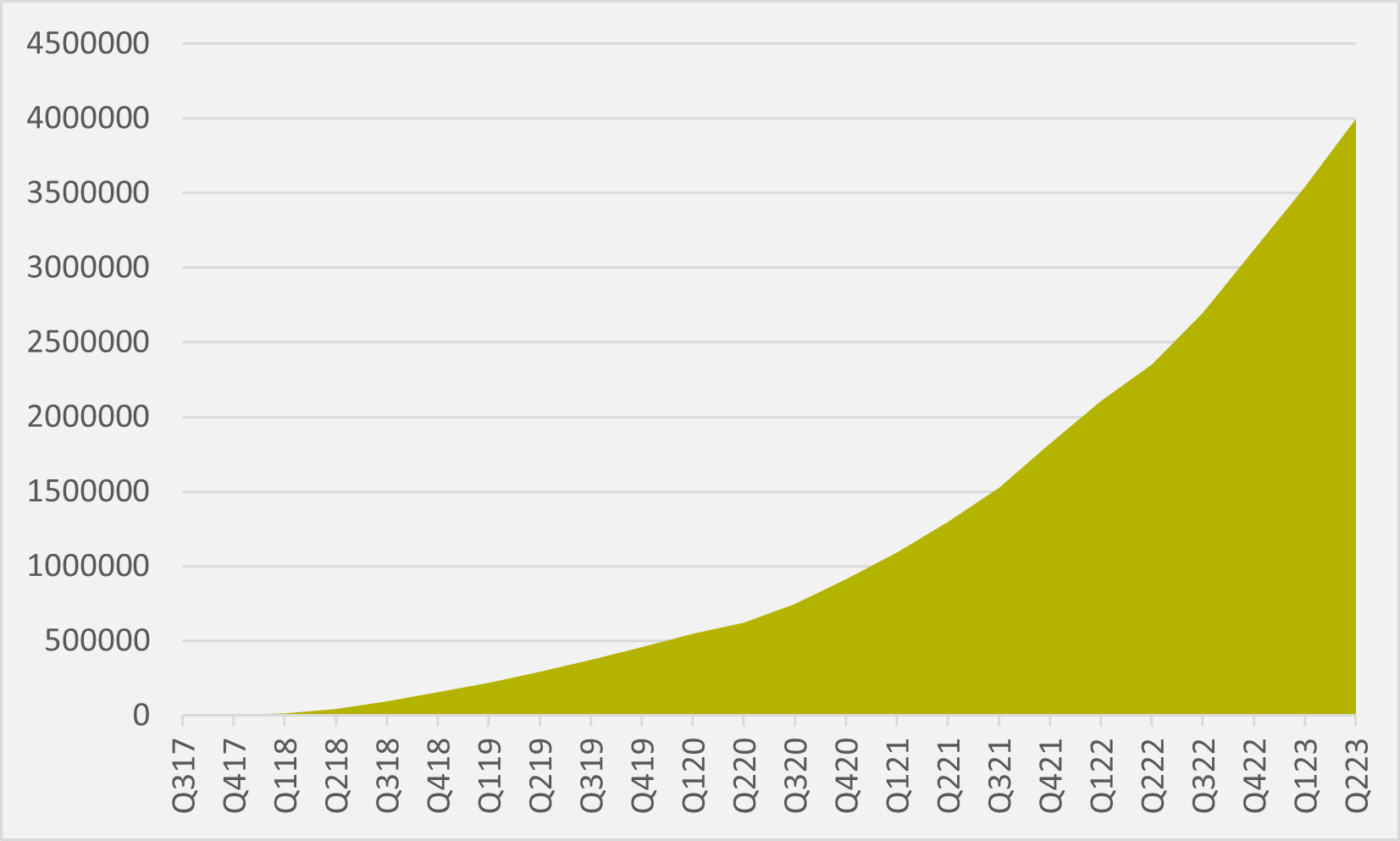 The firm set new quarterly records for both production and sales of the model 3/Y in Q2, with the former above 450,000 units in a quarter for the first time at just over 460,000. Deliveries were over 445,000.
💡
Like this? We need your support to grow our site...
Get all our high-quality AND free-to-read coverage of the e-mobility revolution — in a weekly summary direct into your inbox — by signing up
Quarter-on-quarter production growth was perkier in Q2 at 9.2pc, compared to just 0.5pc in Q1 (see Fig.2). Deliveries across the first two quarters of the year have risen more steadily, at 6.2pc and 8.4pc quarter-on-quarter respectively.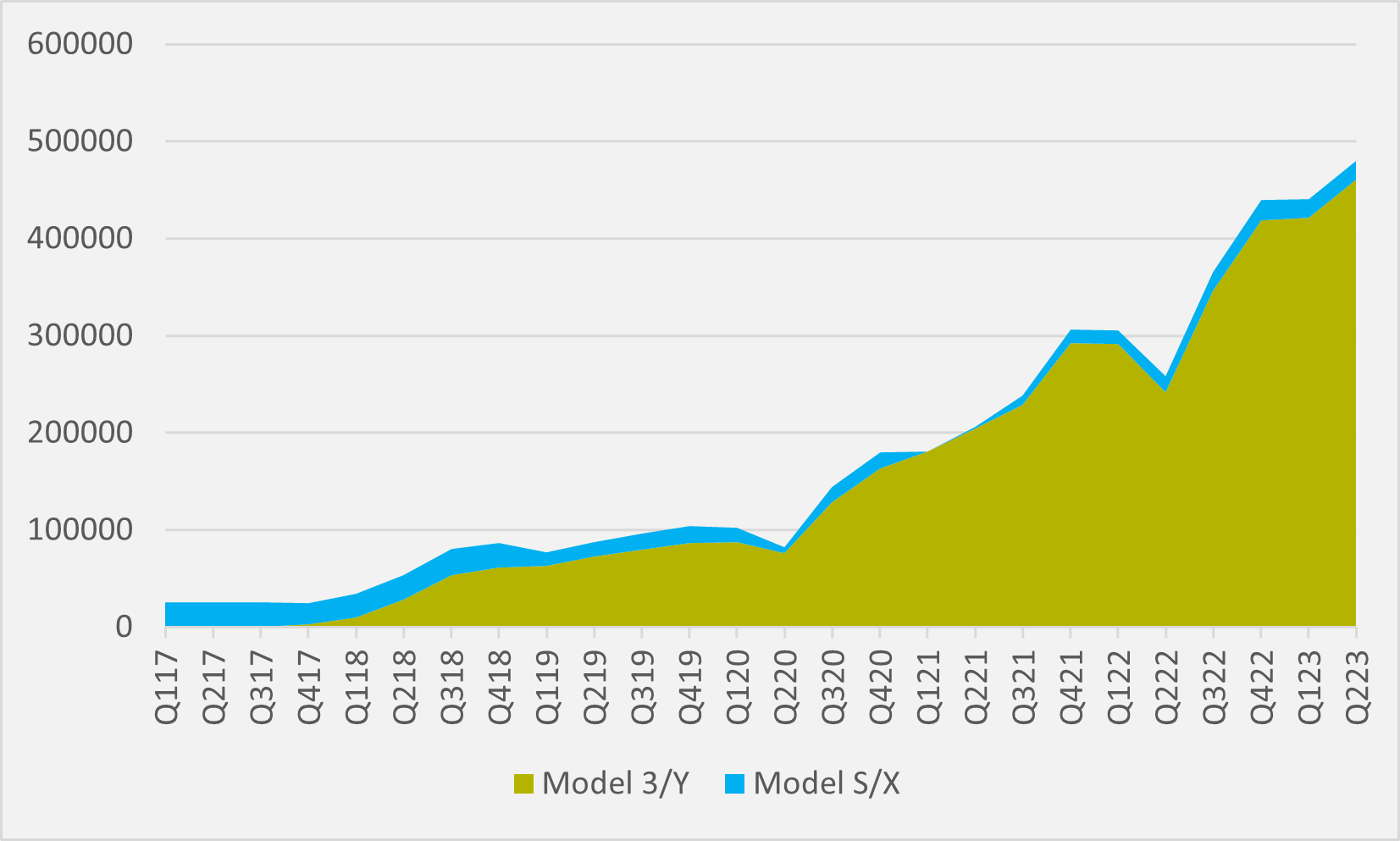 One measure that might be slightly more concerning for Tesla is the 'inventory gap' EV inFocus calculates between lifetime production and delivery figures the firm gives for Model 3/Y. While this must be expected to rise as the outright numbers increase, end-of-quarter estimated inventory as a share of that quarter's production is also going up.
By the end of Q2, Tesla has produced over 88,000 more vehicles than it has delivered, a sharp rise from a little over 10,000 at the end of Q1'22 when deliveries had outstripped supply chain-hobbled production by a combined 11,000 vehicles across three consecutive quarters. Outstanding inventory as a share of Q2 production was 19.2pc, the highest since Q1'20 (see Fig.3).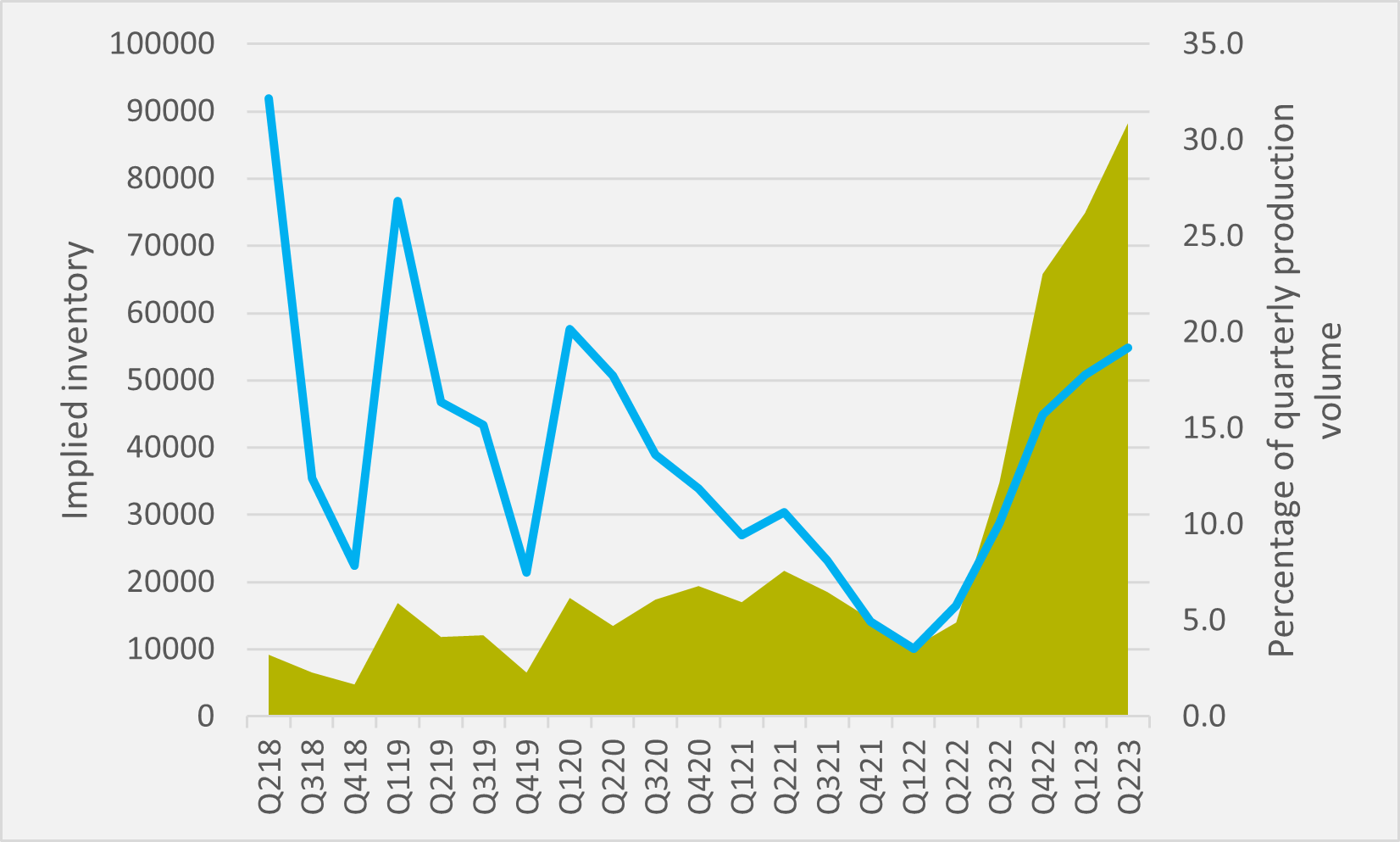 Strong European sales performance is likely to have been a contributory factor in Tesla's new quarterly delivery record. The firm sold almost 30,000 EVs in the 31-country EU+Efta+UK block in May, according to latest data from industry lobby the European automobile manufacturers' association, or Acea. Across the first two months of the quarter, combined sales were approaching 44,000, in stark contrast to the same months in 2022, when less than 3,000 vehicles were sold.
This puts Tesla's European sales for the first five months at close to 140,000, more than double the less than 63,000 the firm could boast in Jan-May '22 (see Fig.4).