Vehicle Sales
BEVs hit a UK market share plateau
But year-on-year sales continue to grow in a recovering market

UK sales data for October shows that BEV market share has dipped for the second consecutive month. The Society of Motor Manufacturers and Traders (SMMT) calculates that 23,943 BEVs were registered in October out of 153,529 total new car registrations, a share of 15.6pc.
Market share has dropped from 16.6pc in September. And, leaving aside an August jump up to just over 20pc, it means that the BEV share of the UK new sales pie has been in a 15-18pc range across the last nine months (see main image).
But, while that might speak to the UK market having hit an at least temporary ceiling in adoption, it is important to note that, because overall car sales continue their post-Covid and chip shortage rebound, overall sales of BEVs in the country are continuing to rise year-on-year (see Fig.1). Nor are BEVs losing relative ground in this growing market.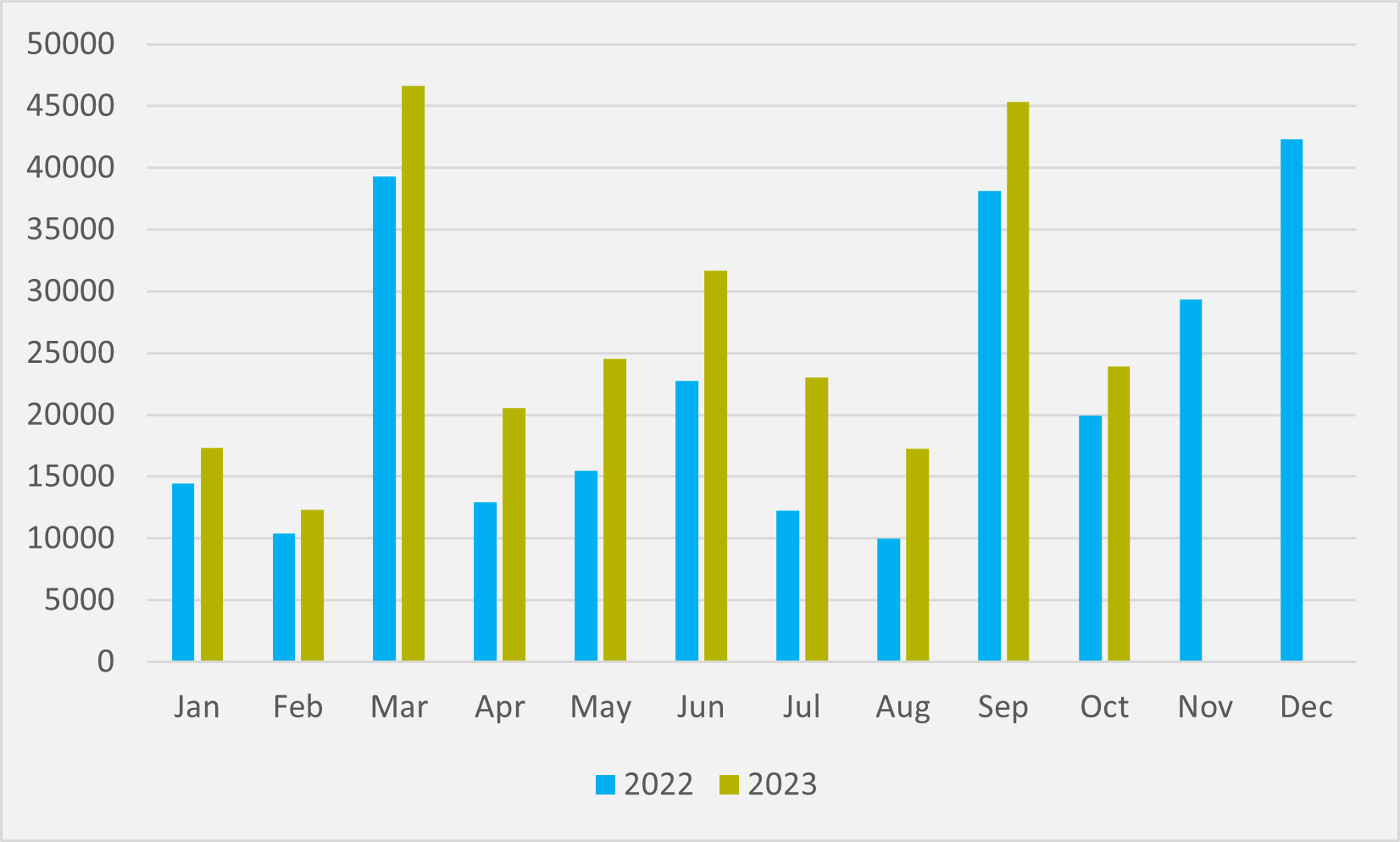 "Battery electric vehicle uptake increased for the 42nd month in a row, by 20.1pc to 23,943 units," the SMMT says. "Given overall market growth, however, this amounted to a BEV market share of 15.6pc, a relatively small rise from last year's 14.8pc."
Cumulative BEV new sales for the first 10 months of the year have reached almost 260,000. with two months of the year still to come, they sit just 7.580 behind the total new BEVs sold across 2022 as whole (see Fig.2).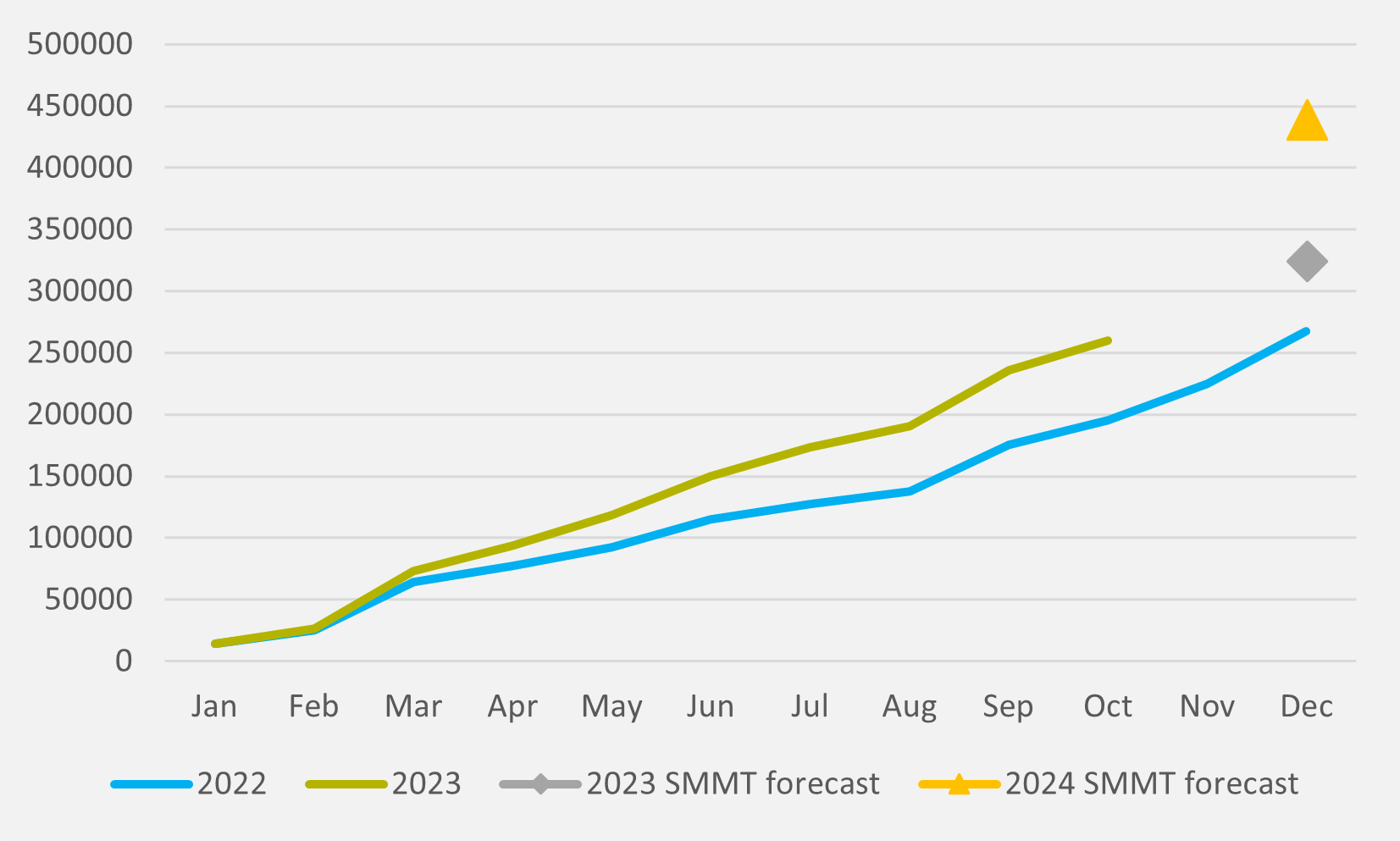 Fleet reliance
Fleet customers continue to drive growth in UK BEV sales, with SMMT renewing its calls for greater government encouragement of private buyers. "Private registrations accounted for fewer than one in four new BEVs this year, underscoring the need for fiscal incentives," it says.
"With demand for new cars surpassing pre-pandemic levels in the month, the market is defying expectations and driving growth. As fleet uptake flourishes, particularly for EVs, sustained success depends on encouraging all consumers to invest in the latest zero emission vehicles," says SMMT CEO Mike Hawes.
The Autumn Statement is a key opportunity for government to introduce incentives and facilitate infrastructure investment," Hawes continues. UK finance minister Jeremy Hunt is due to deliver the Autumn Statement in the country's lower house on 22 November.
In the absence of these incentives, the SMMT has slightly revised down its expectations of BEV sales and market share for 2023 and 2004. "While overall growth is robust, we have made slight adjustments to our expectations for BEV uptake, downgrading it by -1.7pc to 324,000 units, resulting in an expected market share of 17.2pc by year-end," says the SMMT's Anand Dossa.
For 2024, "BEV market share expectations have been slightly revised down due to a lack of consumer incentives and a heavy reliance on fleet registrations", Dossa admits. "Nevertheless, we still anticipate an impressive 22.3pc market share with 439,000 BEV units, a 35.5pc increase over 2023."
ICE under pressure
Anther illustration that the status quo in the UK market continues to change even while BEV penetration is currently at plateau is the share of pure ICE cars in its new sales mix. Petrol and diesel vehicles made up just 44pc of registrations in October.
Amongst non-ICE vehicles, mild hybrids and hybrids took a combined 31.1pc share of October new sales. PHEVs took another 9.3pc slice of the pie.